Four-batter stretch derails Bauer's strong start
Indians righty fans eight Twins, but allows four runs in decisive fourth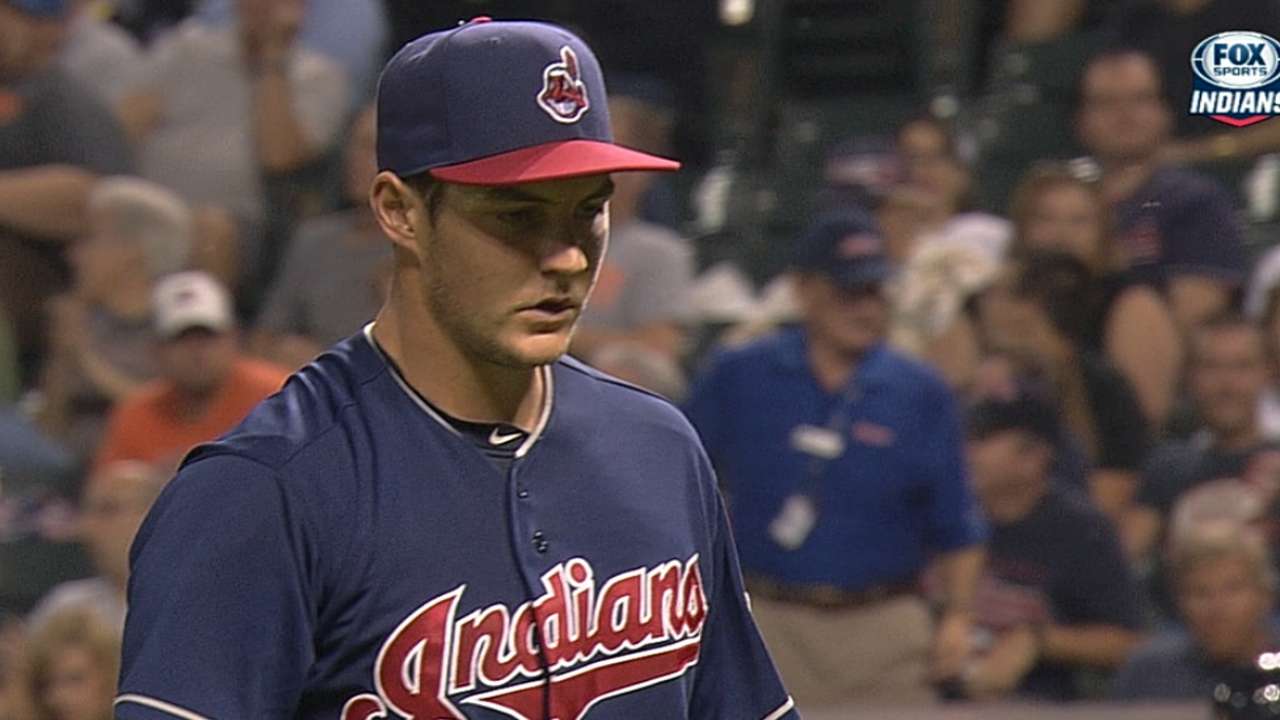 CLEVELAND -- Four batters. That was all it took to derail Trevor Bauer and the Indians on Tuesday night.
In the opener of a three-game set with the Twins, Bauer turned in a performance that was solid throughout with the exception of one brief, damaging lapse. In light of a lack of much run support, a swift four-run setback for the right-hander in the fourth inning was sufficient in sending the Tribe to a 4-3 loss at Progressive Field.
Bauer was in no mood for finding silver linings.
"They scored enough to win," Bauer said of Cleveland's offense. "I didn't do my job."
It marked the second loss in a row and fifth defeat in the past nine games for a Cleveland club that is trying to stay within striking distance of the American League playoff race.
The Indians are now positioned five games back of both the Royals and Tigers, who are tied atop the AL Central standings. In the AL Wild Card race, Cleveland was five games back of the second spot, pending the result of Seattle's late game with the Astros. Each loss at this stage carries a little more sting for the Tribe.
"It's real frustrating. We know what's at stake," Indians center fielder Michael Bourn said. "We need to win games like that to stay in the [race]. The more we lose, the more we fall behind. We put ourself in a deeper hole. We almost have to, not win out, but close to it, to make it to the playoffs. Either we do it or we don't. There's no hiding from it."
Bauer was strong out of the gates, shaking off his season-long woes in the first inning and retiring the first 11 Twins batters he faced. That stretch took him two outs into the fourth, when Joe Mauer got Minnesota going with a double to left field. Kennys Vargas followed with an RBI double of his own and Trevor Plouffe then added a run-scoring single.
That set things up for Twins right fielder Oswaldo Arcia, who crushed the first pitch he saw from Bauer for a towering two-run shot to right field. The home run, which was the 16th of the season for Arcia, effectively erased the early work by Cleveland's offense and pushed Minnesota to a 4-2 advantage.
The last three hits off Bauer came in a span of three pitches.
"He pitched really well," Indians manager Terry Francona said. "He had that one four-hitter sequence where he gave up the bloop double and then three straight pitches, all the damage was done, and they made it hold up."
Twins righty Trevor May, who entered the evening with a 9.38 ERA, logged five innings and limited the Indians to just two runs. Both came in the second, when Carlos Santana led off with a single and Jason Kipnis delivered a double. A groundout from Lonnie Chisenhall and a sacrifice fly from Yan Gomes plated a pair of runs to give Cleveland an early lead.
That is where the Tribe's offense ended against May.
May walked the first two hitters he faced in the fourth inning, but then induced a trio of flyouts to escape harm. In the fifth, Cleveland had a runner on third with two outs, and later runners on the corners, but May created a rally-ending groundout off the bat of Santana. On the night, the Tribe's lineup finished 1-for-10 with runners in scoring position, stranding eight in the process.
"Runs have been hard to come by [for] more than a couple days," Francona said. "We got baserunners but we didn't do anything with runners in scoring position. So, that's pretty much the outcome."
The Indians made a late push against Minnesota's bullpen in the eighth, when Santana doubled, moved to third on a groundout and scored on a base hit from Gomes. At that juncture, Francona turned to veteran Jason Giambi as a pinch-hitter, but the aging slugger flied out to left field to end the inning.
The anemic offensive showing -- the eighth time in the past 10 games that Cleveland scored three or fewer runs -- made for a hard-luck loss for Bauer. The right-hander held the Twins to an 0-for-23 showing, excluding the four-batter stretch in the fourth. Bauer struck out eight and walked one in eight innings.
"I just go out and try to execute pitches and get guys out," Bauer said. "That's all I tried to do today. I didn't really feel too well today. I went out there and gave it all I had, but it didn't turn out in my favor."
Bauer's effort did not go unnoticed.
"It happened quick," Francona said of Minnesota's four runs, "but before and after, he was tremendous. You can't take them off the board, but you don't want to forget how well he pitched, either."
Jordan Bastian is a reporter for MLB.com. Read his blog, Major League Bastian, and follow him on Twitter @MLBastian. This story was not subject to the approval of Major League Baseball or its clubs.