A bug's life: May battles insects, Tribe to lead Twins
Minnesota plays spoiler, dampens Indians' playoff hopes in four-run 4th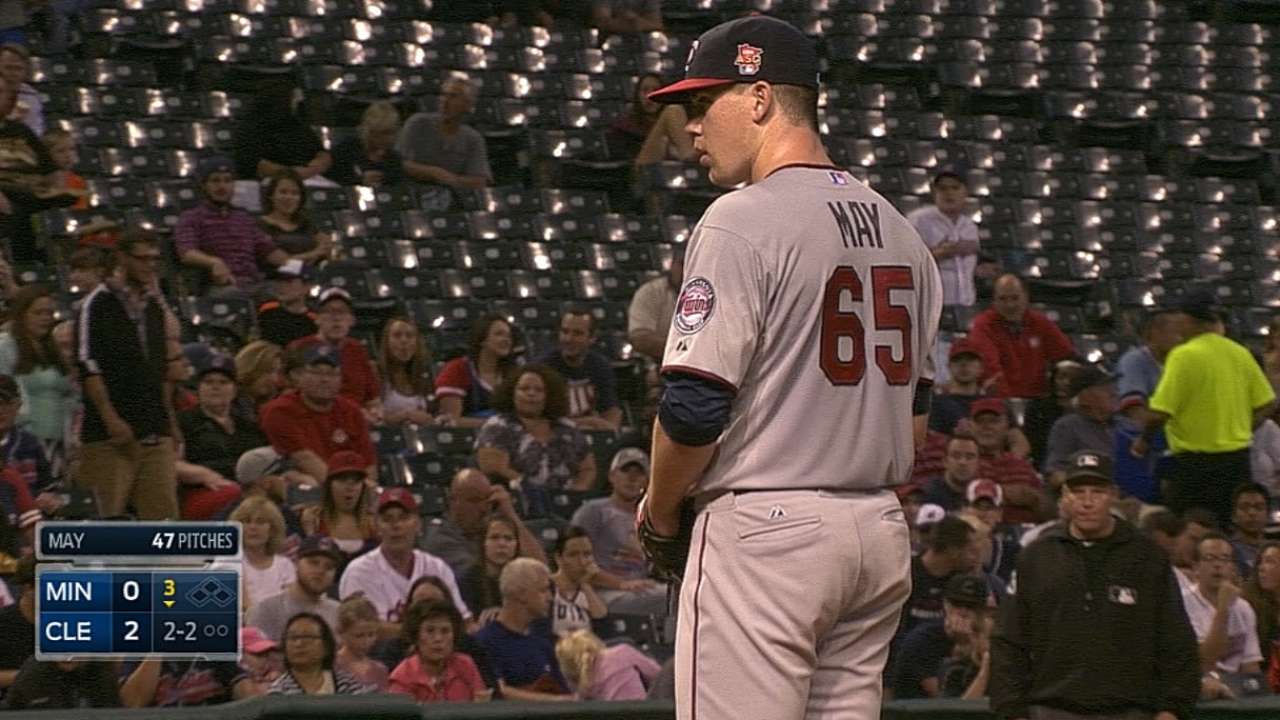 CLEVELAND -- Trevor May struggled with his command and threw more pitches than he wanted to, but that didn't leave a bad taste in his mouth.
Hundreds of midges did, literally.
The right-hander battled the flying insects throughout a five-inning start on Tuesday night, but persevered and pitched the Twins to a 4-3 victory over the Indians at Progressive Field.
"It felt like I got hit in the face by about 300 flies on one pitch," he said. "It was incredible. They got stuck on your eyeballs, in your mouth, everywhere. It was really, really gross. The more humid it got, the more they loved it I guess, but I sure didn't like them."
May (2-4) overcame all of the obstacles to win his second straight start, allowing two runs on five hits. The 6-foot-5 rookie threw a career-high 102 pitches, walked four and threw a wild pitch, but found a way to get through five frames and protect a lead.
The outing continued a solid but unspectacular month for May, who is 2-0 with a 4.50 ERA in 10 September innings. During his first five Major League appearances -- all in August -- he went 0-4 with a 10.42 ERA.
"The kid threw a lot of pitches, but he got through five innings and did fine," said Minnesota manager Ron Gardenhire, whose squad snapped a four-game losing streak. "That's what you like to see, finding a way to keep going when you don't have your best stuff."
The Twins scored all of their runs in the fourth off Indians right-hander Trevor Bauer (5-8), who held them without a hit for the first 3 2/3 innings. Cleveland led 2-0 at the time.
Oswaldo Arcia provided the big blow with a two-run homer to right-center field, giving Minnesota the lead for good at 4-2. It was his 16th home run of the season and his 11th blast over the last 38 games.
Earlier in the inning, rookie Kennys Vargas doubled home Joe Mauer to put the Twins on the scoreboard, while Trevor Plouffe followed with a run-scoring single to tie the game. Mauer had doubled just beyond the reach of Cleveland left fielder Michael Brantley for Minnesota's initial hit.
"Trevor pitched really well, but he had that one four-hitter sequence when all the damage was done," Indians manager Terry Francona said. "It happened quick, but before and after, he was tremendous. They just made it hold up."
The Indians, who dropped five games out of the final American League Wild Card spot with 19 to play, struck first with two runs in the second. May surrendered an RBI groundout to Lonnie Chisenhall and a sacrifice fly to Yan Gomes.
Cleveland didn't score again until the eighth, when Gomes drove in Carlos Santana with a single off Twins reliever Casey Fien to cut its deficit to 4-3.
Aaron Thompson tossed 1 2/3 scoreless innings in relief of May, while Brian Duensing was charged with the Indians' final run. Jared Burton pitched a perfect ninth to earn his second save in two chances.
Burton is filling in for two-time AL All-Star closer Glen Perkins, who could return Wednesday after missing four games with a stiff neck.
"You had to blink a lot and keep your mouth closed while you were on the mound because of all those bugs tonight," Duensing said. "I could feel them all over my neck and forearms, but you couldn't lose your focus. There were times when that wasn't easy, though. It wasn't a lot of fun."
Bauer equaled his career high by lasting eight innings, allowing four runs on four hits while striking out eight. Minnesota finished with just five hits on the evening, but managed to win for the 62nd time in 144 games this season.
"It's easy to pitch when everything is working, but this wasn't one of those nights," said May, who lowered his ERA to 8.38. "It definitely wasn't pretty at times, but it was a nice win that hopefully we can build on."
The Progressive Field attendance of 9,489 was the second-smallest crowd the Twins have played in front of this season. The lowest also occurred in Cleveland at 9,037 on May 5.
"That's kind of disappointing because they're still in the playoff race," Duensing said. "But both teams played really hard, no matter what, because we owe it to the game, the division and the fans."
Brian Dulik is a contributor to MLB.com. This story was not subject to the approval of Major League Baseball or its clubs.