Scherzer deals Tigers into tie with Royals atop Central
Nathan's veteran savvy on display in ninth; Davis, J.D. Martinez go deep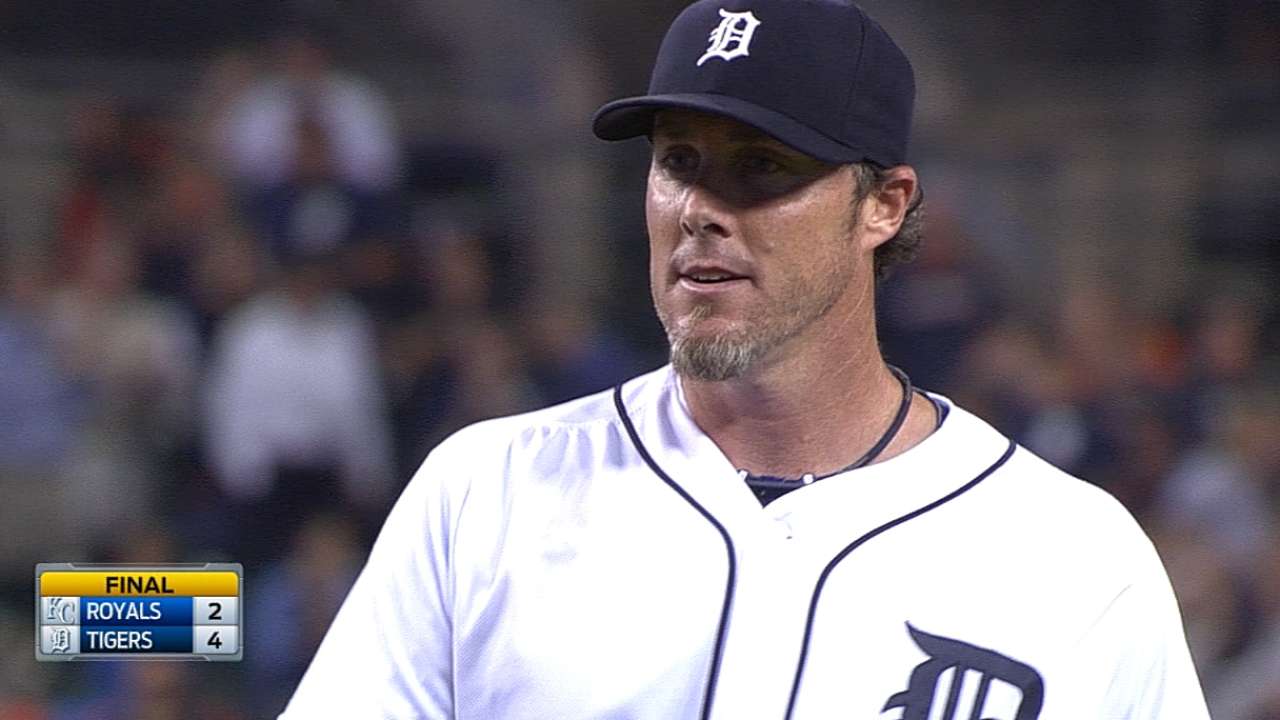 DETROIT -- For the first time in a month, the Tigers have a claim to the American League Central lead.
And as Tuesday's 4-2 Tigers win over the Royals drew the two teams even atop the division, the pressure might well have shifted from a Tigers team that was expected to be in the lead all year to a Royals team that has played the unlikely leader since early August.
The pressure that the Tigers were supposed to feel for their last best chance to take back the Central has seemingly been replaced.
"Pure adrenaline," closer Joe Nathan said after his 30th save of the year, escaping a two-on, no-out jam with help from two strikeouts and a pickoff at second base in between. "There was a lot of adrenaline out there, a lot of energy, a game that both teams need.
"We need it to get back to where we want to be -- atop the division with them. If we lose this one, then we've gotta come here tomorrow and win. So winning this game was key for us. ... I think we definitely shifted the pressure over to their side, over to their clubhouse."
Nathan could feel the adrenaline as he faced All-Star Alex Gordon as the potential tying run with two on and nobody out, falling behind on a 2-0 count and having to challenge the Tigers nemesis with a pitch over the plate.
Andrew Romine felt it when Nathan caught pinch-runner Jarrod Dyson standing between second and third, picked off in a late-game move that backfired for Royals manager Ned Yost. It was Romine and Ian Kinsler who sensed Dyson flinching toward third base, tipping off a potential double steal, and leading to Nathan's pickoff.
"This is exciting," Romine said. "I got goose bumps when we picked him off. I was pumped."
Max Scherzer could feel it as he reached back for 97-mph fastballs in a bases-loaded situation in the fifth, the go-ahead run on base for Eric Hosmer.
"It's that situation -- bases loaded, two outs -- when you need your best fastball," Scherzer said. "Fortunately I was able to execute it, execute it away, and generate a swing and miss. I know he's a great fastball hitter, but I stayed with it."
Scherzer (16-5) delivered 6 2/3 innings of one-run ball with four walks and six strikeouts, throwing 117 pitches five days after what he called his most taxing outing of the season. He did not believe he had enough to go 120 pitches without risking injury, which is why he told manager Brad Ausmus at the mound that he probably didn't have another batter in him with Salvador Perez stepping to the plate with two outs and a runner on in the seventh.
Knowing the situation, he came about as close to 120 as he was going to get. In so doing, he tied Jered Weaver for the AL wins lead.
"I've been halfway guarded throughout the whole year," he said, "because I know in September you want to be able to do this."
Asked if the pressure had shifted, Scherzer said, "I even heard today the Tigers feel pressure. Well, they're going to feel pressure when I throw strike one."
That's the approach the Tigers seem to have taken in this series. They knew the significance, but they also were prepared for it.
When Rick Porcello takes the mound in Wednesday's finale, he might well have the same feeling. The Tigers have led for 17 of the 18 innings played this series, taking the lead early each time. Though they've seen the Royals rally to close the gap in the later innings in both games, they've roughed up consecutive starters to ensure Kansas City's vaunted bullpen has no lead to protect.
"We're going to come back and play hard tomorrow," Gordon said. "We're in a tie and we're just going to have to battle. We knew it wasn't going to be easy. Forget about this game and come back tomorrow and salvage the series."
A day after Tigers hitters bunched singles and doubles together for a six-run third off Jeremy Guthrie, lefty Jason Vargas (11-8) fell victim to the long ball -- one from an unlikely source (Rajai Davis), the other becoming quite familiar (J.D. Martinez).
Though Davis has been the regular center fielder for the past few weeks, he sat for back-to-back games in favor of Don Kelly for the left-handed bat. Davis returned with seemingly some extra energy, and took it out on an 86-mph fastball Vargas left up and over the plate in the second inning for a two-run shot.
Davis' eighth homer of the year built a 3-0 lead after Martinez's first-inning sacrifice fly scored Torii Hunter to put the Tigers on top. Vargas escaped further damage for a few innings by changing speeds, but paid for another fastball that wandered over the plate to Martinez, who deposited the fifth-inning offering into the left-field seats for his 20th homer of the year.
Jason Beck is a reporter for MLB.com. Read Beck's Blog and follow him on Twitter @beckjason. This story was not subject to the approval of Major League Baseball or its clubs.