Vargas' bumpy start drops Royals into tie with Tigers
Rally in ninth stalls when Dyson picked off by Nathan at second base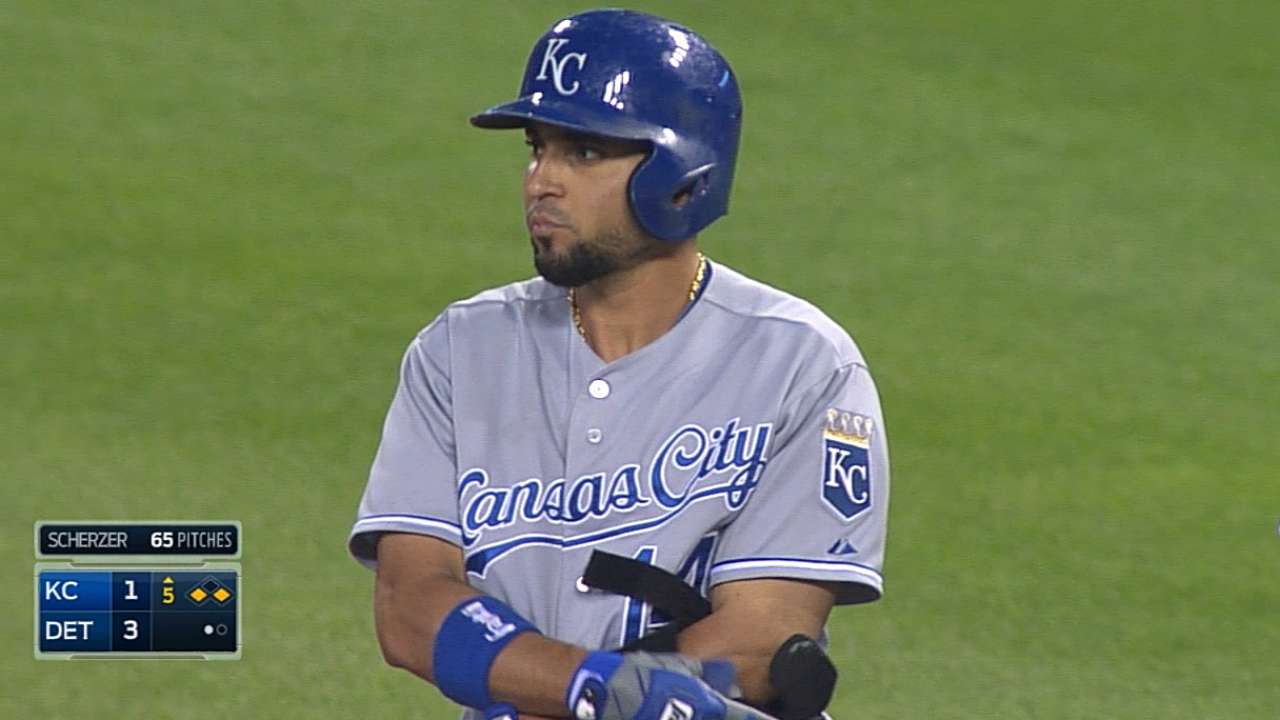 DETROIT -- Nothing went quite right for the Royals and, when it was over on Tuesday night, they had not only lost to Detroit, 4-2, but had to share their prestigious spot atop the American League Central with the Tigers.
It's been nearly a month that the Royals have been in first place and now, for just the second time in that span, Detroit has pulled even with them. And if Kansas City loses again in the series finale on Wednesday, it will slide into second place.
"We're still confident," said Eric Hosmer. "We can't fold, we've come too far to fold at this point. We control our destiny tomorrow. It's win. It's too late in the season to lose confidence now, we've come too far."
It was on Aug. 11 that the Royals bumped the Tigers off the throne. Only on Aug. 30 did the Tigers catch up and for only one day. Since then, the Royals' pursuit of a first postseason berth since 1985 has been steady and undisturbed. Until now.
A big problem has been the Royals' inability to beat the Tigers, who now have an 11-4 advantage in the season series.
"They're a good team. They've got some thumpers in their lineup and some good pitching," said Alex Gordon. "It's a good team and we have had some good battles. It's more about us not taking advantage of opportunities, and I think that's what happened tonight."
The last opportunity was the most obvious and most painful. Down, 4-2, the Royals raised some heat in the ninth inning against closer Joe Nathan when Nori Aoki and Omar Infante both beat out infield grounders to shortstop -- two on, nobody on and speedster Terrance Gore ran for Infante.
"I wasn't happy about them, obviously," said Tigers manager Brad Ausmus. "Really just two ground balls that end up being hits. That's part of their strength is they're very athletic and they're more apt to get infield singles."
Nathan then struck out Gordon on a 3-2 pitch and, after one pitch to Salvador Perez, Jarrod Dyson was summoned to pinch-run for Aoki.
"Nobody out, I'm not running, first and second," manager Ned Yost explained. "Once Gordy struck out, I'm sitting there for a pitch thinking 'OK, I've got Sal [Perez] that can take the ball out of the park, I got Hoz [Hosmer] that can take the ball out of the park.' After the first strike, I said, 'OK, I'm putting Dyson in there and maybe with the two fast guys, we can pick up a stolen base and a base hit scores 'em.'"
When Dyson trotted onto the field, he was on his own.
"We didn't have the steal sign on there," Yost said. "Dyson's the lead runner, he's going to find a spot where he can get a jump and go. Gore's the tail runner, he's going to be right behind him."
But Nathan was on the alert and immediately caught Dyson leaning toward third and picked him off with a throw to second baseman Ian Kinsler for the rally-dousing second out.
"Every time I'm in the game, I'm going on my own. It ain't no secret," Dyson said. "I got picked off, so that let's you know I'm going."
Gore was ready to follow.
"If he goes, I go," Gore said.
But nobody went anywhere, to the delight of a Comerica Park crowd of 32,603. Nathan struck out Perez, and the game was over.
Losing pitcher Jason Vargas had a sluggish start, giving up three runs in the first two innings. Rajai Davis hammered a two-run homer in the second. Vargas also gave up a solo shot to J.D. Martinez in the fifth.
Meantime, right-hander Max Scherzer made things tough for the Royals, especially with runners on base. He got a break when a shot with home run distance by Gordon curved foul in the fifth. Kansas City got a run home in that inning on one of Infante's three hits but left the bases loaded. In Scherzer's 6 2/3 innings, he made the Royals strand 10 runners.
"That's what makes him a Cy Young winner," Hosmer said. "He's a different animal when he gets guys on base. He really bears down, and every pitch he throws is a wipeout pitch."
This is the same Scherzer that the Royals punished for 10 runs on 10 hits back on June 17 in an 11-4 blowout. Now he's 16-5, tied for the AL lead in victories.
And the Tigers are tied for the lead in the AL Central.
"We're going to come back and play hard tomorrow," Gordon vowed. "We're in a tie and we're just going to have to battle. We knew it wasn't going to be easy. Forget about this game and come back tomorrow and salvage the series."
Dick Kaegel is a reporter for MLB.com. This story was not subject to the approval of Major League Baseball or its clubs.