In limited role, Jones excels at swiping bases
Speedy rookie racks up 25 steals, credits coaches for success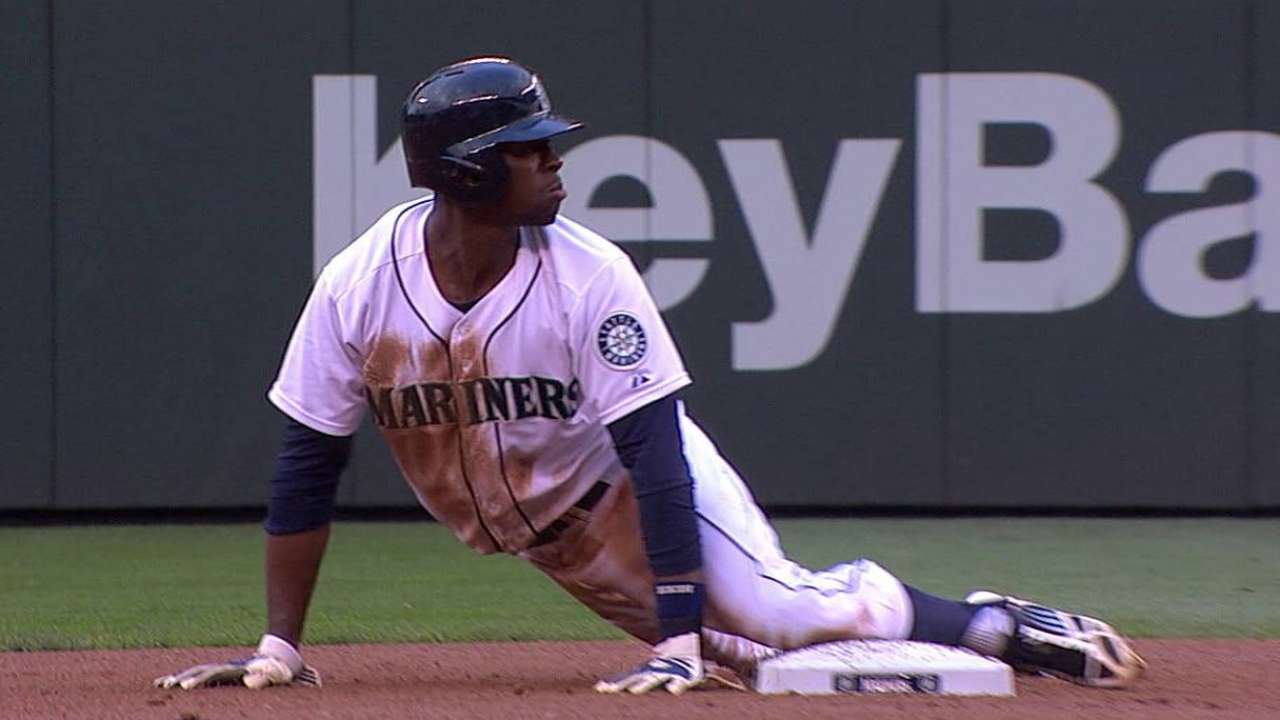 SEATTLE -- While outfielder James Jones has started just one game since being recalled from Triple-A Tacoma on Aug. 29, the rookie speedster continues being a valuable weapon on the basepaths for Seattle. Though he's had just four at-bats since his lone start on Aug. 30, Jones has stolen five bases in that span to increase his team-leading total to 25 on the season.
The 25 stolen bases tie Jones for eighth in the American League despite having played just 92 games. Jones is 25-for-26 in stolen-base attempts, with his .961 percent success rate ahead of Ichiro Suzuki 's club record of .957 (for a player with at least 20 stolen bases) when he was 45-for-47 in 2006.
Jones stole two more bags and scored the go-ahead run as an eighth-inning pinch-runner in Monday's 4-1 win over the Astros, as he continues succeeding even in situations where opponents know he's looking to run. Jones stole 94 bases in 136 attempts (.691) in five previous Minor League seasons but seems to have perfected the art at the Major League level.
Jones said he's learned to study pitchers and their moves this season on film, and credits his success to a team effort involving base coaches Chris Woodward and Andy Van Slyke as well as some of his veteran teammates. Those lessons are paying off, according to manager Lloyd McClendon.
"I just think it's James having the knowledge and understanding that that's a weapon for him and something that is going to help him stay in the big leagues," McClendon said. "That gives you a lot of motivation."
Attention to detail and using film to study opponents more in depth is just part of the Mariners' progress on many fronts this season.
"When I took the job, I said part of the problem was making sure we're prepared on a daily basis," McClendon said. "Not just physically, but from a mental standpoint, too. That gives you an edge. Knowledge is power. When you know your opponents and what they're going to do in certain situations, it takes the edge off a little bit and should make you a better player. And our guys have done that pretty darn good."
Greg Johns is a reporter for MLB.com. Follow him on Twitter @GregJohnsMLB as well as his Mariners Musings blog. This story was not subject to the approval of Major League Baseball or its clubs.