Miller sees more playing time with bat heating up
Despite midseason benching, McClendon kept faith in shortstop's potential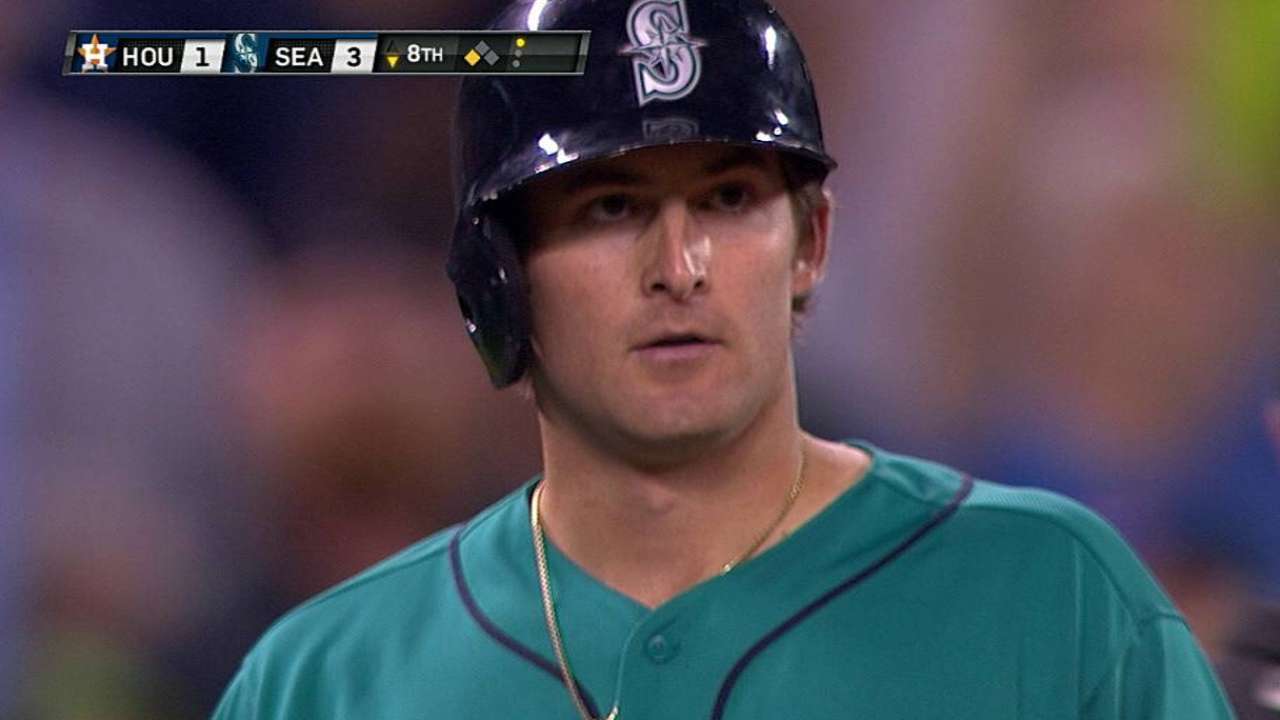 SEATTLE -- Just a few weeks ago, Mariners manager Lloyd McClendon was looking at Brad Miller as his new utility player, the replacement out of necessity for an injured Willie Bloomquist after losing the starting shortstop role to rookie Chris Taylor.
But Miller never hung his head and instead continued working and regaining his confidence at the plate after a rough first half. And as the season hits the final stretch, the 24-year-old Florida native has found himself increasingly in the mix while producing positive results and a .273 batting average since the All-Star break.
Miller has batted .429 (12-for-28) with six runs, three doubles, a triple, two home runs and eight RBIs over his last 10 games, including seven starts, as he hiked his season average from .198 to .217 in that span.
"I tried to just prepare the same way and be ready," Miller said. "Just go with the flow, keep playing and things kind of work themselves out."
Taylor has performed well also, batting .295 in 33 games since his promotion in late July. But the youngster is 2-for-15 in his last five games and McClendon has leaned toward using Miller against most right-handed pitchers in September.
McClendon says he'll continue using both shortstops, depending on what matchup he feels gives him the best chance to win each day. But he acknowledged that Miller seems to have found himself again after letting things slow down a bit during his time on the bench. And that doesn't surprise McClendon, who felt from the start that Miller had a chance to be a very good offensive shortstop.
"You look at his Minor League numbers, this guy has done things that Robinson Cano didn't do in the Minor Leagues," McClendon said, referring to Miller's .334/.409/.516 line in 219 games from Class A to Triple-A over the three prior years. "That's not just something you shake your head at. I knew there was something there.
"And I believe that. I think he's going to be an offensive force in this league for a long time. It's taken him a little while, and there's still a lot of learning to do. He'll get better. I think he's the type of guy who should hit 25 home runs in this league. He's got that kind of juice in his bat."
Miller didn't enjoy being benched midseason but tried turning it into a positive.
"I think it all helps," he said. "Just getting experience and playing, whatever role it is. It's a long year. I haven't been through a full year in the big leagues and you learn. You learn through the ups and downs. I'm definitely more aware of the type of player I am and what I have to do to be successful now."
Greg Johns is a reporter for MLB.com. Follow him on Twitter @GregJohnsMLB as well as his Mariners Musings blog. This story was not subject to the approval of Major League Baseball or its clubs.