Cashner lifts Padres with gem against Dodgers
Righty goes seven innings, adds two RBIs for first win since April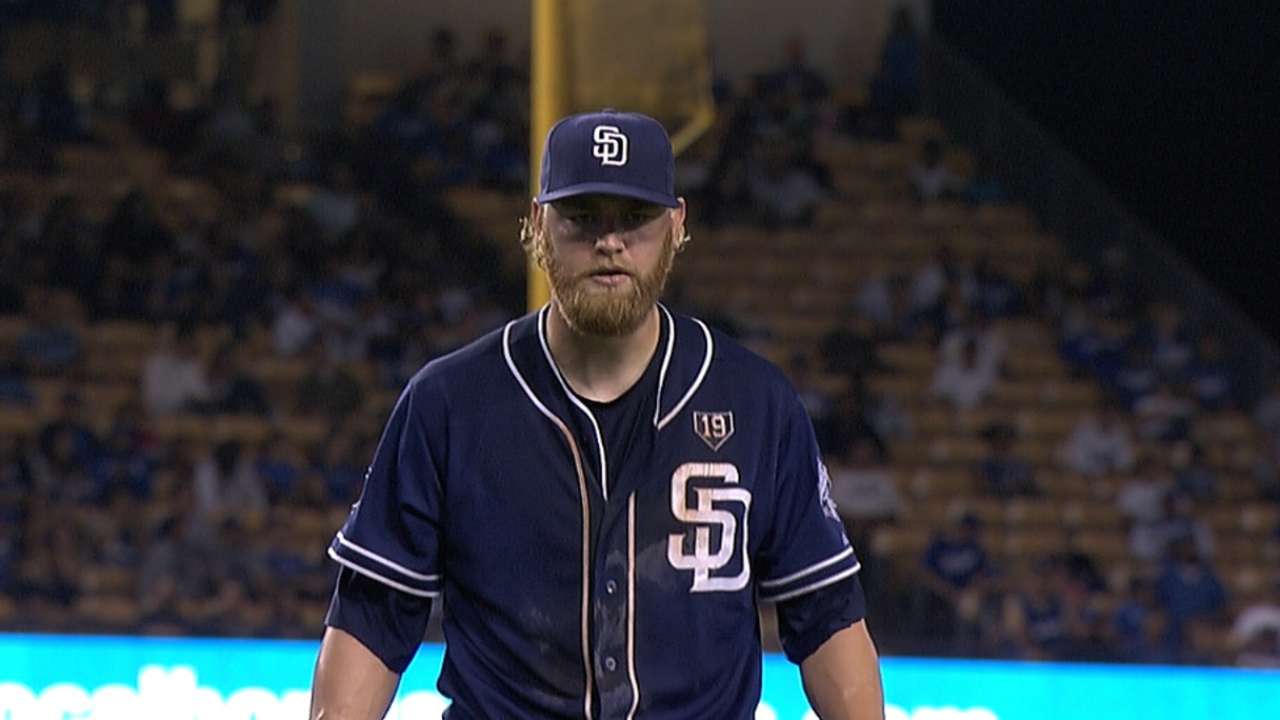 LOS ANGELES -- The Padres had waited six days. Andrew Cashner had waited five months. On Tuesday night, neither could wait any longer.
With seven strong innings on the mound and a two-run double at the plate, Cashner helped end the Padres' six-game skid and earned his first win since April 16 with a 6-3 victory over the Dodgers.
"We were joking earlier that he needed a win, so he was going to do anything to get a win today, and he did it," catcher Rene Rivera said. "He got a double, two RBIs to help his cause, and he was great."
Cashner entered the game 2-7 despite a 2.39 ERA in 15 starts. After coming off his second stint on the disabled list on Aug. 23, Cashner allowed two runs or fewer in each of his last three starts, yet was 0-1 to show for it. A victim of just 2.1 runs of support per game, Cashner provided his own support at Dodger Stadium.
With two outs and two runners on base in the second inning, Cashner doubled to the left-field wall off Dodgers right-hander Roberto Hernandez, driving in the first two runs of the game and advancing to third on an error by shortstop Hanley Ramirez. The error was Ramirez's second two-out error in the inning, coming on a relay throw. Once Ramirez dropped the ball, Cashner took an aggressive turn toward third, sliding to beat the tag.
"It's fun whenever you get to hit and run the bases. I always like hitting and wish I could play a position," Cashner said. "Whether it's me or somebody else, I just think it's just big getting a lead early. Then you have a lot more room for error. You can work ahead and pitch guys a little bit different."
One batter after Cashner's double, rookie Cory Spangenberg drove in his pitcher with a single to complete the three-run frame, and Jedd Gyorko drilled a two-run home run in third to lend Cashner a 5-0 cushion.
The third was Hernandez's last inning. The Padres tagged him for five runs (two earned) on five hits and one walk.
"Right from the get-go I thought we had good at-bats against Hernandez," manager Bud Black said. "I think the key was how Cash was going, and we had some big swings early that kept the game on our side."
Using a power sinker that touched as high as 98 mph, Cashner held the Padres' lead with yet another strong night on the mound. Rivera said he thought Cashner's slider was the best he's seen it, and the right-hander was able to use his changeup to keep hitters off balance.
Cashner did, however, run into some trouble in his final two innings.
Dodgers leadoff hitter Dee Gordon began the sixth with a bunt single and came around to score on a two-run home run by Adrian Gonzalez. Rivera said he called for a fastball up and in, but the ball wound up low and near the middle of the plate. The next batter, Matt Kemp, narrowly missed a home run of his own with a double off the left-center-field wall. But Cashner managed to dance out of trouble. Carl Crawford hit a ground-ball single that struck Kemp as he advanced to third for the second out of the inning, and Juan Uribe grounded out to end the threat.
In the seventh, Cashner allowed singles to Yasiel Puig and A.J. Ellis to begin the frame, but he retired pinch-hitter Joc Pederson, Gordon and Ramirez to keep the Dodgers at bay.
"You look at a number of their hits -- a little bit soft," Black said. "Now, Adrian Gonzalez's hit was not soft. That was well-struck. But I thought Cash threw the ball well. Really clutched up, made some pitches at big times when the Dodgers were threatening."
Cashner finished having allowed two runs on nine hits and one walk, striking out two. But the most important stat on his line Tuesday night was undoubtedly the W.
"Yeah, it's been a monkey on my back," Cashner said. "I don't pay a lot of attention to it, but it's finally nice to get a win and help the team out.
"Anytime I take the mound, anytime we have a losing streak going, it's one of those things where I want to be the guy to stop it."
Michael Lananna is an associate reporter for MLB.com. This story was not subject to the approval of Major League Baseball or its clubs.