Hernandez's struggles trim game off Dodgers' lead
Hanley makes two costly errors to open the door early for Padres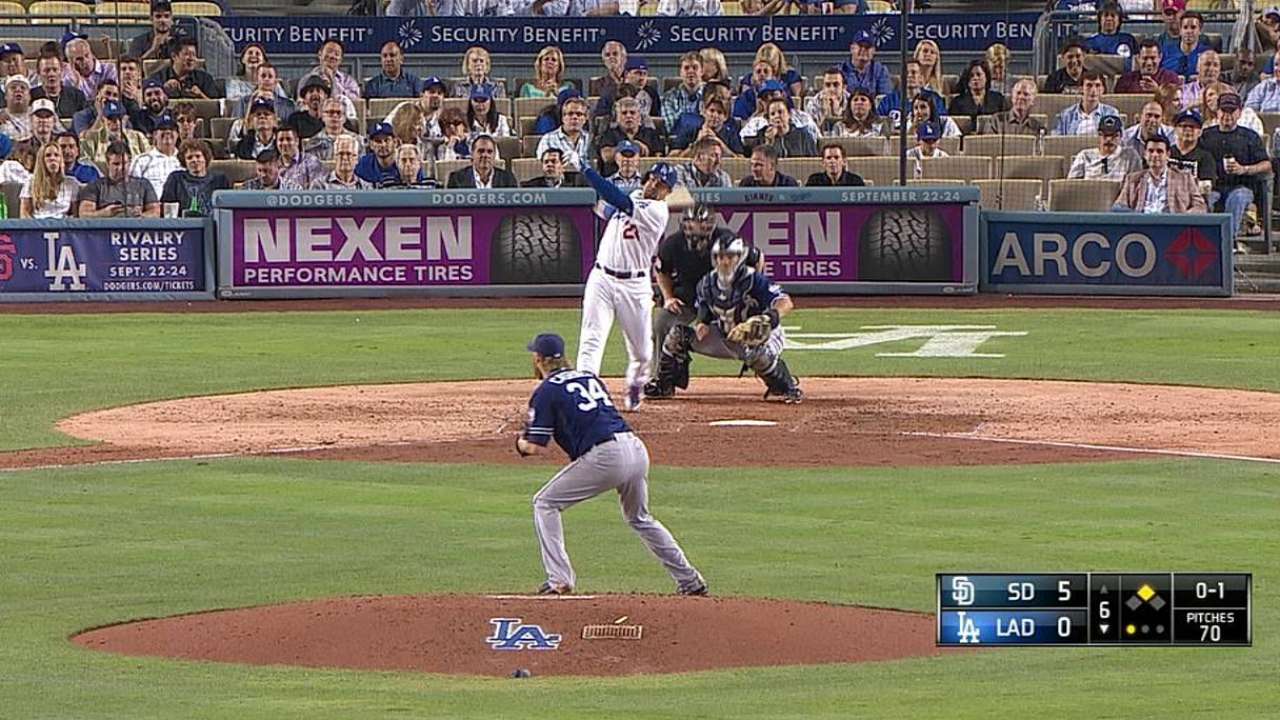 LOS ANGELES -- If Roberto Hernandez was pitching to save his spot in the rotation Tuesday night, the last thing he needed was the Dodgers' defense repeating its circus act from the night before.
But shortstop Hanley Ramirez committed a pair of errors that led to three unearned runs in the second inning, and the Dodgers lost to the Padres, 6-3, their four-game win streak snapped and their lead over the Giants in the National League West cut to 2 1/2 games.
Adrian Gonzalez's two-run homer in the sixth inning ruined Andrew Cashner's shutout, followed by a double that extended Matt Kemp's hitting streak to 15 games. Gonzalez has 23 homers and 102 RBIs, with four of the homers and 10 of the RBIs coming this homestand.
But it wasn't enough for Hernandez to overcome Ramirez's mistakes.
"We lost by three runs and gave away three runs," said Gonzalez. "That's why it hurts."
Although the Dodgers have a pair of defensive specialists on the bench in Miguel Rojas and Erisbel Arruebarrena, manager Don Mattingly gave no sign that he's wavering about playing Ramirez, who also had a throwing error in the three-error play on Monday night.
"He made an error tonight, and it ended up being a costly one," said Mattingly. "But it's not something that all of a sudden you just change what you've done all year long over one game. This is what we've been doing. We've been trying to get offense from that spot. He's a guy that can do it. Gets four hits last night, drives in a couple runs, you know, it just happened to be a costly one tonight, so it looks bad."
Instead of limiting the damage, Hernandez gave up a two-run double to Cashner on a 1-2 pitch in that ill-fated second inning and a two-run homer by Jedd Gyorko in the third.
"If it wasn't a September game, probably would have sent him back out there," Mattingly said of pinch-hitting for Hernandez in the third. "But we have enough [relievers] and we tried to get back in the game. He could have been out of that second inning."
Hernandez is 2-3 with a 4.75 ERA since coming to the Dodgers from the Phillies in an Aug. 7 trade and taking the place in the rotation of the injured Josh Beckett, who is out for the year. Hernandez has allowed five homers in 30 1/3 innings with Los Angeles.
Hernandez had no explanation for his back-to-back rough outings after throwing quality starts in three of his first four outings after the trade.
"I try to do the exact same thing," he said. "Try to stay ahead in the count, try the same approach. I'm not sure what's going on. It's a very difficult situation right now."
With Dan Haren the favorite to be the fourth starter in October, the Dodgers will now ponder who to use as the fifth starter in September.
"We're not going to talk about that tonight," said Mattingly.
Hernandez has pitched 7 1/3 innings total in his last two starts, both losses. Carlos Frias threw six scoreless innings in a spot start, but he might be more valuable out of the bullpen.
Kevin Correia is a candidate after being exiled to long relief. He pitched two shutout innings of relief, as did rookie Yimi Garcia.
San Diego added an insurance run in the eighth off Jamey Wright.
In the top of the second, the Padres had two outs, nobody on at the bottom of the order when the Dodgers' defense let them down.
Ramirez whiffed on a backhand attempt of Rymer Liriano's grounder for an error. Alexi Amarista sent Liriano to third on a perfect hit-and-run single in the hole vacated by Ramirez covering to put runners on the corners.
Cashner doubled them home on a scorching liner to left-center. When Yasiel Puig's throw eluded Ramirez (his second error) and second baseman Dee Gordon, Cashner tried for third and beat Gonzalez's backhanded bouncing flip. Cory Spangenberg singled home Cashner.
On the mound, Cashner went seven innings for his first career win against the Dodgers and his first win against anyone since April 16.
"I feel like I know this lineup really well, better than any lineup I've faced," Cashner said after his sixth career start against the Dodgers. "I've faced them a lot, so if I can command my fastball against these guys, I think it's easily going to be a good night."
Ken Gurnick is a reporter for MLB.com. This story was not subject to the approval of Major League Baseball or its clubs.