Alvarez passes final test, cleared to start Friday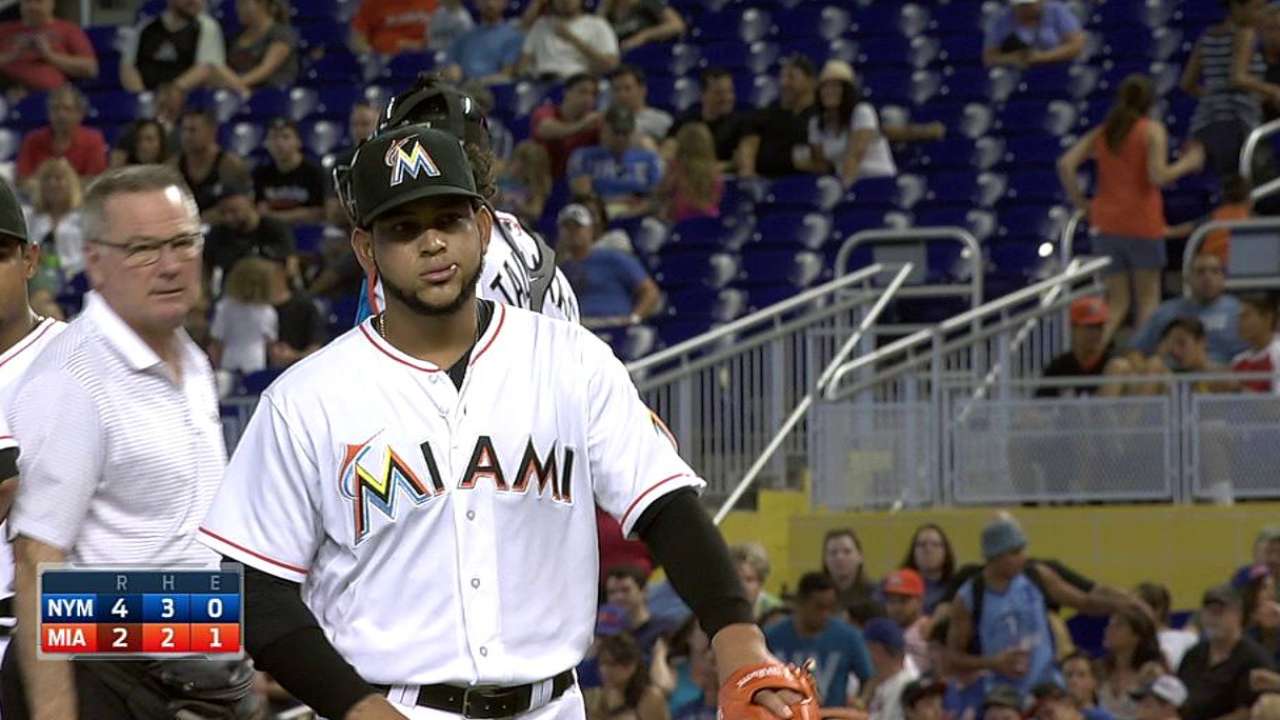 MILWAUKEE -- The Marlins' push for a playoff spot got a boost with the return of All-Star right-hander Henderson Alvarez, who experienced no problems during a final light throwing session Tuesday and is scheduled to start the opener of a three-game series at Philadelphia on Friday night.
"Henderson's good," Marlins manager Mike Redmond said before Tuesday's game at Milwaukee. "He threw well, so he's good to go for Friday. So that's good news for us."
Alvarez, 10-6 with a 2.88 ERA this season, left his Sept. 1 start against the Mets with a strained oblique muscle and was expected to be sidelined longer, but now it appears he will miss just one start.
"I think we're all fortunate that this wasn't a year-ender for him and that he's going to be able to come out and finish the season and hopefully win us some more ballgames," Redmond said.
Miami was 4 1/2 games out of the second National League Wild Card spot entering Tuesday night's game -- the second in a four-game series at Miller Park against the Brewers, one of four teams ahead of the Marlins in the Wild Card standings.
Alvarez also was on the 15-day disabled list in early August with inflammation in his right shoulder. Last season, he began the season on the DL -- also with right shoulder inflammation -- and he did not make his first start until July 4. The righty made 17 starts, finishing the year 5-6 with a 3.59 ERA, including a no-hitter on the final day of the regular season.
"He's been able to fight through some stuff, no doubt, like a lot of guys do, but it seems like maybe he's had a couple more than the average player, I guess," Redmond said. "But, hey man, at the end of the day, he's able to work through them, and that's really all that matters."
Left-hander Brad Hand, who pitched six scoreless innings in a spot start Sunday in a 4-0 victory over Atlanta, will be pushed back a day to Saturday. Redmond said he would discuss the rotation with pitching coach Chuck Hernandez, but that a six-man rotation probably would not be an option.
"I've got to talk with Chuck and see," Redmond said. "Right now, we're at Friday, Saturday, and then we'll figure out where we go from there."
Jim Hoehn is a contributor to MLB.com. This story was not subject to the approval of Major League Baseball or its clubs.