Coulter, Nelson earn Minor League honors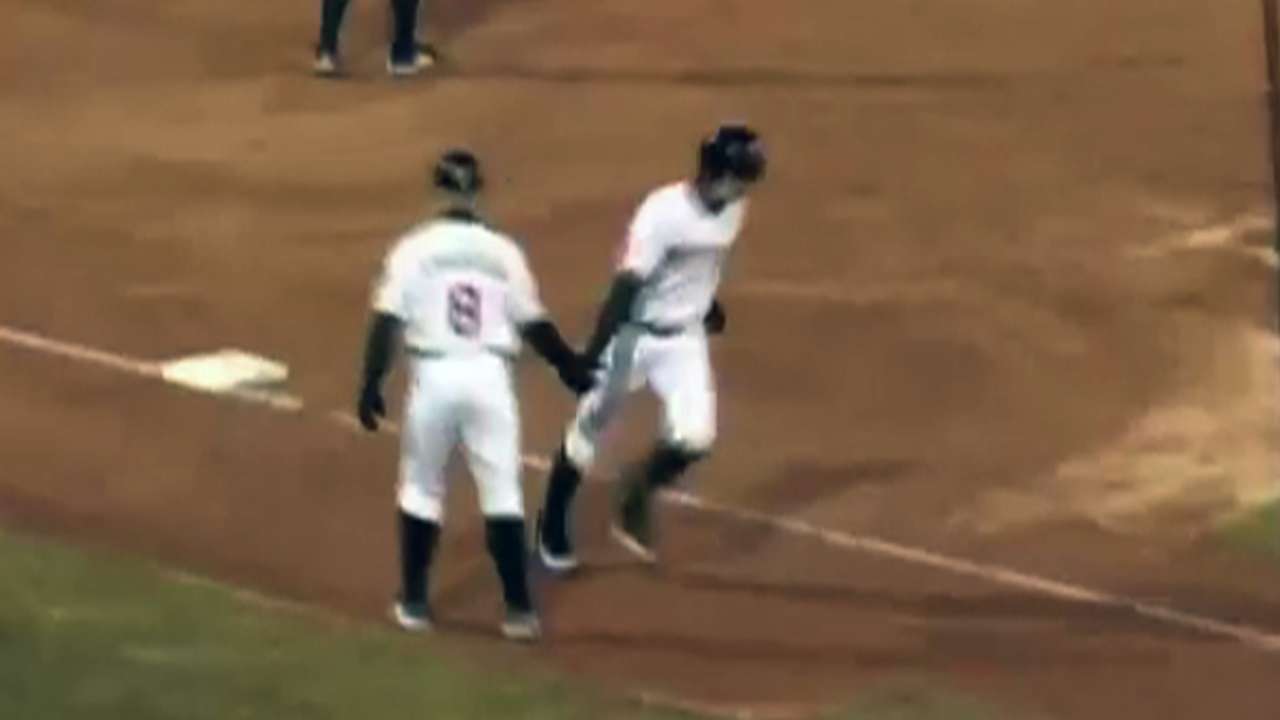 MILWAUKEE -- Clint Coulter's power surge and Jimmy Nelson's dominant first half earned each Brewers prospect a significant pat on the back Tuesday.
Coulter was named the Brewers' Minor League Player of the Year, and Nelson, who has graduated from prospect status since a midseason callup to the Majors, was named Pitcher of the Year. Both organizational honors are named for Robin Yount, the former first-round Draft pick who played all 20 of his Hall of Fame seasons in Milwaukee.
Coulter, 21 and the Brewers' first round Draft pick in 2012, saw a dramatic increase in power despite playing much of the early season in the Midwest's cold weather. He finished with 22 home runs, 89 RBIs and a .520 slugging percentage in 126 games at Class A Wisconsin -- career highs across the board.
Coulter led the Midwest League with a .930 OPS and tied two other players for the league's home run crown while matching a Timber Rattlers record for home runs -- also held by current Brewers left fielder Khris Davis and power prospect Victor Roache. At the same time, Couler batted .287 and posted a .410 on-base percentage to lead his team. His RBI count and slugging percentage ranked second in the Midwest League.
"Obviously, he was more mentally prepared for the challenge of the Midwest League this year than he was a year ago," said Brewers assistant general manager Gord Ash, referring to Coulter's quiet 33-game stint with the Timber Rattlers to end the 2013 season.
In 2014, Coulter split his playing time almost equally between catcher and designated hitter, but his long-contemplated move from behind the plate may now be imminent. Ash said third base, first base and left field were all under consideration for Coulter, and that a decision would probably come in Spring Training.
"I think he understands that his long-term offensive ability is going to be assisted with a move," said Ash, who indicated the choice of position will be dictated by what is best for Coulter, and not the organizational depth chart.
"You can't go by the organization, because it changes so much," Ash said. "You have to see what his abilities are, how do his abilities best translate. Just like the Draft -- you don't draft for position, you draft for what makes the most sense."
Nelson, 25, was 10-2 with a 1.46 ERA in 17 games (16 starts) at Triple-A Nashville, with 114 strikeouts and 32 walks in 111 innings. At the time of his promotion to Milwaukee on July 11, Nelson led the Minor Leagues in ERA, ranked third in the Minors in strikeouts, and he tied for the Pacific Coast League lead in wins.
"I've said before that I think we have a lot of talent in our system," Nelson said. "Sometimes that can get overlooked a little bit, but we do. We have some good talent -- not just pitchers but position players too. It's fun to be with those guys and see them as they come up and get better."
Coulter and Nelson will be honored in a pregame ceremony on Saturday at Miller Park.
Adam McCalvy is a reporter for MLB.com. Read his blog, Brew Beat, and follow him on Twitter at @AdamMcCalvy. This story was not subject to the approval of Major League Baseball or its clubs.