Rays decide to shut down Smyly
Left-hander was acquired in the trade that sent Price to Tigers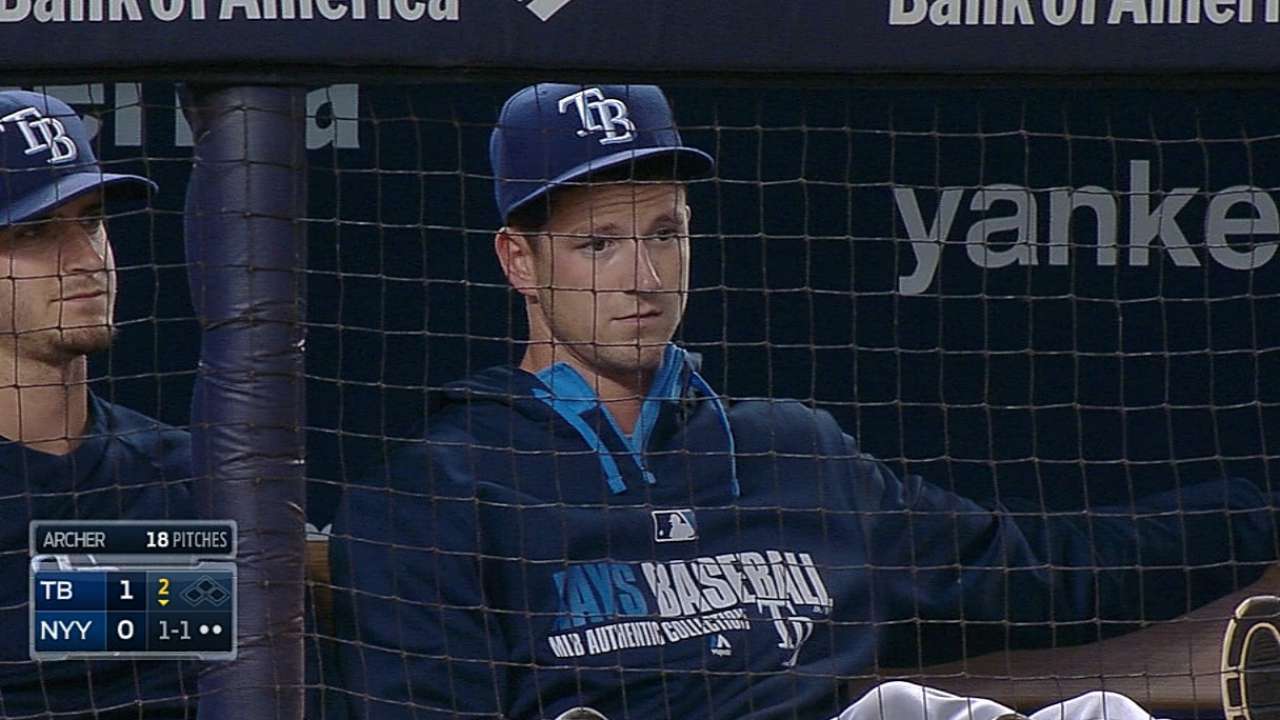 NEW YORK -- Drew Smyly will not make any more starts for the Rays this season.
The Rays announced the news that they were shutting him down for the season prior to Tuesday night's 4-3 win over the Yankees.
"No reaction," Smyly said. "You knew it was coming. It was a matter of time. They thought it was now, and you just gotta agree and look forward to the future.
"You want to keep pitching for sure. You're coming to the field every day and you see every guy getting ready to play. You want to be a part of it. But at the same time, not much you can do about it. Call it a good year and look forward to next year."
Smyly, who came to the Rays in the July 31 trade that sent David Price to the Tigers, has thrown a career-high 153 innings this season. Based on that number and the fact that the team does not appear headed for the postseason, the Rays decided not to let the left-hander make his next scheduled start, Friday in Toronto. Had the Rays opted to allow him to make that start, it would have been his last of the season.
Rays manager Joe Maddon explained the Rays' logic in making their decision following the win.
"We talked and talked and talked about it," Maddon said. "Now you probably can permit him to go out there and throw one more game. And talking it over with everybody, the only reason you permit or say go ahead and throw one more game is for him. And to say, 'Drew, throw one more game because we like you and ... we know you want to go pitch. Go pitch.'
"For me, all the other reasons trump that particular reason in a sense that nothing good can happen other than we're satisfying his urge to pitch. For me, that's a pretty good reason. But overall, to be more aggressive with him this year as opposed to next year doesn't make any sense."
The Rays announced they will dip into their farm system to recall right-hander Nathan Karns to fill Smyly's spot in the rotation. He came to the Rays in the trade that sent catcher Jose Lobaton to the Nationals. In three Major League starts with the Nationals in 2013, he went 0-1 with a 7.50 ERA.
Smyly has pitched well since coming to the Rays, going 3-1 with a 1.70 ERA in seven starts. Overall, he is 9-10 with a 3.24 ERA in 28 games this season.
Smyly said that it was nice to end his season on a high note.
"Definitely, I couldn't have asked for a better finish coming here with the Rays," Smyly said. "I feel like they really helped me learn a lot about approach with hitters and getting to be around these other starters and learning how they go about their business. It's been great. I love my time here. So, sorry I have to get shut down now, but I'm looking forward to next year."
Bill Chastain is a reporter for MLB.com. This story was not subject to the approval of Major League Baseball or its clubs.