Nelson odd man out of crowded Brewers rotation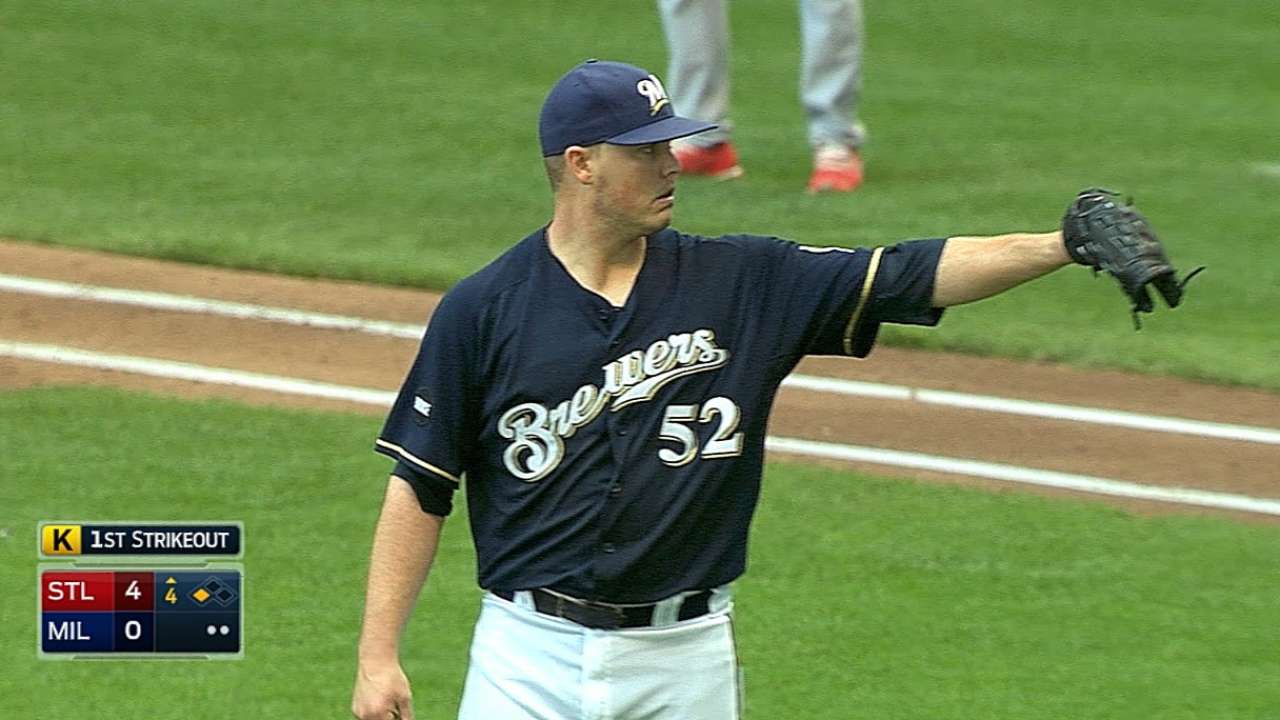 MILWAUKEE -- The Brewers' return to a five-man starting rotation meant a move to the bullpen for Jimmy Nelson on the same day he was named the organization's Minor League Pitcher of the Year.
Nelson, 25, had been in the rotation since July 12. Including a spot start in May, he is 2-7 with a 4.38 ERA in 11 games, pitching most recently on Sunday against the Cardinals. With another midseason callup, Mike Fiers, pitching beautifully, Nelson was the odd man out now that Matt Garza has recovered from a rib-cage strain.
"He said he feels great and he will be available today, but he won't be available today," manager Ron Roenicke said of Nelson. "We are thinking Thursday. ... He has a big arm. We like to be able to give him an inning that's not so stressful, but I told him he could be in there right away where it's a big inning. He said, 'That's fine with me.'"
Nelson has some experience pitching in relief. He did so last season after a callup to Milwaukee, and also worked in relief occasionally in the Minor Leagues and at the University of Alabama, where he briefly served as a closer.
"All of that will help," said Roenicke, who characterized Nelson as mentally suited for any role. "If you perform well, then mentally you get confident and you know you can do it."
When asked two weeks ago about Garza's pending return from the disabled list, Nelson indicated he was open to a temporary bullpen move.
"Truthfully, it's so cliché, but whatever helps us win," Nelson said then. "Whatever helps us get to the playoffs and succeed in the playoffs."
Adam McCalvy is a reporter for MLB.com. Read his blog, Brew Beat, and follow him on Twitter at @AdamMcCalvy. This story was not subject to the approval of Major League Baseball or its clubs.