Streak snapped at 38 for BTS participant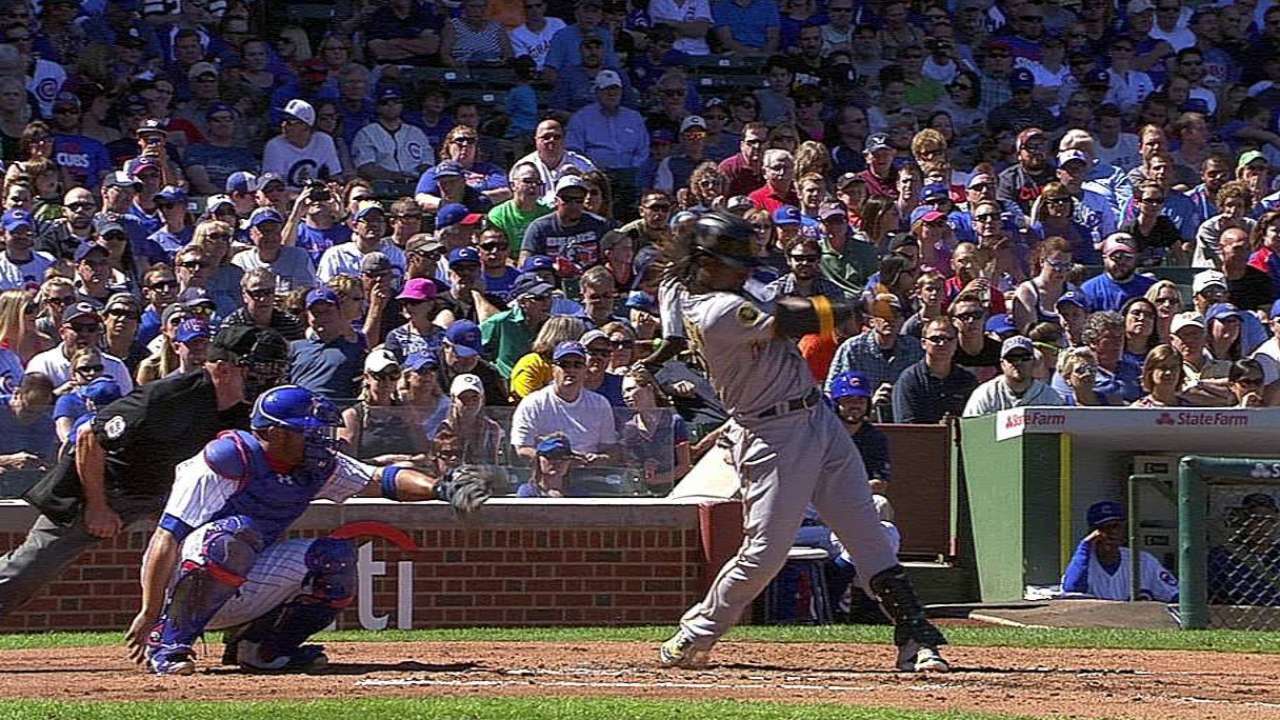 Matt Borelli entered Tuesday as MLB.com's newest Beat the Streak extraordinaire. An 18-year-old from Connecticut, the soon-to-be college student had so far made 38 consecutive correct picks on his trek toward a potential $5.6 million windfall.
Five point six million dollars. That's more than the average annual salary in Major League Baseball. That's season tickets for life. That's, well, almost anything you've ever wanted.
On Tuesday, Borelli asked Andrew McCutchen to take on quite the task. A hit of any kind off the outfielder's pine would have boosted Borelli's streak to 39, good for an unshared spot atop the BTS season leaderboard.
Such an event would have set up Borelli for a chance at the premier BTS consolation prize: $10,000, which will be doled out if no Streaker secures a permanent place in BTS lore. The pot will be split in the event of a tie.
Unfortunately for Borelli, McCutchen went 0-for-3 on the evening, reaching base only once via a hit-by-pitch.
"It's disappointing that the streak is over, for sure," Borelli said. "Looking back at it, it's unreal that I was even in this spot to begin with. I'm just thankful for the opportunity to play this incredible game.
"It's relieving that I'm tied for the top spot on the leaderboard. I guess it's a silver lining, it shows that my streak wasn't all for naught."
The outfielder came close to tallying a hit in the fifth inning, but he was denied by a stellar fielding play.
"Unfortunately, [Phillies third baseman] Maikel Franco robbed him of a double in the fifth inning with a terrific diving stop," Borelli said.
McCutchen was a sound pick, for sure, as he entered Tuesday with a .341 average since Aug. 1 and a .311 mark overall.
"I picked McCutchen because he had three hits [in each of] his last three games. His August stats [were] fantastic," Borelli said.
"He's definitely in the running for the NL batting title, and I was hoping he'd get at least one hit [Tuesday]."
BTS participants try to establish a virtual "hitting streak" by picking one or two big leaguers per day, with their runs continuing as long as their selections collect at least one hit in their contests. In 13-plus seasons of BTS play, no one has matched Hall of Famer Joe DiMaggio's magic hitting-streak total of 56, set in 1941. To win the $5.6 million, one must top DiMaggio's run by one.
And along the path to potential BTS lore, Borelli was eligible to pick up prizes. In fact, cool stuff is up for grabs with as few as five consecutive correct picks.
So even if you can't secure the millions sitting at the end of the BTS rainbow, you can still claim from the million-plus giveaways available every day. This is a new addition for 2014, so keep playing BTS, and you might find yourself with free merchandise from your favorite team, sitting pretty with complimentary seats at the World Series.
Borelli will be back on the road to glory before you know it, again striving for the ultimate prize. But even if he can't conquer the contest in full, he said he enjoys the ride.
"I will definitely continue playing BTS, as it's easily my favorite fantasy sports game out there," Borelli said.
And if his recent success portends anything for the future, Borelli has as good a chance as anyone to return with vigor.
Zachary Finkelstein is a fantasy editor for MLB.com. This story was not subject to the approval of Major League Baseball or its clubs.