Siegrist hones in on mechanics after earlier troubles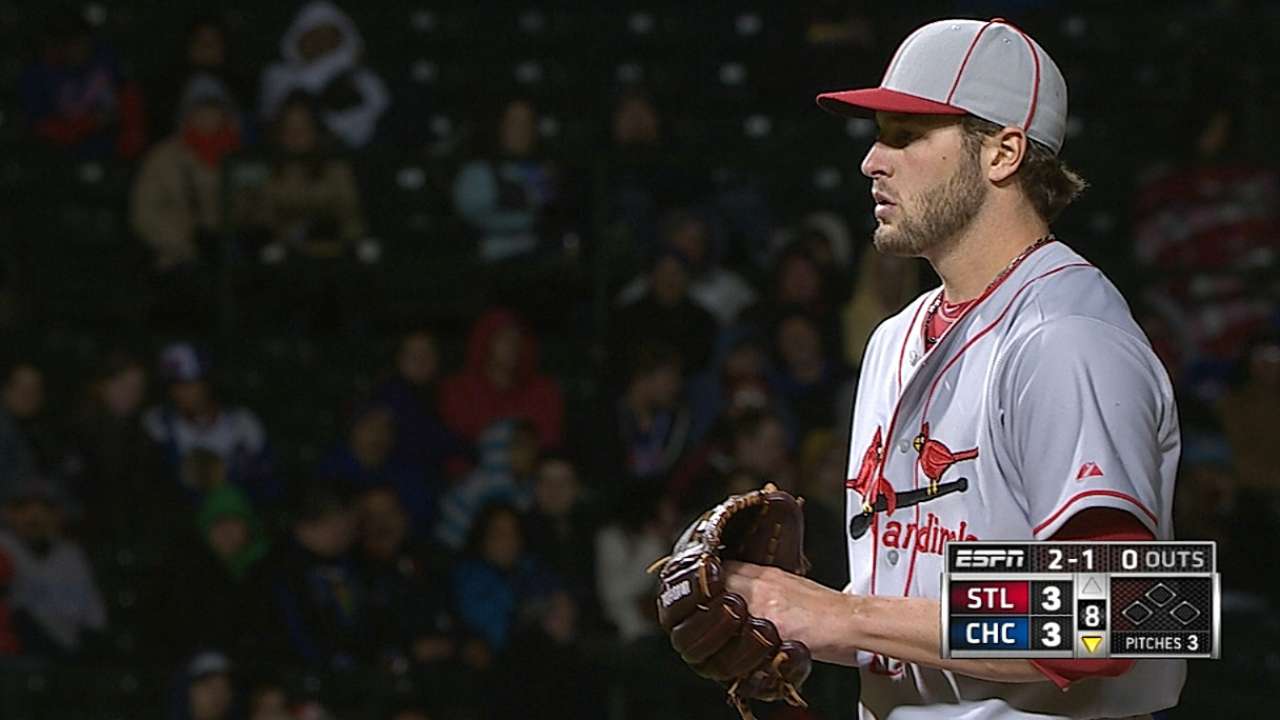 CINCINNATI -- Left-handed reliever Kevin Siegrist was an integral part of the Cardinals' bullpen down the stretch in 2013, helping the club secure a National League Wild Card berth and eventually an NL pennant.
Siegrist tossed 25 scoreless innings over 28 appearances from August through the end of the 2013 regular season, and posted a 0.45 ERA for the season overall. His WHIP was 0.88 and his strikeout-per-nine-innings ratio was 11.3.
But though he opened this season as the club's setup man, the 25-year-old struggled following a stint on the disabled list with a left forearm strain that was followed by left shoulder discomfort. After being activated from the DL, he allowed 11 earned runs in eight innings pitched (12.38 ERA) over nine appearances from July 25-Aug. 16.
Siegrist said there was no arm discomfort over that period, and he didn't know what the cause of his ineffectiveness was. The left-hander was sent down to Triple-A Memphis to work on regaining his command.
Siegrist posted a 1.35 ERA (one earned run in 6 2/3 innings) in six appearances for Memphis and was recalled on Aug. 31. Prior to Tuesday's 9-5 loss to the Reds at Great American Ball Park, he had only been used once since then -- allowing a run over one-third of an inning against the Pirates on Sept. 1.
But although he hadn't made an appearance in eight days, Siegrist said on Tuesday that he may have found the culprit for his recent troubles.
"I've been looking at a lot of film actually and trying to sharpen things up," he said. "I noticed I got lackadaisical with my leg-kick, causing me to rotate instead of driving down the mound and having more force behind my throws. So I've been working on that, and I feel a lot better. So we'll see."
Siegrist got a chance to put that mechanical fix to work on Tuesday when he was summoned from the bullpen with runners at first and second and one out in the seventh. He was sharp, striking out both Ramon Santiago and Billy Hamilton on seven pitches.
"That's probably the best I've felt this year," he said afterward. "I was working on something, I found out what it was mechanically, and just needed a chance to get back out there on the mound."
Siegrist hopes that he'll be able to build off Tuesday's successful outing so that he can help his team in October, like he did last season.
"That's always the goal is to try to get to the postseason and try to win a World Series," he said. "And I, personally, want to be a part of it. So I'm trying to get better every single day."
Manny Randhawa is an associate reporter for MLB.com. This story was not subject to the approval of Major League Baseball or its clubs.