Top '14 Draft pick Chavis relishes trip to Fenway
After rough start, infielder helped lead Gulf Coast League Sox to title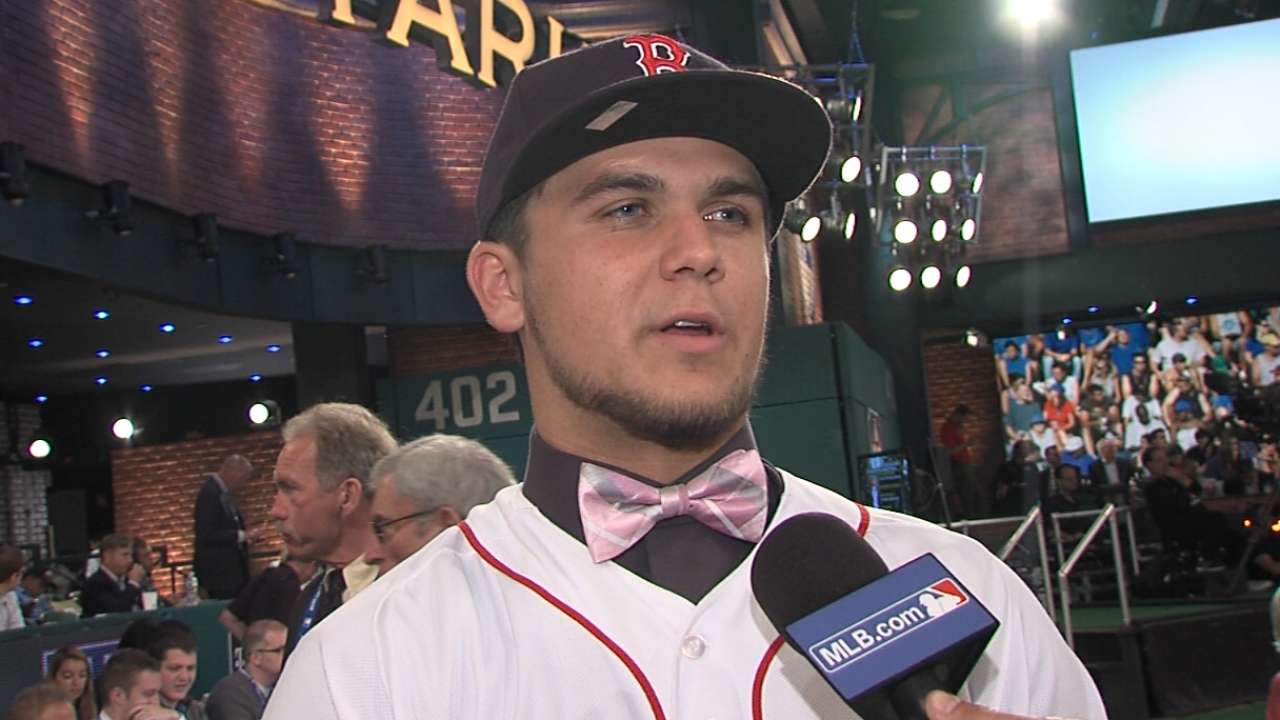 BOSTON --- Michael Chavis took batting practice at Fenway Park on Tuesday afternoon, going through his normal habit of staying through the ball and hitting line drives at first. After a little while, though, the 26th overall pick in the 2014 First-Year Player Draft began trying to air some balls out over the Green Monster.
That was just one of the things the Red Sox's first-round pick in June got to enjoy as he spends a few days in Boston following the end of the Rookie-level Gulf Coast League season, which concluded Sept. 1. Friday, he'll head to the fall instructional league in Florida.
It's common for a first-round pick to take batting practice and spend a day with his new club, but the timing didn't work out when Chavis inked his deal in June, so the parties set a date, which was Tuesday.
The 19-year-old Chavis graduated from Sprayberry High School in Marietta, Ga., this spring and struggled mightily through his first month as a professional. He hit .125/.234/.196 in July, striking out 21 times in 57 at-bats.
"I knew it would be a big adjustment, so I expected failure," Chavis said. "But I did not expect it to the degree that it happened."
In August, though, Chavis got hot as he got accustomed to the rigors of pro ball. He went 29-of-78 (.372) with 11 extra-base hits and posted a 1.020 OPS last month. He helped lead the GCL Red Sox to a title, going 3-for-15 with six RBIs in four postseason games.
"Once [failure] happened, I think I handled it well and I bounced back pretty well," Chavis said. "So I was pretty happy with the results."
"To see a guy finish as strong as he did, a positive first year for him," Red Sox manager John Farrell said.
Chavis played shortstop in high school, but got plenty of work at third base this summer. The 5-foot-10, 190-pound infielder is stockier than most shortstops, and says he's now most comfortable at third, but can play both in addition to second base.
"I don't really look like a shortstop, I guess you could say," Chavis said. "When you look at me, you say, 'He's a third baseman.' It's just more realistic."
Chavis will fly out of Boston on Wednesday night, go back to Georgia to pack and then head to Florida --- likely in his Ford F-150 SVT Raptor, Chavis' favorite present to himself after receiving a $1.87 million signing bonus.
While at Fenway, though, Chavis met the team and sat at a locker near David Ross, Dustin Pedroia and Mike Napoli, picking each of their brains. Pedroia was the first to greet him.
"At first, I was at this don't speak unless spoken to aspect," Chavis said with a laugh. "But as I started talking to them, it seemed as they were almost as interested in me as much as I was interested in them."
Steven Petrella is an associate reporter for MLB.com. This story was not subject to the approval of Major League Baseball or its clubs.