Yanks unable to overcome Kuroda's short start
Righty chased after just 3 1/3 innings; out call on Drew at home crucial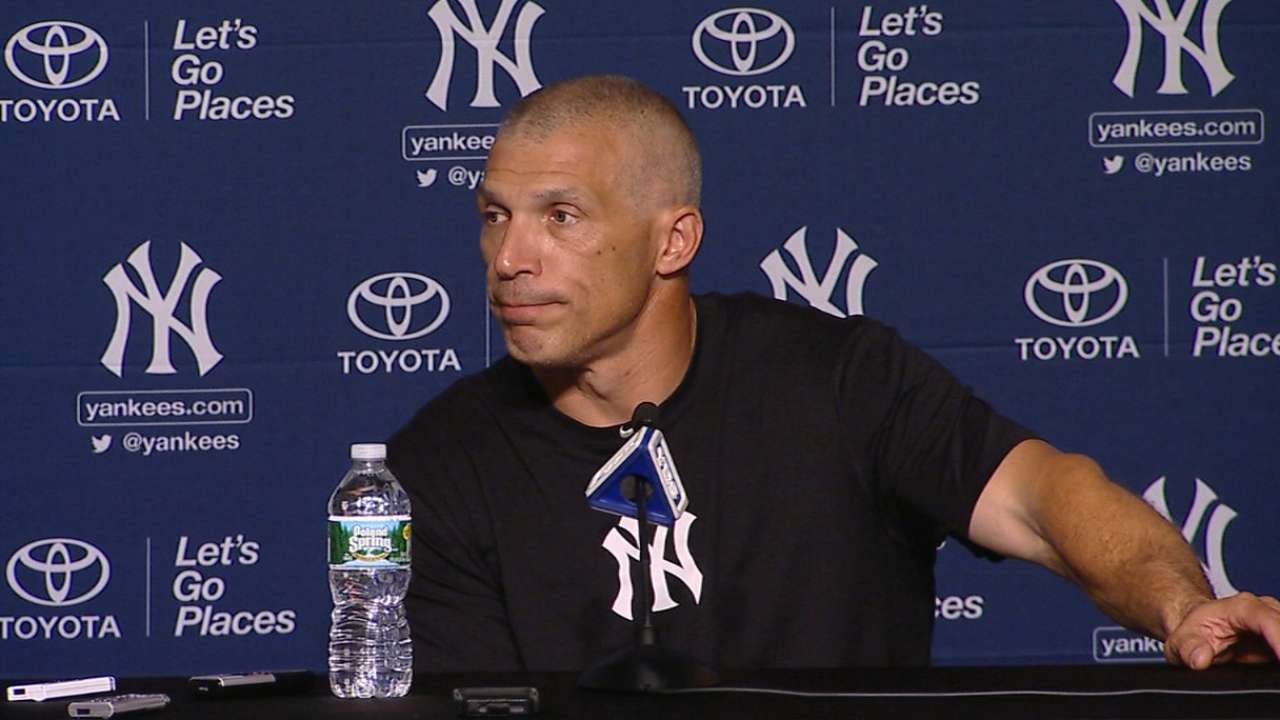 NEW YORK -- The odds of granting Derek Jeter's request for one final postseason continue to grow longer as each day peels off the schedule, and to borrow a phrase from another all-time Yankees great, it sure is getting late early out there.
Hiroki Kuroda turned in his shortest outing of the season and Stephen Drew was called out on a key play at home plate as the Yankees lost for the third time in four games, dropping a 4-3 decision to the Rays on Tuesday night at Yankee Stadium.
"It leaves us in a pretty big hole," Yankees manager Joe Girardi said. "Basically, we have to win every day. That's the bottom line. We have to win every day. I've said all along, we can't worry about the other teams if you don't win. And we have to win every day."
Kuroda has seen good results from his post-All-Star break decision to cut back on throwing between starts, hoping to avoid a late-season swoon like last year's, but he morphed back into September 2013 form after striking out the side in the first inning.
James Loney homered off Kuroda as part of a three-hit night as Tampa Bay hammered the right-hander for nine hits over just 3 1/3 innings, further dimming the Yankees' postseason hopes with another defeat at a time when they cannot afford any. The Yankees fell 5 1/2 games out of the second American League Wild Card spot.
"I had a great start in the first inning, but I feel like they changed their approach in the second inning on, and I wasn't able to re-adjust instantly," Kuroda said through an interpreter.
With the Rays deciding to swing early and often, Loney opened the second inning with his ninth homer of the season; no surprise, as Loney has crushed Yankees pitching at a .382 (21-for-55) clip this season.
Tampa Bay added a pair of runs on four singles in the third inning, with Evan Longoria and Loney collecting RBIs. Ben Zobrist's fourth-inning RBI single chased Kuroda, who walked none and struck out five in a 67-pitch outing.
Chris Archer retired the first nine batters he faced, then held the Yankees to three runs and seven hits over 6 1/3 innings. Jacoby Ellsbury hit his 15th home run of the season in the fourth inning, a solo shot to right field that also accounted for New York's first hit.
Making his first start in pinstripes, outfielder Chris Young drilled a two-run single that pulled the Yanks closer in the fifth, but that rally fizzled out as Drew was cut down at home plate representing the tying run, a call that was confirmed by umpire review.
With runners at first and second and none out, Ellsbury laced a single to left field. Third-base coach Rob Thomson waved Drew home, where Matt Joyce's throw arrived in plenty of time. Catcher Ryan Hanigan straddled the baseline and Drew slid toward Hanigan's left leg, tagged without touching the plate.
"It's just tough because when you look at a replay, as a runner, you've got no place to go," Drew said. "The only other alternative is to do the old-school way, try to take him out."
Earlier in the day, Major League Baseball executive vice president of operations Joe Torre sent a memorandum to all 30 clubs clarifying Rule 7.13, saying that umpires had been instructed not to call a runner safe even if a catcher blocks the plate without the ball, as long as the catcher does not impede the runner's path to the plate.
Thomson said that he was aware of the memo, but took responsibility for putting Drew in that situation.
"Really, from my perspective, the ruling doesn't really come into play," Thomson said. "It's just a matter of whether I think that guy is going to be able to score or not. And it shouldn't come into play, especially with nobody out."
Jeter lined into an inning-ending double play, and so the Drew send proved to be the difference in the game, though the Yankees threatened in the seventh as Ichiro Suzuki singled and stole second with one out, chasing Archer. Grant Balfour entered and got Drew to line to right field with Ichiro running for a double play.
"We were very fortunate in a very perverse way," Rays manager Joe Maddon said. "Suzuki's running and Drew hits a line drive at Wil [Myers]. I mean, come on, we'll take that."
Brad Boxberger and Jake McGee pitched hitless ball, ensuring the four-run hill was too much to scale.
"I mean, we want to win, obviously," Mark Teixeira said. "That's a tough game. We made a little run there, but you have to get to these guys before their eighth- and ninth-inning relievers. They're two of the best in baseball. We had some chances in the middle innings but just couldn't get over the hump."
Bryan Hoch is a reporter for MLB.com. Follow him on Twitter @bryanhoch and read his MLBlog, Bombers Beat. This story was not subject to the approval of Major League Baseball or its clubs.