Archer makes early lead stand up as Rays top Yanks
Loney homers, drives in two to back righty, who hurls 6 1/3 solid innings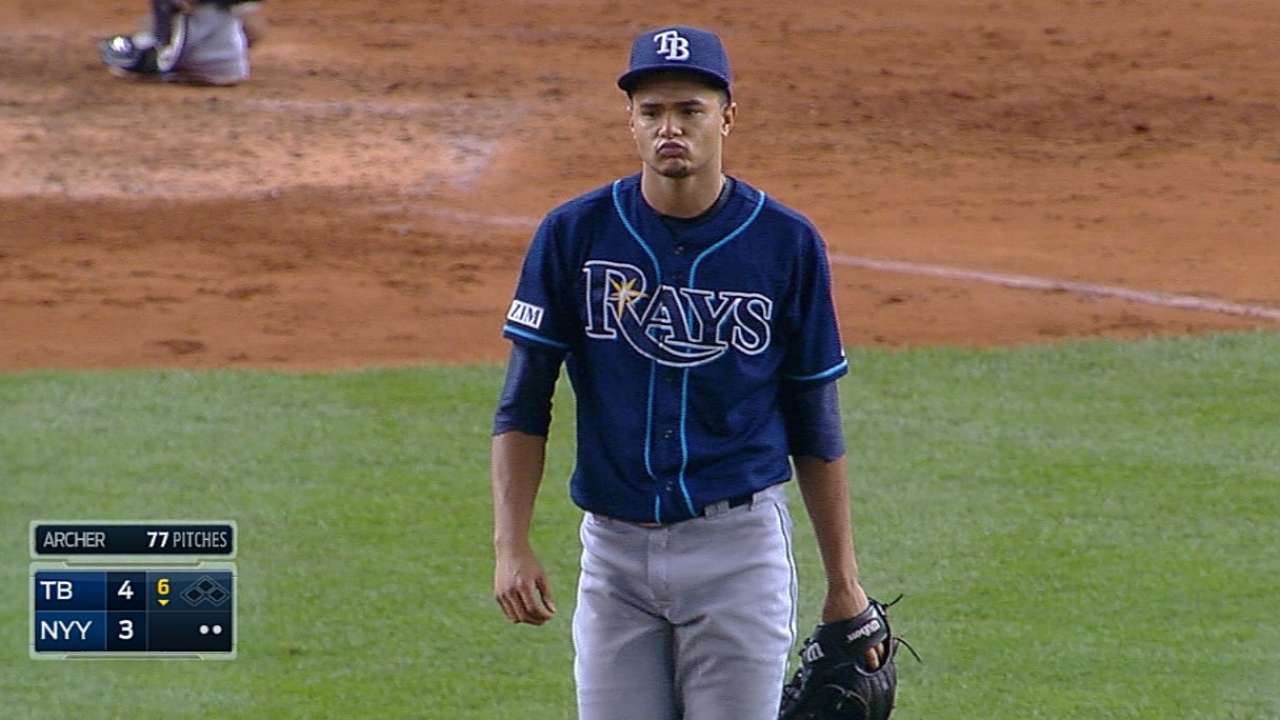 NEW YORK -- The road Rays continued to roll Tuesday night, when they took an early lead against the Yankees and came away with a 4-3 win at Yankee Stadium.
The Rays' win kicked off a six-game road trip and perpetuated the odd distinction they hold as the only team in the Major Leagues with a winning record on the road (37-33) and a losing record at home (33-42).
But they didn't get there without navigating some interesting twists and turns. For starters, there was Yankees righty Hiroki Kuroda, who got off to a good start when he struck out the side on 10 pitches in the first before surrendering a solo home run to James Loney on the first pitch he threw in the second. Loney's ninth home run of the season landed in the second deck in right field and gave the Rays a 1-0 lead.
"Three [punchouts], then first-pitch homer," Rays manager Joe Maddon said. "That's really significant because it permits your hitters to think that you've got a shot here. This guy was overpowering in the first inning, now we have a shot. So Loney's homer really gave us an entirely different thought and approach."
Evan Longoria and Loney had RBI singles in the third, and Ben Zobrist added an RBI single in the fourth to chase Kuroda and push the lead to 4-0.
Meanwhile, Rays starter Chris Archer was perfect through three before Jacoby Ellsbury led off the fourth with his 15th home run of the season, a shot to right that cut the lead to 4-1.
Archer found trouble again in the fifth when he hit the leadoff hitter, Chase Headley. Ichiro Suzuki and Stephen Drew followed with singles to load the bases for Chris Young, who delivered a single to left to score two.
The Yankees then shot themselves in the foot when Drew tried to score from second on an Ellsbury single to left. Rays left fielder Matt Joyce threw him out at the plate. The umpires issued a crew-chief review to see if catcher Ryan Hanigan was in violation of Rule 7.13, but the call on the field was confirmed. Derek Jeter then lined into a double play, allowing Archer to escape the jam with a one-run lead.
"I felt like, for whatever reason, I was being tested again, as far as, 'Am I going to be able to keep my composure?'" Archer said. "'Am I going to be able to stay in the strike zone?' And I gave up two runs, but if we go back and look -- soft singles, somewhat defensive swings. The hardest-hit ball that inning was a double play. So it was a good test. I gave up runs, but this lineup, no outs, bases loaded, it could have been a lot worse."
Archer proved resilient, returning to pitch a scoreless sixth, retiring the Yankees in order.
"I thought he was more assertive [in the sixth]," Maddon said. "Better velocity on the fastball. Everything got better the next inning. ... He's a young man with great ability, he's still learning."
Archer finally got lifted with one out and a runner aboard in the seventh. Grant Balfour took over and got the final two outs of the inning when Ichiro got doubled off second base on a 9-6 twin killing after Wil Myers caught Drew's line drive to right field.
"The line drive by Jeter to second base helped a lot," Maddon said. "We were very fortunate in a very perverse way. Suzuki's running and Drew hits a line drive at Wil. I mean, come on, we'll take that. That's the kind of thing that's not been working in our favor this year. It worked in our favor tonight."
"Jake and the Box" -- the closest thing the Rays have to a sure thing -- then got the final six outs, with Brad Boxberger pitching a perfect eighth and Jake McGee pitching a perfect ninth to earn his 17th save of the season.
"We made a little run there, but you have to get to these guys before their eighth- and ninth-inning relievers," Yankees first baseman Mark Teixeira said. "They're two of the best in baseball. We had some chances in the middle innings but just couldn't get over the hump."
Bill Chastain is a reporter for MLB.com. This story was not subject to the approval of Major League Baseball or its clubs.