Indians-Royals to resume suspended game on Sept. 22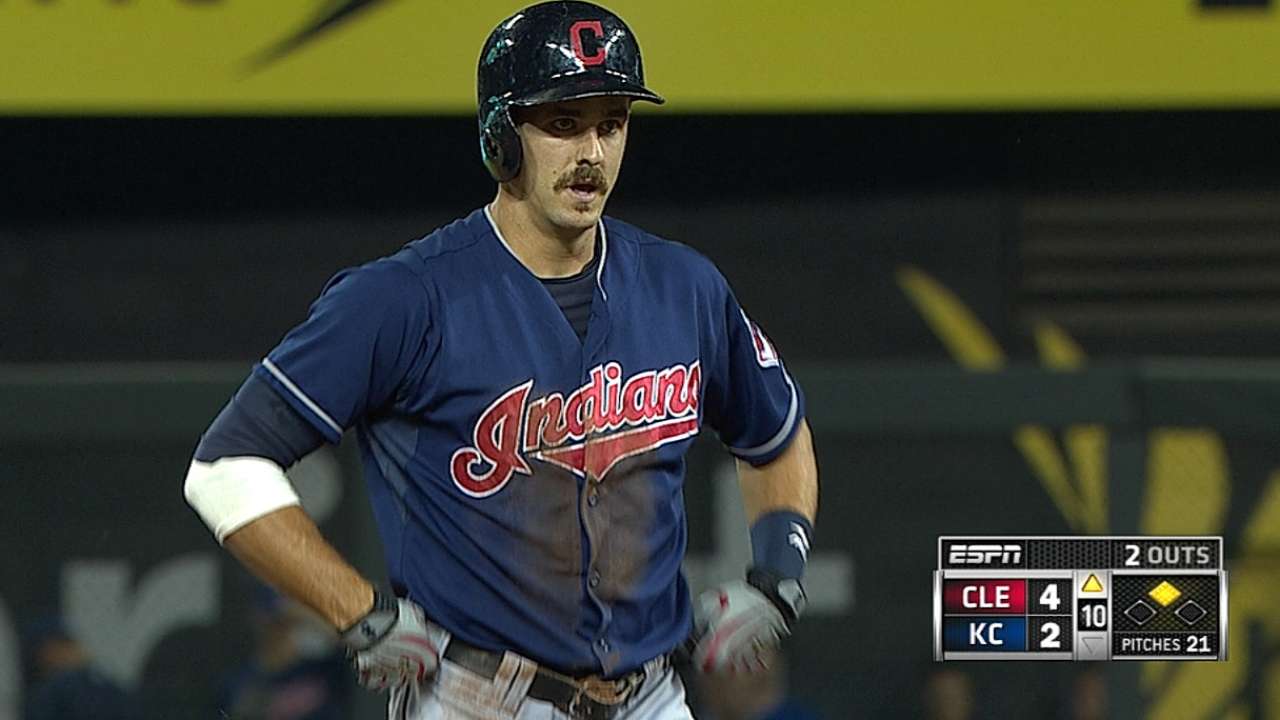 CLEVELAND -- The Indians are two weeks and three outs away from possibly clinching a much-needed win over the American League Central-leading Royals.
On Tuesday, Cleveland announced that its rain-suspended game against the Royals on Aug. 31 in Kansas City will be made up prior to the teams' regularly-scheduled contest on Sept. 22, in Cleveland. The first pitch for the continuation of the suspended game is scheduled for 6:05 p.m. ET.
The Progressive Field gates will open at 5 p.m. ET and fans holding tickets to the Sept. 22 tilt against the Royals will be permitted to enter to take in the end of the suspended game. The first game will resume with Cleveland holding a 4-2 lead in the bottom of the 10th inning and the Royals batting.
Any players used, but then removed from the game on Aug. 31 will be ineligible to take part in the conclusion of the suspended game. That short list includes starter T.J. House, infielder Mike Aviles and relievers Bryan Shaw and Cody Allen. Lefty Kyle Crockett, who was announced before throwing a pitch in the 10th inning, can be used or relieved for another pitcher by Tribe manager Terry Francona.
Any players added to Cleveland's roster in the time since the Aug. 31 suspended game are eligible for use in the contest's conclusion. The originally-scheduled game for Sept. 22 will begin as planned at 7:05 p.m. ET with normal pregame ceremonies.
Quote to note
"It creates some opportunity and some hope for teams that may not quite be on the cusp of winning a division. Because of that, you're still getting into the middle of September and there's such meaningful games, which is great. So, I think for fans, it's win-win. For players, it's win and then be careful what you wish for because you've got a one-game playoff."
-- Indians manager Terry Francona, on the second Wild Card
Smoke signals
• Entering Tuesday, Indians second baseman Jason Kipnis had hit .259 with no homers and only five RBIs in his last 35 games, dating back to Aug. 1. On the year, Kipnis had a .248 average with six homers, 41 RBIs and a .660 OPS through 116 games. It is a noticeable drop-off from 2013, when he hit .284 with 17 homers, 84 RBIs and an .818 OPS for Cleveland.
"This has been tough on Kip. He is not hitting the ball like he knows he can," Francona said. "Even if his batting average is a little low at the end of the year or whatever, if he got hot for the last two weeks, we're a different team. He of all people has the ability to do that. We saw that last year. I still have so much confidence in him."
• Class A Lake County is scheduled to play Kane County in the best-of-five Midwest League championship series, beginning Wednesday. In Lake County's first four playoff games, outfielder Clint Frazier (selected in the first round of the 2013 First-Year Player Draft) has helped lead the offense by hitting .438 (7-for-16) with a home run, three doubles, three RBIs and five runs scored.
• The Indians headed into Tuesday's game with a .597 (43-29) winning percentage at home this season. Dating back to the 2000 season, Cleveland has only finished with a home-winning percentage of at least .600 twice: 2007 (.638, 51-29) and 2013 (.630, 51-30).
Jordan Bastian is a reporter for MLB.com. Read his blog, Major League Bastian, and follow him on Twitter @MLBastian. This story was not subject to the approval of Major League Baseball or its clubs.