Morton throws sim game, but hip remains an issue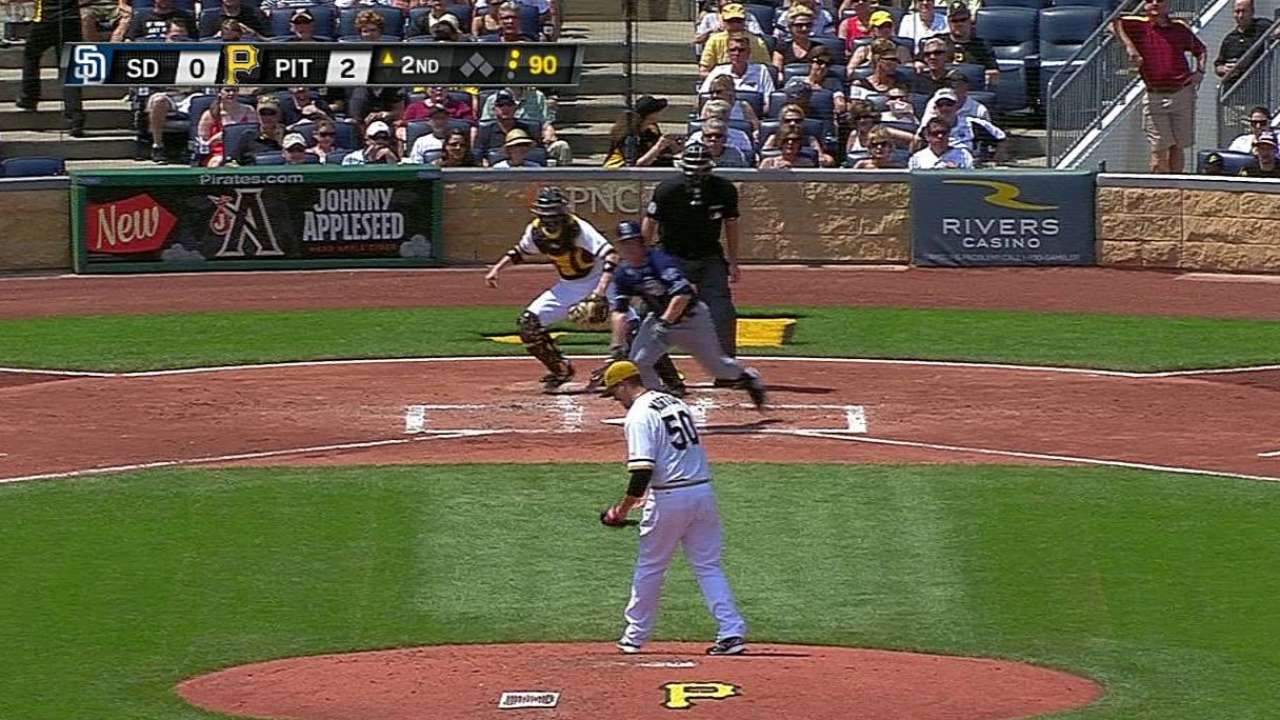 PHILADELPHIA -- Charlie Morton threw a simulated game Tuesday, and while his arm felt fresh, he said his hurting right hip hasn't improved. The Pirates and Morton have not closed the book on the right-handed sinkerballer returning in 2014, though it sounds as if he would only make a start if the Bucs were in need of a starter.
Morton, who went on the disabled list Aug. 17 and has been dealing with a sports hernia in his right hip since June 2, has said he is capable of pitching through it. But the way manager Clint Hurdle explained it, there is no current place in the Bucs' rotation for a Morton who isn't 100 percent.
"Right now, a healthy Charlie would be in our rotation," Hurdle said. "And with what he's dealing with, we're trying to figure out what percent of Charlie can we get to be competitive on the mound. Right now, we have five guys who give us the opportunity to win every time they take the ball.
"You can lose a pitcher in a day -- you can lose two pitchers in two days. There's enough desire in [Morton] to continue to try and meet this challenge physically, as well as keep his arm in shape and ready in case we have something."
Hurdle did not have an exact plan for Morton's immediate future, but he said the team would keep having him throw at least until Sept. 15.
Morton threw 86 pitches in five simulated innings at Citizens Bank Park on Tuesday, and he said his hip felt the same level of irritation it has for a while on the mound. The 30-year-old acknowledged that his hip tends to flare up the longer he's on the mound, but he said Tuesday there is a plateau of pain it can reach.
Morton has noted he would be open to pitching out of the bullpen. But, with the rosters expanded and just 18 regular-season games left after Tuesday, he isn't sure exactly what his role would be if he made that move.
"I'm just not sure what scenario you'd see me out there pitching out of the 'pen," Morton said. "Where am I going to go? Am I going to be a one-inning guy or a late-inning guy? Are they going to put me in a game that's tight not knowing what they're going to get? It's not about, 'How do we get Charlie in the game?' Right now, it's about winning the game."
Morton met with specialist Dr. Thomas Byrd in Nashville directly after going on the DL, but said he had no current plans of revisiting doctors.
"I don't really know need to know anything more than I know right now. It is what it is," he said.
Worth noting
• Josh Harrison was back in the lineup Tuesday after missing three games with a tweaked left ankle. Harrison was on the field early, running the bases under the watch of the training staff. Harrison felt good enough that Hurdle had him back in the Bucs' leadoff spot, playing third base.
"[Harrison] went out early this afternoon, ran some direct-line sprints, ran the bases, cut the bases, made turns, took balls at third, hit in the cage," Hurdle said. "He's available."
• Gregory Polanco was making his first start since spending the final week of August playing for Triple-A Indianapolis to work on his swing. Polanco has gone 0-for-4 with three walks in seven pinch-hit plate appearances since he was recalled a week ago.
Dating back to Aug. 13, Polanco has one hit in his last 34 at-bats, and his average has gone from .265 to .237 in that time.
Stephen Pianovich is an associate reporter for MLB.com. This story was not subject to the approval of Major League Baseball or its clubs.