Viciedo's future may hinge on improved defense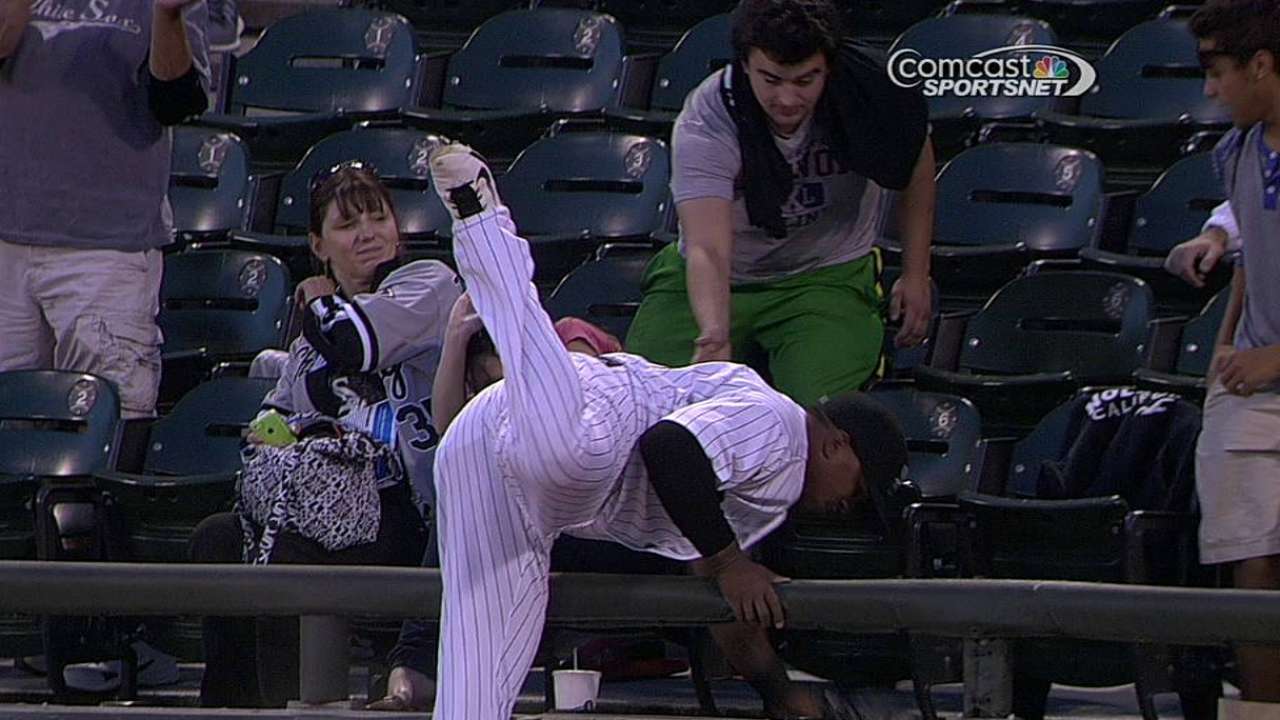 CHICAGO -- White Sox general manager Rick Hahn believes Dayan Viciedo could play left field on a winning team, and he said as much during a media session on Monday.
But there's no question that Viciedo needs work defensively, as well as a more patient, less free-swinging approach at the plate, to become a consistent contributor. Viciedo points to reaction time as a defensive discipline he needs to change, a necessity that was on display during Monday's walk-off win over the A's.
With two outs and a runner on second in the eighth inning of a tie game, Coco Crisp dropped an opposite-field single. The ball landed just a foot or two in front of Viciedo; manager Robin Ventura said after the game that the play should have been made.
"I thought that I wasn't as close to the ball as I really was, but it goes back to the first-step quickness when you see the ball hit," said Viciedo through interpreter Lino Diaz, the White Sox manager of cultural development. "More than anything it's the reaction time.
"Left field, you don't have that much time to react, so you know that's one thing that I have to get better at. The reaction time ... The ball hit off the bat, and [I have] to react right away as opposed to taking too long."
The arbitration-eligible Viciedo has become a lightning rod for discussion in relation to his fit within the team's reshaping process. The pro-Viciedo crowd argues that he's still only 25 and flashes the type of raw power not possessed by many. The anti-Viciedo side argues that he already has had 1,741 plate appearances and played in 467 games, so he has somewhat established what he is as a player.
With Adam Dunn gone and Paul Konerko retiring, the role of first baseman/part-time designated hitter will be available to Viciedo. Viciedo would like to stay with the White Sox, and it could even be as an outfielder or an amalgamation of positions.
"He's going to have to continue his defense to help fill in some of the holes in that regard," Hahn said. "It's funny. That's one of the positions where if a guy produces enough offensively, you're willing to put up with a little more defensively. But he certainly is athletic enough and a hard enough worker that he can get to that point."
"If it is up to me, absolutely," said Viciedo when asked to guess if he'll be with the White Sox in 2015. "I know that's something I don't control. I don't know what their plans are. But I have a lot of confidence that I can do the job [in left]."
Scott Merkin is a reporter for MLB.com. Read his blog, Merk's Works, and follow him on Twitter @scottmerkin. This story was not subject to the approval of Major League Baseball or its clubs.