Five errors contribute to White Sox loss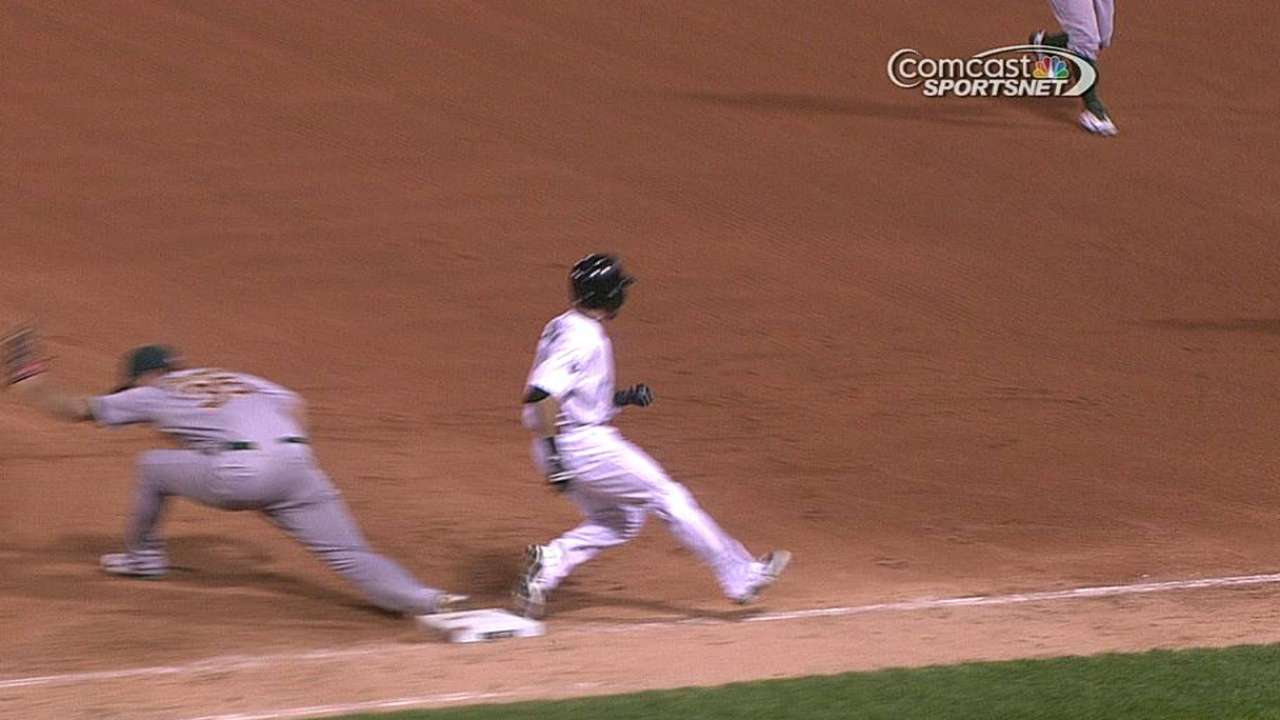 CHICAGO -- One team playing in Oakland's 11-2 victory over the White Sox on Tuesday night at U.S. Cellular Field is fighting for postseason survival. The other is long out of contention, using September as an evaluation period for its young prospects.
And the difference became noticeable -- not just from the final score but by the way in which the two teams arrived at said score. The White Sox (64-80) committed a season-high five errors, marking the first time they've had that many in a game since they made five on July 7, 2010, against the Angels.
Third baseman Marcus Semien had three of those errors but approached this forgettable night just as any other player learning his game would do. He put it behind him as quickly as possible.
"You just have to move on. There are some plays I should have made, I didn't make them. We had a tough night tonight, so that's it," Semien said. "I can look at the plays all I want. I can practice them. I just want to come back tomorrow, have a good day at work. and if I'm in there, forget about today."
"Guys are playing hard. They're trying to make plays. You can't fault guys for that," starting pitcher John Danks said. "It's just part of the game."
Danks (9-11) allowed four runs on seven hits over six innings and 109 pitches but only two of those runs were earned. He committed one of the five errors on a toss to first off a Craig Gentry bunt in the fifth inning, but the poor flip was influenced by an error of omission from second baseman Carlos Sanchez, who was late covering.
That late arrival contributed to a head-to-shoulder collision for Gentry, who left the game with a concussion.
Oakland (81-63) scored two in the fourth and two more in the fifth on Josh Donaldson's double to center, marking one of Donaldson's career-high five hits. The A's added one in the seventh, one in the eighth and then five in the ninth off of rookie Scott Snodgress, with three of those runs unearned due to Semien's error on Jed Lowrie's hard-hit grounder.
"They're good players. Bad night. You want them to get it out of their system," manager Robin Ventura said. "We've seen Marcus make plays. Sanchez, same thing. That's a part of being up here. There have been guys that have been up here a long time that had nights like that."
With Jon Lester (14-10) on the mound against the White Sox, the American League Wild Card-leading A's didn't need any help.
The southpaw limited the White Sox to two runs over eight innings, striking out eight, walking two and allowing seven hits. For the season he has limited White Sox hitters to 21 hits in 86 at-bats. Over 23 innings covering three starts, he has struck out 29 and walked two.
"I've gotten my [behind] kicked by them a couple times, so maybe it's just evening out," said Lester, who has a 1.57 ERA against the White Sox this season. "I don't know. I've had a couple good starts against them."
Dayan Viciedo's 20th home run allowed the White Sox to avoid a shutout. His solo blast leading off the seventh was followed by a run-scoring double by Sanchez, although Sanchez was thrown out at third to end the inning after he slowed up around second.
Meanwhile, Danks fell to 0-5 with a 7.00 ERA over his last eight starts, with the White Sox having a 1-7 record during that stretch. Danks' feelings during this tough stretch equal the way the White Sox felt about Tuesday -- miserable.
"I'm doing my best to have fun and haven't had much fun. The last six weeks, it's no fun to lose, no fun to not even hardly compete," Danks said. "I feel like I've had some games that were over in the third, fourth inning. I've been doing my best to just go out and have fun the last three or four starts, and hopefully, I'll pick up a couple of wins."
Scott Merkin is a reporter for MLB.com. Read his blog, Merk's Works, and follow him on Twitter @scottmerkin. This story was not subject to the approval of Major League Baseball or its clubs.