Buehrle, Bautista continue Toronto's playoff push
Lefty goes seven strong innings; right fielder hits go-ahead double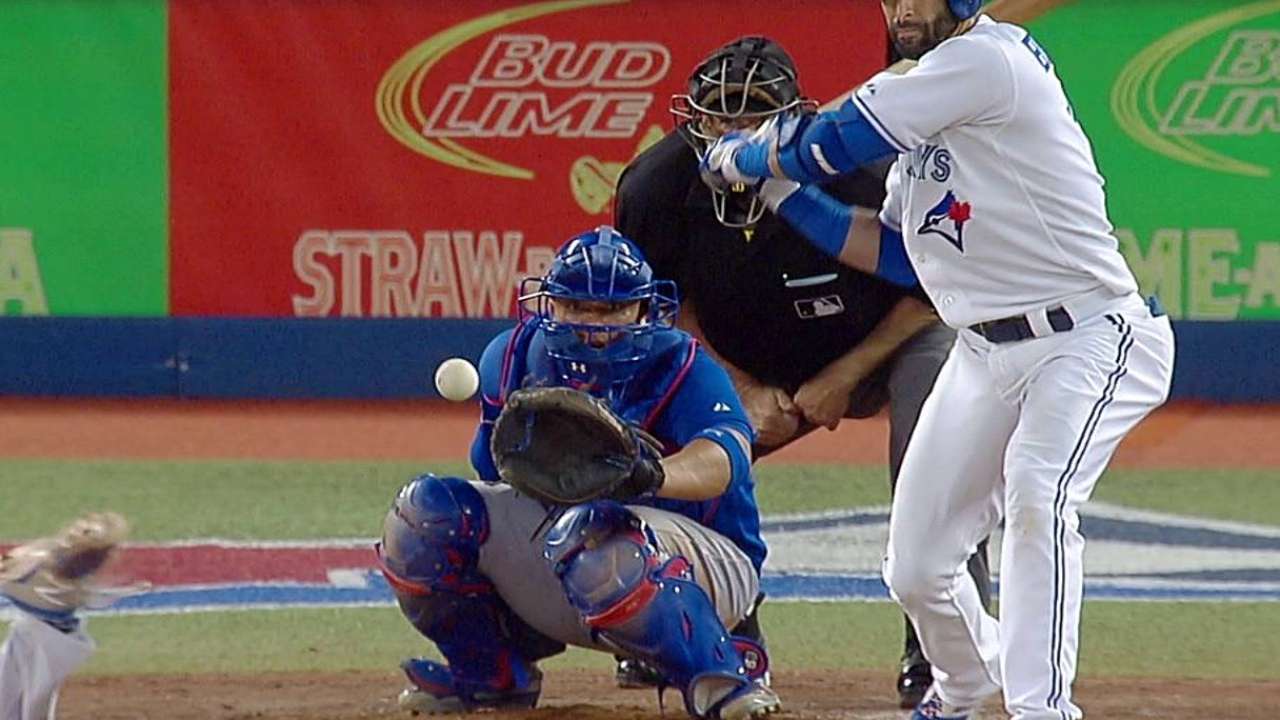 TORONTO -- The big-name players are supposed to come through when it matters the most. It doesn't always work out that way, but Jose Bautista is doing everything in his power to make sure he lives up to that reputation in September.
The veteran slugger has almost single-handedly carried the Blue Jays' offense over the past two weeks, and that trend continued in Tuesday night's 9-2 victory over the Cubs. The final score might look like a blowout, but in reality Toronto appeared headed for a loss until Bautista came through with a bases-clearing double with two outs in the seventh inning. Mark Buehrle continued his recent turnaround with another quality start as the Blue Jays won for the eighth time in 10 games and remain 4.5 games back of the second American League Wild Card spot.
"I'm just not missing my pitch when I get it as often as I was before," Bautista said. "I don't think this is anything special that I haven't done at some point this season or in the past, it's just that I'm connecting with runners on and they're bigger hits because I am driving in runs."
Bautista might not necessarily agree, but he seems more locked in at the plate now than he has at any point this season. He's currently riding a 13-game hitting streak -- which ties his career high -- and over that same span has eight home runs and 19 RBIs.
There was a stretch when he homered in five consecutive games, but even when the ball isn't leaving the park he's finding ways to contribute. A perfect example of that could be found in Tuesday night's victory as he stepped into the box with the bases loaded and two outs in the seventh inning.
Toronto was trailing by a run and had already squandered a pair of opportunities to take the lead. The crowd at Rogers Centre sensed the importance of the moment, and when the count ran full everybody was on their feet. Right-hander Neil Ramirez was forced to throw a strike, and even though it entered the zone at 96 mph, Bautista was ready.
Toronto's right fielder hit a sharp liner that short-hopped the wall as three runs came around to score. The Blue Jays never looked back as they added five more runs and made an otherwise very difficult win look rather lopsided.
"The pressure is on him in that situation with the bases loaded and a full count, so I'm more relaxed than anything, just trying to get a good pitch to hit," Bautista said.
"At that point he was basically cornered, he had to make a decision whether to challenge me or try to go with an offspeed pitch. I placed my bet on he was going to challenge me, and he did throw me a fastball and I was able to connect."
Cubs starter Jake Arrieta was charged with two earned runs on seven hits and one walk over 6 1/3 innings. Ramirez also was charged with two earned runs, which was a career high. Prior to Tuesday night's game, Ramirez hadn't allowed an earned run since Aug. 10 and owned an impressive 0.94 ERA over 38 1/3 innings this season.
Buehrle had some early trouble as he allowed a one-out double to Javier Baez in the first inning. Baez eventually came around to score on a sacrifice fly by Jorge Soler, but that was the only run Buehrle would surrender until a Welington Castillo RBI single in the fifth.
The 35-year-old Buehrle continued on through seven strong innings. He has allowed three runs or fewer in four of his past five starts, but Tuesday's outing marked his first win since July 30 following an extended period without a lot of run support. Buehrle is 18 shy of 200 innings with three starts to go and saw his season ERA drop to 3.31.
"It's kind of tough, I even told [pitching coach] Pete Walker coming into the game, this isn't a really good matchup for me because I like to pound the strike zone and he kept on saying, 'Hey these guys like to swing, so maybe the first few pitches throw them off the plate and then hopefully they can chase after them,'" Buehrle said.
"I was kind of worried coming into the game how it was going to go, but just go out there and try to throw as many zeroes as you can until we can score some runs, and hopefully the best happens."
Gregor Chisholm is a reporter for MLB.com. Read his blog, North of the Border, and follow him on Twitter @gregorMLB. This story was not subject to the approval of Major League Baseball or its clubs.