Lester, A's cruise to keep AL Wild Card lead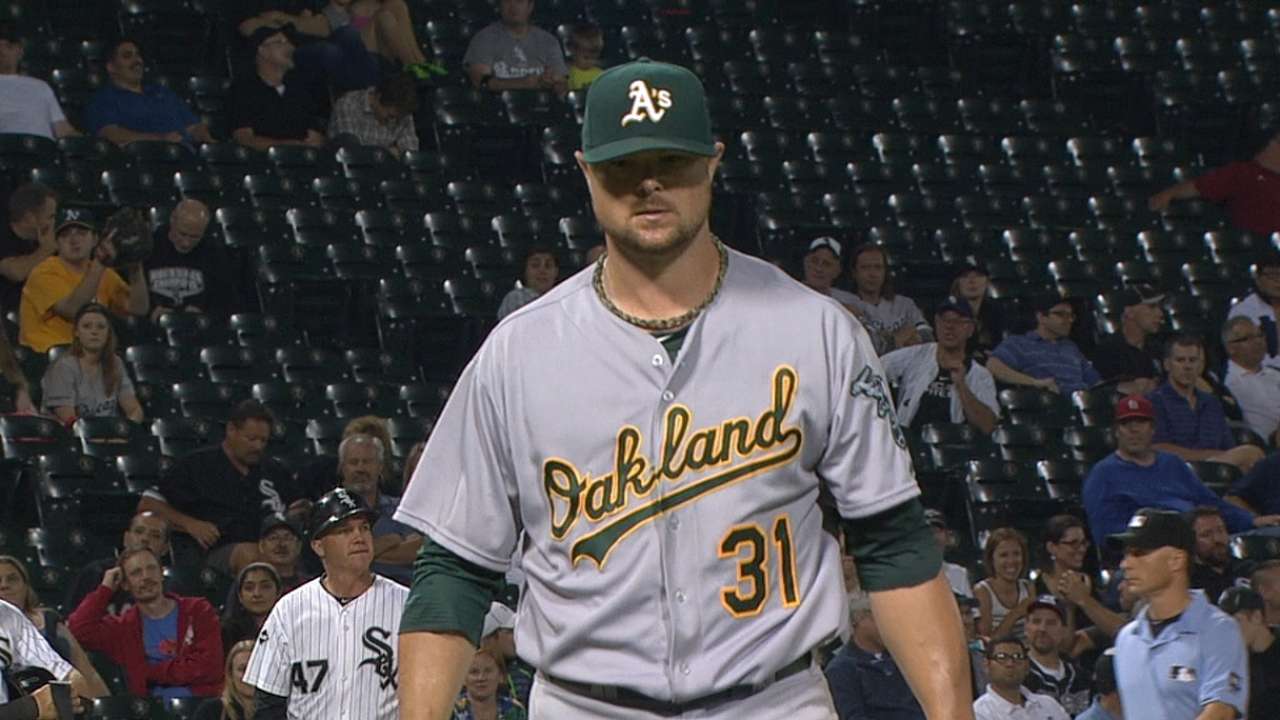 CHICAGO -- Jon Lester understands why questions keep surfacing about the Trade Deadline deal that sent All-Star Yoenis Cespedes to Boston.
Since that blockbuster deal and before Tuesday's convincing 11-2 win over the White Sox, the A's had gone 14-22. Their dominant grasp of the American League West had become an eight-game deficit to the Angels, and they were on the brink of losing the top Wild Card spot.
Yet the A's on Tuesday embodied their old selves -- pulling out a convincing win on the heels of dominant pitching, capitalizing on the opposition's mistakes and putting away the game with a late rally.
Lester tossed 119 pitches over eight innings and allowed just two earned runs -- both in a hiccup of a seventh inning -- with seven hits, two walks and eight strikeouts. He picked up his first win since Aug. 12 and fourth since arriving in Oakland.
"I don't try to put any more pressure on myself based on a losing streak, winning streak, in between streak, whatever it is," Lester said. "I just try to pitch to the best of my ability and give my team a chance to win."
The 30-year-old lefty didn't have to convince manager Bob Melvin to remain after reaching 101 pitches through the first seven innings. This after he allowed a solo home run to Dayan Viciedo and an RBI double to Carlos Sanchez that shrank the gap to three runs.
"Having a lead right there, [he gave] me that opportunity to kind of, I guess, dig myself a hole and dig right back out of it," Lester said. "It's just nice to pitch deep into the game. With pitch counts nowadays and all that stuff, it's tough to go deeper into games."
Lester also kept the bullpen at bay, as did the offense's seven runs over the final three innings. Melvin had planned to rely on Luke Gregerson, who had pitched three straight days prior, but instead gave the final frame to Evan Scribner, who retired all three batters he faced.
Josh Donaldson broke out of a slump with four RBIs and two runs by virtue of a career-high five hits. During the A's 1-5 stretch entering Tuesday, Donaldson was batting .083, including an 0-for-5 outing with four strikeouts on Monday.
"No concerns about him -- just a tough night," Melvin said of Donaldson's outing in the opener. "He's gone through a little bit of a stretch, which he's had a few of. But you watch his at-bats, he's into every pitch intently. He never takes a pitch off, he never takes an at-bat off.
Said Donaldson: "Like I always try to say, you just try to turn the page, try to forget it."
The victory didn't come without heartaches.
Outfielder Craig Gentry sustained a concussion and is likely headed to the seven-day disabled list after colliding with Sanchez in the top of the fifth while beating out a bunt at first. White Sox starter John Danks was charged with an error on the play, one of five Chicago registered.
Third baseman Marcus Semien accounted for three of those, which directly led to three Oakland runs. Of the A's 11 runs, only six were credited against the four White Sox pitchers.
"You have to take advantage of stuff like that," Melvin said. "At times our situational hitting wasn't good early in the game today, but we kept grinding on. If they're going to give you extra outs, you've got to take advantage of it."
Danks took his 11th loss after being charged with two earned runs -- four total -- on seven hits with a walk and three strikeouts. He showed improvement after entering Tuesday 1-4 with a 7.90 ERA since the All-Star break.
But it was his counterpart, Lester, who stole the show.
Lester gets why Cespedes' name has surfaced of late, but he won't let that affect his approach.
"I understand. Like I said when I came over here, [he's] a big piece of this organization and this team," Lester said. "I only pitch every five days. I can't control anything else besides the fifth day, and I try to go out there and do that the best I can.
"If that means pitching like tonight and people are still talking about Cespedes, then that's what that means. He was a valuable part of this organization and this team. I can't change that. I just have to go out and try to pitch and try to win baseball games. That's all I can really control."
Daniel Kramer is an associate reporter for MLB.com. This story was not subject to the approval of Major League Baseball or its clubs.