Hamstring healed, Punto back with A's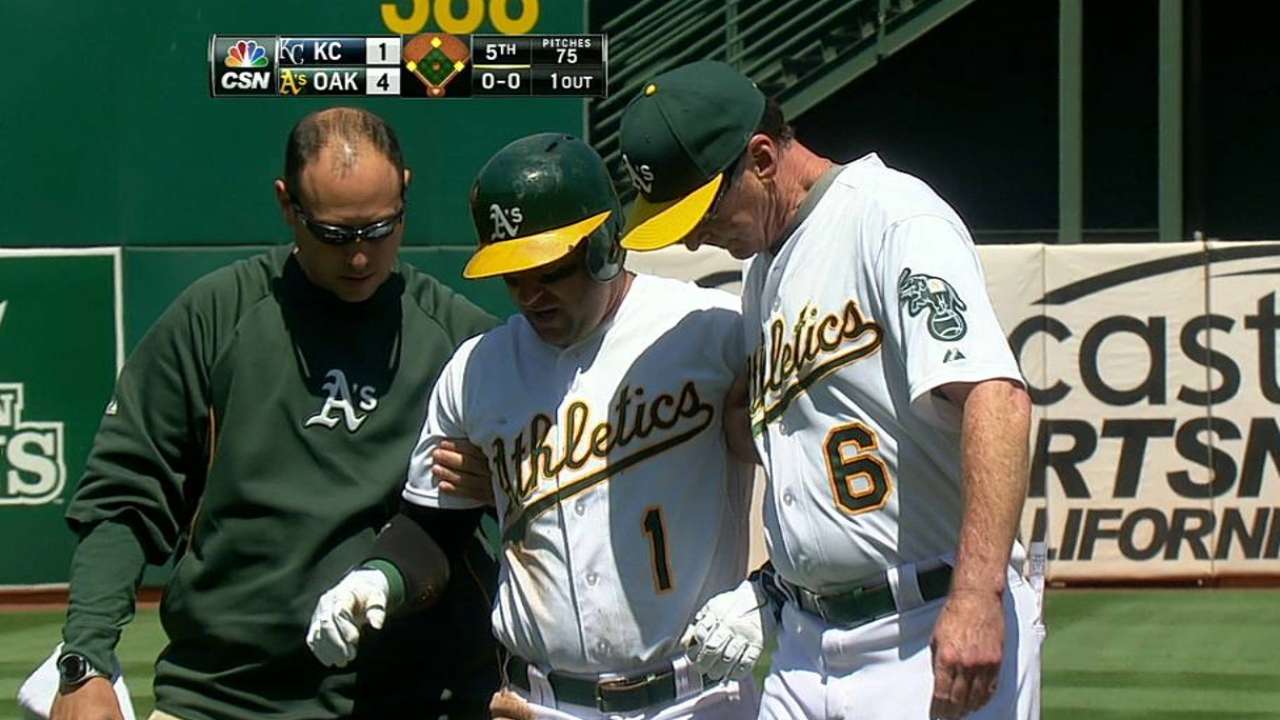 CHICAGO -- Second baseman Nick Punto was activated off the 15-day disabled list on Tuesday after missing more than five weeks with a strained right hamstring.
Punto was not in the lineup on Tuesday against the White Sox, but was brought back earlier than expected with manager Bob Melvin short of infielders following Monday's 12-inning loss.
Punto sustained the injury on Aug. 2 after slipping while rounding third base in a win over the Royals. It was his first trip to the DL this season.
Alberto Callaspo started at second base on Tuesday and batted eighth against White Sox lefty John Danks, against whom he is a career 5-for-9 with three RBIs. Callaspo played second while Punto was out and has started 16 games at third, two since Punto was injured.
Closer Sean Doolittle is also near a return. He will throw to batters on Wednesday at U.S. Cellular Field, possibly in the batting cage if weather is a factor. He threw a 25-pitch bullpen session on Monday.
"My body felt great. My arm felt good. The ball was coming out clean," said Doolittle, who's been out with a strained right intercostal since Aug. 24. "The side felt really good. [I was] a little out of sync with the mechanics after not getting on the mound for two weeks, but it was a very positive day."
Doolittle's absence was felt during Monday's loss, in which interim closer Eric O'Flaherty blew a save on a two-out, two-strike homer to Tyler Flowers.
As much as he'd like to be back, Doolittle is wary of rushing a return from a rib injury.
"As a pitcher your core is your most important part of your whole delivery," Doolittle said. "If you can't maintain your posture and stay in your mechanics, then you have no shot to throw strikes or be effective.
Melvin and Doolittle have both indicated that a return could come by the end of the week.
In other injury news, catcher John Jaso is meeting with concussion specialist Dr. Micky Collins in Pittsburgh on Wednesday, and will have to be cleared by both Collins and Major League Baseball before returning. Even after, Jaso likely won't catch the remainder of the year, Melvin said.
Utility player Stephen Vogt (sprained left ankle) has been playing catch without stepping and throwing, Melvin said, and isn't at the point where he can partake in baseball activity.
Daniel Kramer is an associate reporter for MLB.com. This story was not subject to the approval of Major League Baseball or its clubs.