Bullpen hiccup leads to fifth straight loss for Cubs
Arrieta strong into the seventh as bullpen charged with seven runs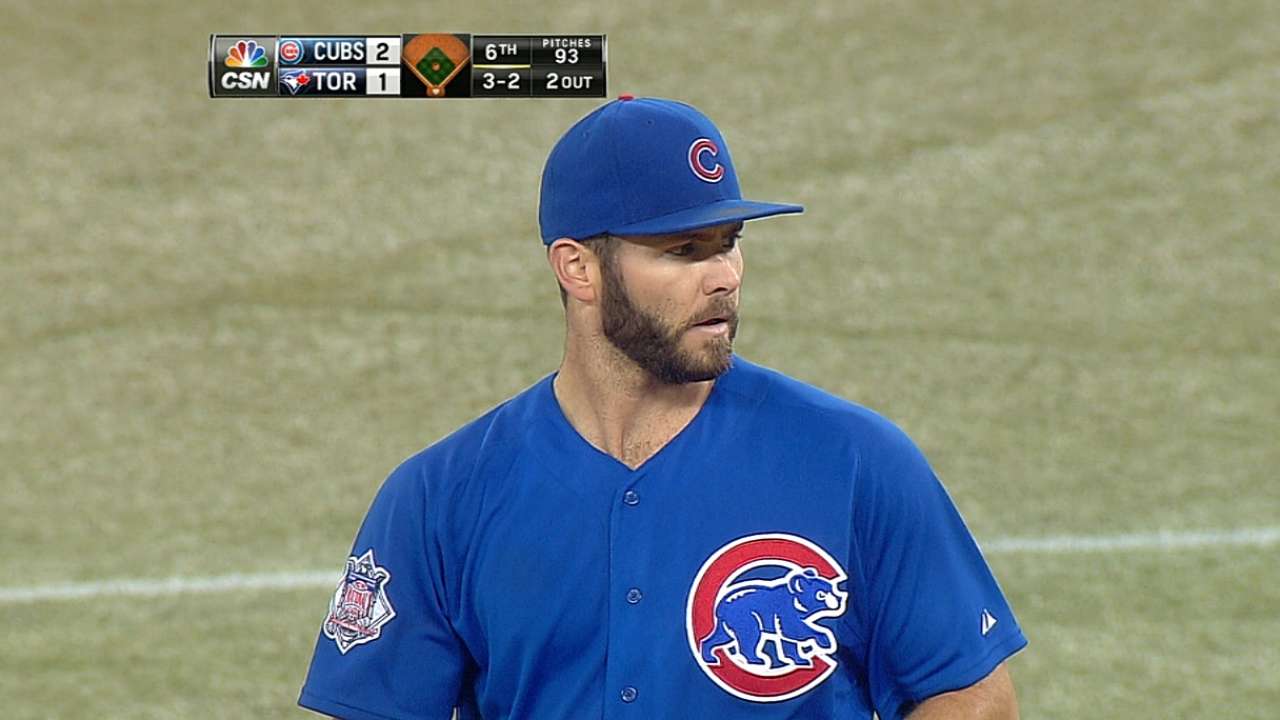 TORONTO -- Cubs manager Rick Renteria didn't mince words when assessing his club's performance in Tuesday night's 9-2 loss to the Blue Jays at Rogers Centre.
"That was probably the worst game we've played all year," Renteria said. "These men know that there are a lot of things that we have to do, but certainly staying in a big league ballgame is one of those things that requires a lot of commitment in terms of bearing down, really continuing to play the game and being aware of the whole circumstance."
The Cubs have lost five straight games and are in danger of being swept in the series finale on Wednesday.
Tuesday's affair had the makings of a better outcome for the Cubs early on as starter Jake Arrieta guarded a one-run lead into the seventh. But it all came undone as the Blue Jays put up eight runs over the seventh and eighth innings, sparked by a bases-clearing two-out double from Jose Bautista.
After reliever Neil Ramirez put two on to load the bases, the Blue Jays' slugger took a full-count fastball to the wall in left field, giving Toronto a 4-2 lead.
That preceded a five-run eighth, putting the game far out of reach for the Cubs.
Ramirez was saddled with the loss, allowing two hits and two runs over two-thirds of an inning. The right-hander had given up only four earned runs over 38 1/3 innings this season before taking over for Arrieta with one out in the seventh.
"[Neil] was upset with the way things transpired in the seventh, but I told him, if there's someone who's gotta come in the game for me at that point, you're one of the guys I want out there," said Arrieta, who tossed his 16th quality start, going 6 1/3 innings while allowing two runs on seven hits with five strikeouts. "He had an off-night, stuff that's gonna happen from time to time."
A night after being shut out, the Cubs looked poised to break out with the bats early as they scored once in the opening frame before scattering multiple hits in each of the second and fourth innings off Toronto starter Mark Buehrle. They extended their lead to 2-0 in the fifth, and had put up 10 hits over six innings -- a stark contrast to their three-hit outing the night before.
But they ran out of steam by the seventh, preceding a difficult eighth that saw the Blue Jays roll through 10 batters for five runs.
Buehrle acknowledged he didn't have his best stuff on the night, but still escaped with the win after allowing 10 hits and two earned runs over seven innings.
"It's kind of tough, I even told [pitching coach Pete Walker] coming into the game, this isn't a really good matchup for me because I like to pound the strike zone and he kept on saying, 'Hey these guys like to swing, so maybe the first few pitches throw them off the plate and then hopefully they can chase after them,'" Buehrle said.
Renteria knocked on wood that his team would regroup and put itself back into a position to win a game on Wednesday.
"No one likes losing the way that game ended up developing," Renteria said. "And it really did just steamroll. It would be foolish of us to ignore it. You talk about it. And they're bright young men, capable of taking information and putting themselves in a position where they can regroup and get back after it."
Jamie Ross is an associate reporter for MLB.com. This story was not subject to the approval of Major League Baseball or its clubs.