Williams pushing right buttons in Nats' bullpen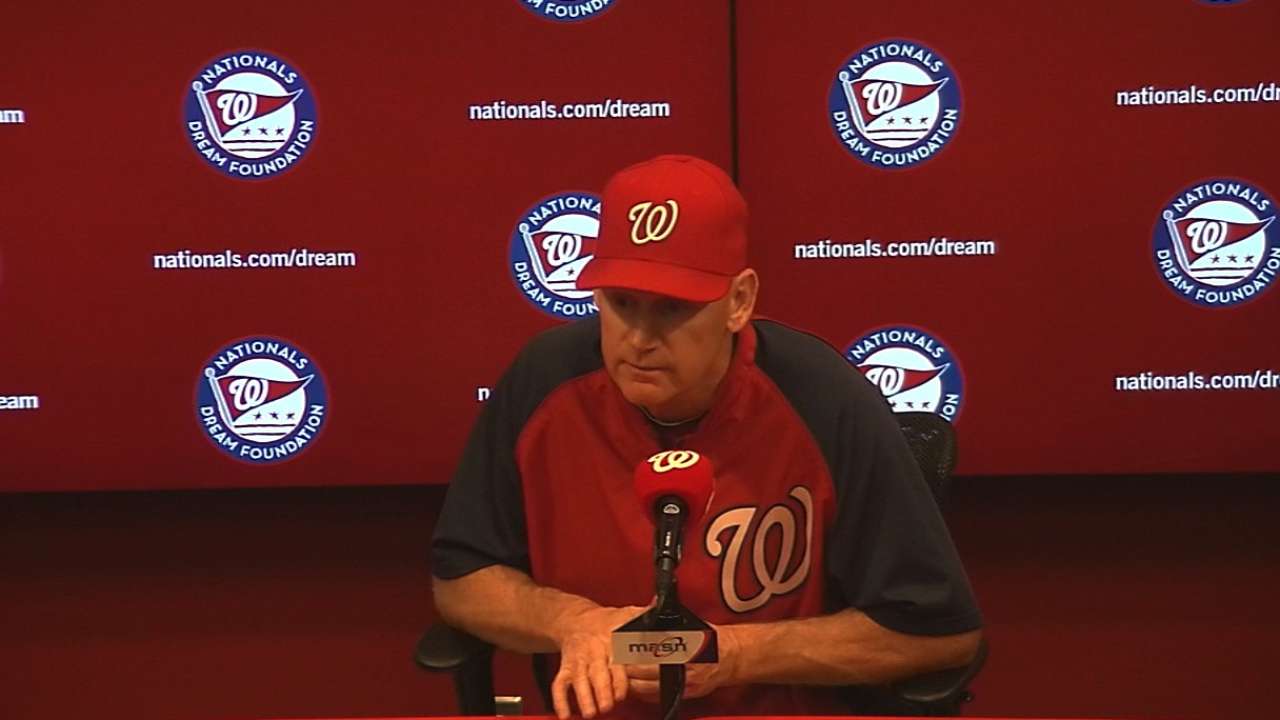 WASHINGTON -- Nationals manager Matt Williams stays on message. Each game is important, he says. No game is more important than any other. Williams is not going to approach a stretch-run game in September any different than he did a game in April.
Except that it really isn't working out that way. Through some happenstance -- the funk that closer Rafael Soriano is trying to correct by taking a step back from that role, a bullpen stuffed with September callups -- Williams has deployed his relievers differently in taking two straight against the Braves, including a 6-4 win at Nationals Park on Tuesday night, than he has most of the season.
Until now, with a lead, it was routinely Drew Storen in the seventh, Tyler Clippard in the eighth, Soriano in the ninth.
Against the Braves, Williams has been mixing and matching. In each of the first two games of this series, he used three relievers in the eighth. It may be a coincidence, but it's the way managers often have to adjust in October when the lineups are tougher and every loss is one step closer to the abrupt end of the season.
So it was instructive to think along with Williams as he maneuvered to get the final nine outs after starter Jordan Zimmermann departed with a two-run lead.
Clippard was unavailable after three appearances in the past four days. Storen has become the de facto closer, even though, officially, the structure is to go with a bullpen-by-committee approach. The first decision, then, was to figure out who would face the bottom of the Braves' order in the seventh.
Right-hander Aaron Barrett got the nod. The rookie had pitched well earlier this season, but he faltered and was sent to the Minors. Recalled when rosters were expanded, it will be a real boost if he can handle the seventh-inning role. Barrett retired the side in order.
Six outs to go.
"He was really economical, so we decided to send him back out," Williams explained. "During his time in Triple-A, he went an inning-plus. We wanted to take him through [second baseman Phil Gosselin, the second scheduled Braves hitter of the eighth] and then match up from there."
Emilio Bonifacio led off with a double, but Barrett got Gosselin to ground out.
Five outs to go.
With the dangerous Freddie Freeman representing the tying run at the plate, Williams brought in Ross Detwiler to play the left-left percentages. It was an interesting choice.
Detwiler wasn't happy when he was taken out of the rotation during Spring Training, and he has been used mostly as long man ever since. But he rose to the occasion and struck out Freeman.
"He can do that. He can also go multiple innings," Williams said. "He made really nice pitches on Freddie and threw him a real good curveball. Those are situations that he wants to be in, that we want him to be in. For the most part this year, he's been a longer guy. But he's certainly capable of coming in like he did this game."
Four outs to go.
With Braves cleanup hitter Justin Upton at the plate, Williams countered with Craig Stammen. It was the second straight night Stammen had been summoned to face Upton with the game on the line. For the second straight night, he got him out to end the eighth.
"He threw him a couple sliders to get ahead, bounced a couple and then made a really nice pitch to strike him out," Williams said. "Those two guys have really been our longer guys this year. But the matchups were there, and they came in and got the guys they had to get."
Three outs to go.
Since Storen had saved the previous two games, Williams considered starting the inning with left-hander Matt Thornton to face lefty-swinging Jason Heyward. But he decided that if Storen was available to pitch at all, he might as well have the opportunity to start the inning. Three quick outs later, the Nats' magic number was down to 10.
Williams disarmed an inquiry about whether Storen has won the closer's role, noting that he won't be available Wednesday, so if another save situation arises, somebody else will have to pitch.
Zimmermann, who got the win, said the team is comfortable no matter who has the ball as the final outs are counted down.
"We're really confident. Those guys are among the best," Zimmermann said. "Anytime you go six, seven innings and hand if off to those guys, you pretty much know they're going to put up zeroes. We have trust in all those guys. All those guys can give you an inning, two innings, whatever. They've been good all year."
Paul Hagen is a reporter for MLB.com. This story was not subject to the approval of Major League Baseball or its clubs.