Andrus enduring one tough all-around season
Rangers shortstop is more concerned with club's performance than his own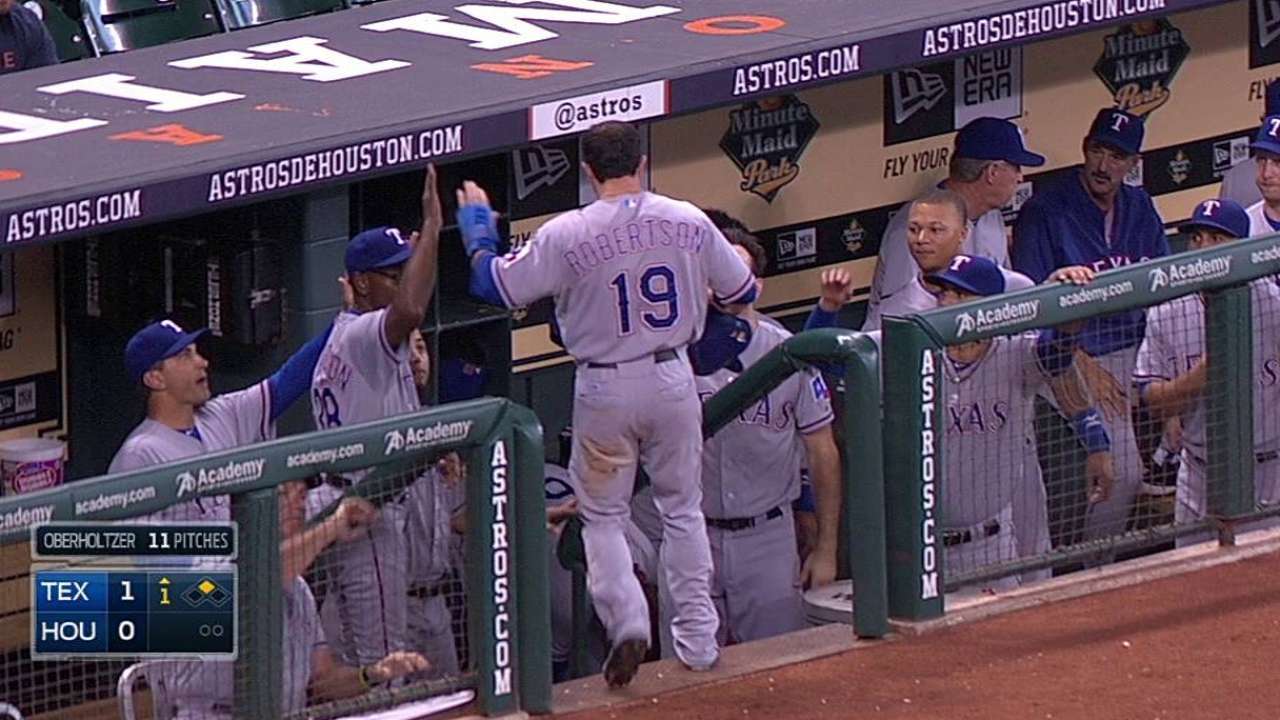 ARLINGTON -- Rangers shortstop Elvis Andrus is not having his best season. Among other things, he leads the league in caught stealing and is fourth in grounded into double plays. His defensive numbers are some of the lowest of his career.
Andrus is not concerned with that. What bothers him is the losing.
"It's been a bad year for me and the whole organization," Andrus said. "It's not about me personally, it's about the team losing."
Manager Tim Bogar is concerned that Andrus is letting the losing get to him. That's one of the things they talked about when the two met on Tuesday before the series opener against the Angels.
"Elvis has never been on a losing team," Bogar said. "It's the first time he's gone through this and for some guys it's different. You have to cut him slack. It's hard to stay focused and energized on a team that's not going anywhere. It's understandable. He has to learn to go through it. He has never dealt with it before. It is not a fun thing to go through.
"Next year, Elvis will be back to being Elvis. Shortstop is one of the most important positions and I want him to be our shortstop."
Andrus was not in the starting lineup on Tuesday. Luis Sardinas started at shortstop because Guilder Rodriguez was making his Major League debut at second base. Bogar said he thought Rodriguez might be more comfortable with Sardinas since they played together in the Minor Leagues.
"It's just one day ... it's more for Guilder than anybody else," said Bogar, who had six rookies in his lineup on Tuesday.
The only veterans in the Rangers' lineup were center fielder Leonys Martin, designated hitter Adam Rosales and third baseman Adrian Beltre.
Andrus did not play on Sunday so he has had three days' rest. Like everybody else, Andrus has had his physical issues through the season. Most notable has been the right elbow.
Andrus did not play winter ball for the first time last offseason and was lax in his workouts. He came to Spring Training, developed a sore elbow and it has bothered him all season.
"I was just dealing with inflammation," Andrus said. "But I was able to play through the year. I was still able to throw the ball and make the plays."
Andrus said he has learned from his mistake. He will get back on a more rigorous offseason program this winter.
"I'm not going to let it happen again," Andrus said.
Andrus is expected to be back in the lineup on Wednesday and for most of the rest of the season either at shortstop or at designated hitter when Bogar wants to get Sardinas back in the lineup.
T.R. Sullivan is a reporter for MLB.com. Read his blog, Postcards from Elysian Fields, and follow him on Twitter @Sullivan_Ranger This story was not subject to the approval of Major League Baseball or its clubs.