Comeback bid falls short as Braves topped in DC
Atlanta season-high nine games behind Nats; can't gain in WC race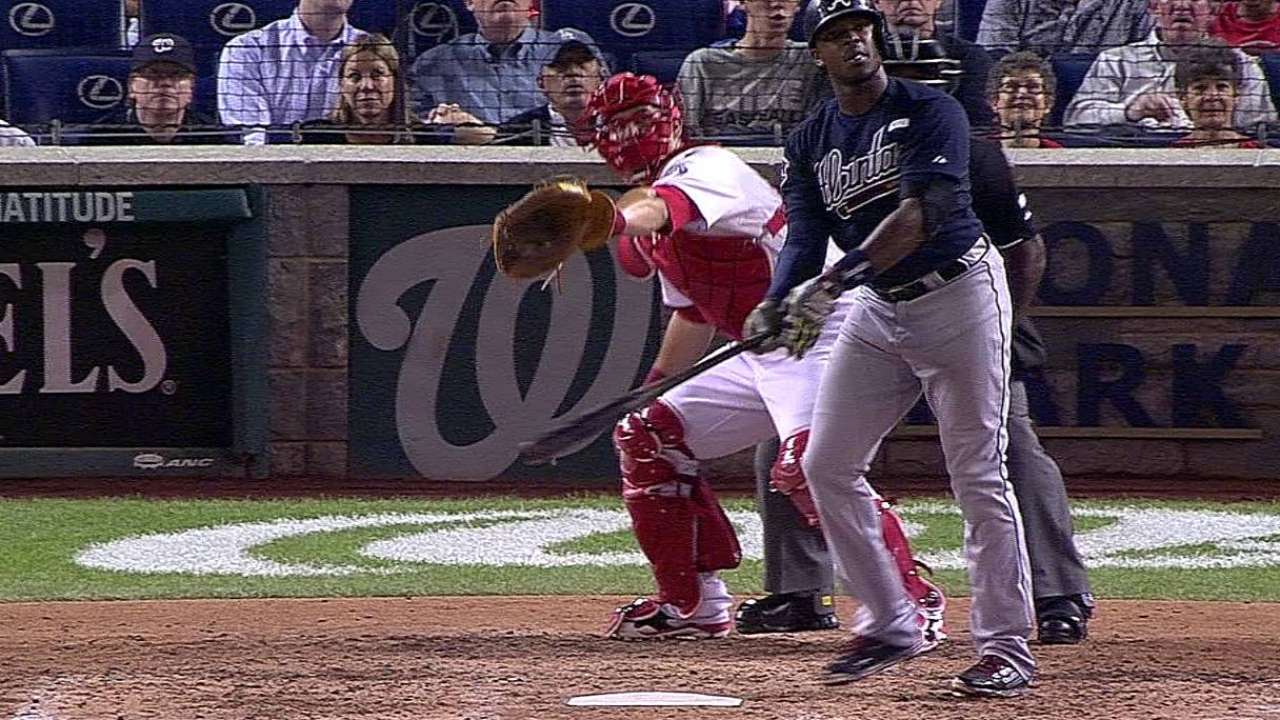 WASHINGTON -- Regardless of how well or poorly he has pitched, Ervin Santana has consistently remained upbeat during his postgame conversations with media members. Though he initially attempted to do the same after Wednesday night's 6-4 loss to the Nationals, the Braves' right-hander eventually delivered a more genuine and fitting message.
"It's very important for our team to win a game, every single one that we have left," Santana said. "It's not fun at all [to lose]."
There was not any reason for Santana to feel good after allowing the Nationals six runs -- five earned -- in just five innings. The veteran hurler surrendered four of those runs during a first-inning barrage that simply added to the recent memories of the Braves, who have lost six of their past eight games and 10 of their past 16.
This latest downward spiral has removed any lingering intrigue in the National League East race, which the Nationals lead by nine games with 19 games remaining. But the Braves are fortunate to still be just 1 1/2 games behind the Pirates, who would claim the NL's second Wild Card spot if the season ended today.
"We've got to worry about ourselves," Freddie Freeman said. "If we don't win, it doesn't matter what that scoreboard says the Pirates or Brewers are doing."
Santana's struggles essentially wiped out what was actually a somewhat encouraging offensive showing for the Braves, who had scored three runs or fewer in 12 of their previous 16 games and one run or fewer in six of their previous nine. After being forced to deal with the early deficit, they showed some fight against Jordan Zimmermann, who has established himself as the Nationals' ace.
Phil Gosselin's leadoff double led to a pair of runs in the fourth inning, and Danny Espinosa's throwing error set the stage for Justin Upton to drill a two-run home run on a 1-2 fastball in the sixth inning. A pair of productive innings stands as progress for the slumbering Braves, especially against Zimmermann, who had allowed as many as four runs in just one of the nine previous starts he'd made against Atlanta.
"In our opinion, we think Zimmermann is their ace," Freeman said. "We swung the bats really well. We hit the ball hard. We lined out a few times and put some runs on the board. If you can take a positive away from it, that's a positive."
While the offense might have shown some signs of life, the tone of the evening was set when the Nationals needed just 22 pitches to bat around and record five hits in the first inning against Santana. Denard Span got things started with a leadoff double. But the true damage was done when Adam LaRoche, Ian Desmond, Bryce Harper and Wilson Ramos notched consecutive one-out singles.
"They came out swinging the bats and were really, really aggressive with the first couple pitches of every at-bat," manager Fredi Gonzalez said. "Usually, when they do that against [Santana], they get quick outs. But they found the outfield grass and put a big number up, four runs. We weren't able to recover after that, but we battled."
Santana, who had allowed three runs in his only previous start at Nationals Park this season, might have gained better results had he known the Nationals were going to use the same aggressive approach they had on Monday, when they sent six batters to the plate during the course of a 15-pitch, one-run first inning against Mike Minor.
"I was happy with my performance," Santana said. "It was just one bad inning, and it was not bad, because I made my pitches and they still hit it. It was just one of those days."
It appeared the night was going to get even worse when Freeman was not ready to catch Christian Bethancourt's attempt to pick off Jayson Werth with two outs in the second inning. Werth advanced to third base on the error and scored on LaRoche's single. The Nationals added another run when Werth doubled home Anthony Rendon in the fourth inning.
"I was more than anything trying to help Ervin," Bethancourt said. "He was having a rough start. I thought I had a chance right there."
The Braves had one more chance develop when Emilio Bonifacio opened the eighth inning with a double. But that threat ended when lefty Ross Detwiler struck out Freeman and then handed the ball to right-hander Craig Stammen, who forced Upton to walk back to the dugout with his third strikeout of the night.
The Braves entered this series having won 22 of their previous 32 matchups against the Nationals. But as Stammen said, it seems like the tide has turned.
"You play a team enough that's a good team, and you're a good team, things are going to even out," Stammen said. "Baseball corrects itself. When you get those drastic stats like they had last year against us, I think you're seeing the correction right now, where we're evening those out a little bit."
Mark Bowman is a reporter for MLB.com. This story was not subject to the approval of Major League Baseball or its clubs.