deGrom dominates Rockies as Mets take series
Rookie tosses eight shutout innings while striking out nine in victory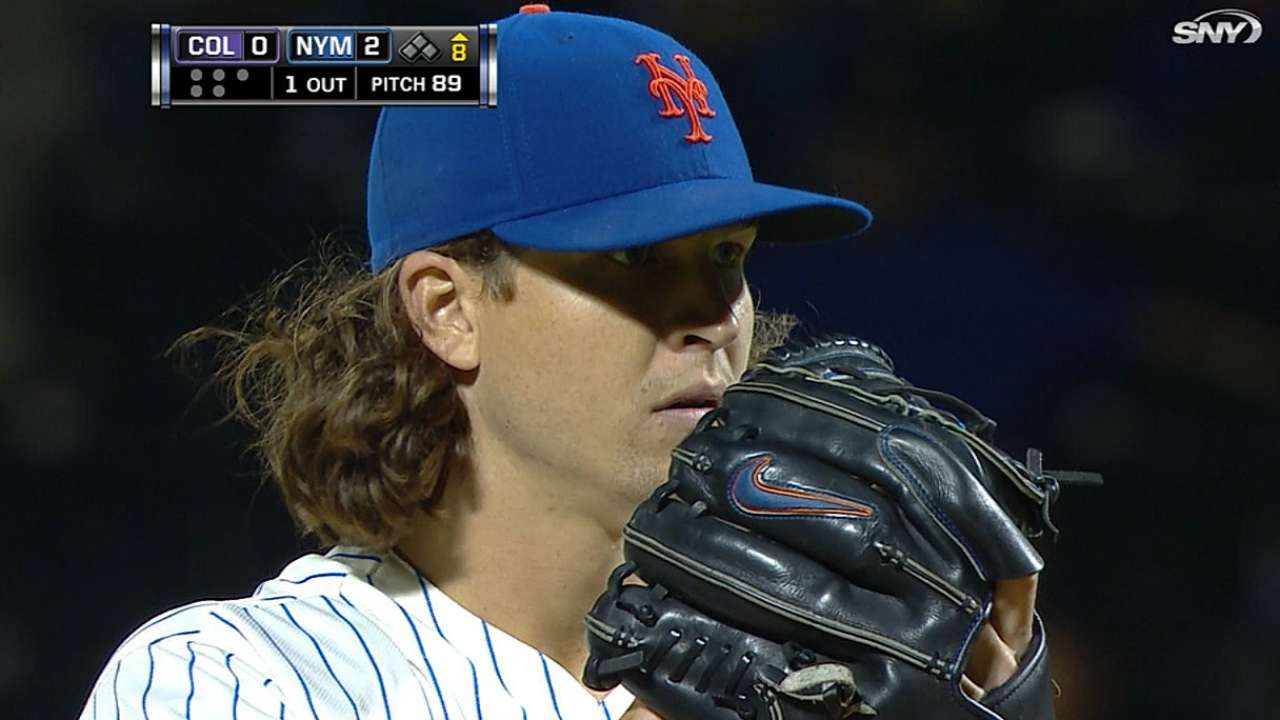 NEW YORK -- Had this been June or July, Mets manager Terry Collins said, Jacob deGrom would have been out there in the ninth. The Mets would have gladly allowed him to start one last inning at 100 pitches, vying for the first shutout of his career.
But this was a gray Tuesday evening in September, made grayer by the news of David Wright's season-ending injury, and the Mets were keeping one eye firmly trained on 2015. So Collins followed his orders to keep his staff's workload in check, limiting deGrom to eight innings only in a 2-0 win over the Rockies.
It did not diminish the rookie's brilliance as he continued a serious run at the National League Rookie of the Year Award. DeGrom allowed three hits, struck out nine and extended his streak to 22 consecutive innings without an earned run, tied for the most by any pitcher within his first 20 big league starts. The effort also lowered deGrom's ERA to 2.62, which would rank fifth in the NL if he had enough innings to qualify.
"Oh, man, he was outstanding," outfielder Matt den Dekker said. "It's fun to see him out there when he's like that. He's been like that a lot this year."
It almost did not matter for the Mets, given closer Jenrry Mejia's struggles. In relief of deGrom, Mejia loaded the bases with one out in the ninth, prompting Collins to mix and match for the game's final two outs.
First, Collins turned to lefty Josh Edgin, who had not pitched since Aug. 23 due to tendinitis in his elbow. Once Edgin struck out Corey Dickerson, right-hander Jeurys Familia relieved him and induced a fielder's-choice groundout to end things.
"There were a couple discussions on the bench and a couple varying opinions on who should come in," Collins said. "In that spot, if [Dickerson] was going to beat us, he was going to beat a left-hander."
The success of Edgin and Familia allowed deGrom to pick up his seventh win in his last eight decisions, after opening the year 1-5. Though Rockies starter Christian Bergman was also sharp early, scattering two hits over his first four innings, Juan Lagares singled home den Dekker to put the Mets on the board in the fifth. An inning later, after Travis d'Arnaud singled with two outs, Curtis Granderson drove him home with a double into the right-center-field gap.
That was all deGrom needed. Facing a Rockies lineup missing star sluggers Carlos Gonzalez and Troy Tulowitzki, deGrom retired five straight to open the game and 14 in a row to end his outing.
"That's a great feeling because it's my first time pitching this late into a year," deGrom said. "To know that I can get stronger late into a game, that's a really good feeling."
It was then, with his rookie at 100 pitches, that Collins turned to the bullpen.
The manager has spent much of this month discussing the merits of limiting his young pitchers -- deGrom chief among them -- down the stretch. With his team all but mathematically eliminated from playoff contention, Collins is shifting his focus to 2015.
"I'll reiterate what we've talked about: we are going to be very, very careful with these guys the last month," Collins said. "If this had been July, Jake deGrom would have pitched the ninth inning. He was in a spot where he could have gone easy another 15, 18 pitches and not been affected by it. But we've made a commitment to the organization to make sure these guys are going to be healthy, so we made the decision to take him out."
The most relevant aspect of deGrom's premature exit was its effect on the Rookie of the Year race, even if one stray inning should not change much. With three starts remaining, deGrom has positioned himself directly alongside Reds outfielder Billy Hamilton, whose 55 stolen bases and .298 on-base percentage make him a polarizing candidate.
Unlike Hamilton, deGrom has not been in the big leagues all year, making his debut in mid-May. But he has started 20 games since then, most of them with aplomb.
"He's got my vote," Mets second baseman Daniel Murphy said. "But I don't get one."
Anthony DiComo is a reporter for MLB.com. Follow him on Twitter @AnthonyDicomo. This story was not subject to the approval of Major League Baseball or its clubs.