Bergman impresses but Rockies' offense shut out
Rookie spins quality start, allowing just two runs over six frames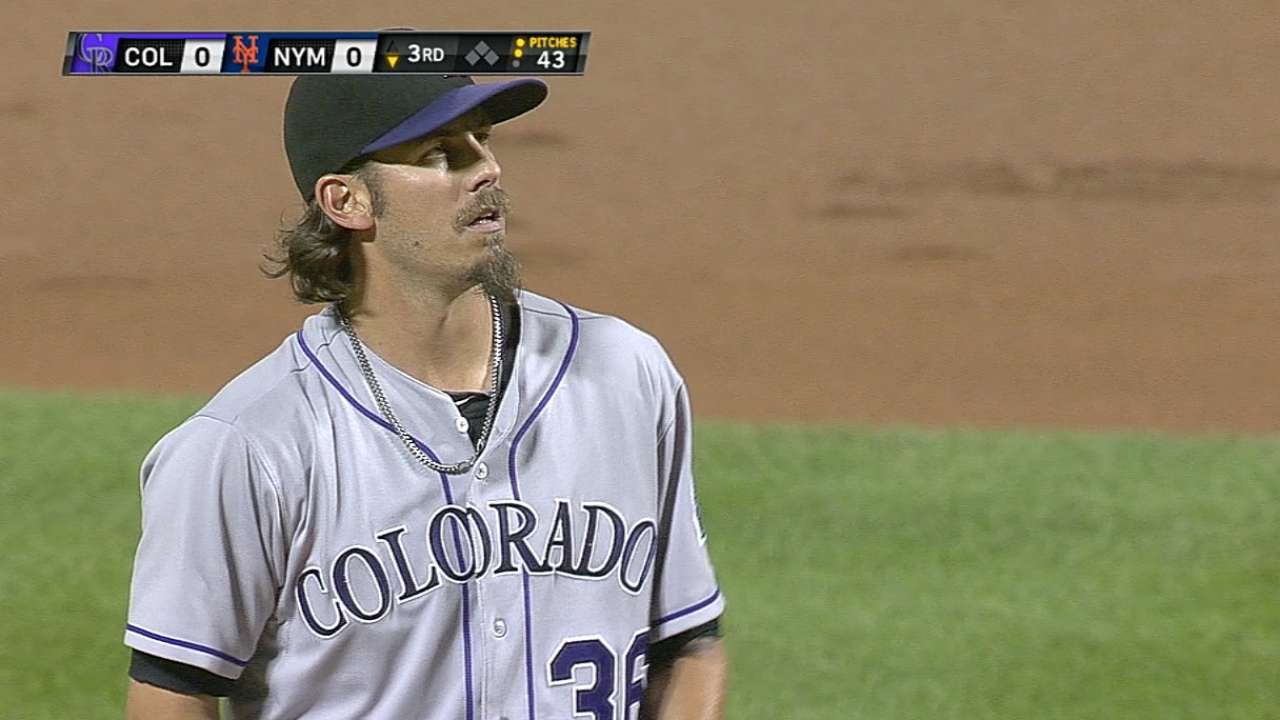 NEW YORK -- The Rockies have spots available in their 2015 rotation. The final starts of Christian Bergman's season, which began in Triple-A Colorado Springs and featured a broken hand in June, are in effect an extended audition for one of those jobs.
With a strong effort in a 2-0 loss to the Mets on Tuesday, Bergman continued to make a compelling case that he is ready to fill one of those back-end slots. He held New York to two runs over six innings, scattering six hits and walking none.
Bergman was, as manager Walt Weiss phrased it just hours prior to the game, "a crafty right-hander."
"If there is such a thing," Weiss added with a smile.
The quality start was Bergman's second in a row, and in four outings since returning from the disabled list, he owns a 3.42 ERA. This game was similar to his last one against the Giants in that he allowed two runs over six innings.
"I feel like I'm doing my job, even though I'm young and inexperienced," Bergman said. "I feel like I'm doing a good job of keeping the team in the game."
Bergman is hardly a young pup. A 24th-round Draft pick out of UC Irvine in 2010, he steadily climbed the Minor League ladder and put up effective numbers along the way before making his debut as a 26-year-old in June.
Bergman is also hardly an unknown. He features a fastball that sits 89-91 mph, a cutter that batters usually have a hard time hitting and a changeup when he needs it. He won't blow many people away -- he has 17 strikeouts in 38 2/3 innings and just one in his last two starts -- but can sneak up on guys with what Weiss called a quick arm.
"He's a guy that's always had to prove people wrong. He wasn't a high pick," Weiss said. "He's a guy that every time he takes the mound he's got to prove he can do it. And he's been doing that."
That the strikeouts aren't coming right now isn't much of a worry for Bergman.
"If anything, it gives me more confidence because the strikeouts aren't there right now and guys are still getting out," Bergman said. "So when that other part of the game does come around, hopefully it'll be easier.
"Guys are getting out, and that's what I'm trying to do -- try to get them early in the count, not throw a lot of pitches, get deep in the game. I'll take that."
A lot of nights, that works out just fine. A lot of nights, the opposing starter doesn't throw eight shutout innings.
That's what Mets rookie right-hander Jacob deGrom did on Tuesday, limiting the Rockies to three hits -- including doubles by Wilin Rosario and Nolan Arenado -- while striking out nine. He finished his night by retiring his last 14 batters.
A trio of Mets relievers loaded the bases in the ninth, but kept Colorado off the board.
"I definitely felt like I was [getting stronger] as the game went on," deGrom said. "Early on, I didn't feel as good as I felt later on, so I was definitely getting stronger in that game."
"He's got one of those fastballs that's not easy to hit if you haven't faced him," DJ LeMahieu said. "He's pretty lanky. I feel like he's got a pretty good whip. The fastball kind of explodes at the end a little bit more than you think."
The Rockies and Mets were locked in a scoreless tie until the fifth, when Juan Lagares lined a two-out single to left to score Matt den Dekker. The Mets tacked on a second run an inning later on Curtis Granderson's double to right-center.
That was all Bergman conceded. deGrom afforded the Rockies even less.
"This is one of those games where it looks pretty good on paper," Bergman said, "but feels terrible because [deGrom] was so good. There was so little room for error."
Tim Healey is an associate reporter for MLB.com. This story was not subject to the approval of Major League Baseball or its clubs.