Homers continue to be an issue for Ranaudo in loss
On 25th birthday, righty gives up three dingers, while bats can't reply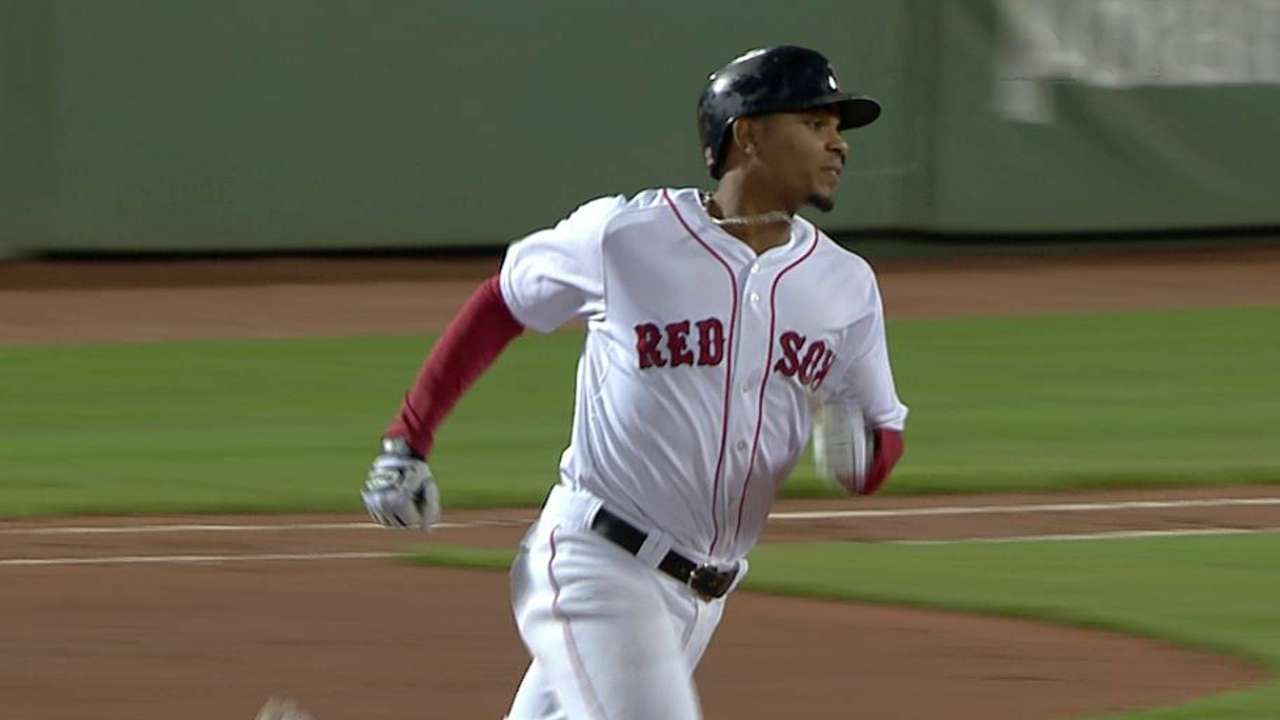 BOSTON --- Anthony Ranaudo got his birthday celebrations underway a little earlier than he would have liked Tuesday night.
The Red Sox righty, who turned 25, was pulled after allowing four runs in just 3 1/3 innings in a 4-1 loss to the Orioles at Fenway Park. Baltimore will go for a three-game sweep Wednesday afternoon.
"He didn't get away with many mistakes," Red Sox manager John Farrell said. "Where he's gotten some swing and miss in some previous starts with some mislocated pitches, that wasn't the case tonight."
Ranaudo threw just 67 pitches and only 36 for strikes. He allowed six hits, three of which were homers. He walked two and struck out two.
Alejandro De Aza took Ranuado deep to right into the Boston bullpen after Nick Markakis walked to begin the first.
In the third, the left-handed-hitting De Aza homered again to right, this time well over the bullpens. Adam Jones, the next batter, then launched a ball that cleared the Green Monster seats and left the yard. All three home runs were the result of fastballs left out over the plate, which is something Ranaudo has struggled with --- he's given up eight long balls in five Major League starts.
"The pitches that went out of the park weren't by choice as far as being up in the zone," Ranaudo said. "So I've got to do a better job of that. And that comes down to -- when you're facing a team with one of the best records in baseball, you've got to be sharper. You have to execute pitches at a better rate than I did today."
After their bullpen held up to keep them in it, the Red Sox put two runners on in the seventh, but Andrew Miller --- whom the club traded to Baltimore on July 31 --- fanned Allen Craig with a filthy slider down and in to end the inning. He stayed on to start the eighth and struck out David Ortiz.
Boston had another chance to bail out Ranaudo. In the ninth, Xander Bogaerts walked and Carlos Rivero doubled to right with no outs. Bogaerts tried to score when the relay throw to second got away, but he was thrown out at home before the tying run could come to the plate.
"Unfortunately in that situation down three, ill-advised," Farrell said. "But an aggressive mistake."
"We had the tying run coming up. I saw him throw it bad and thought I had a chance to beat it out," Bogaerts said. "And I didn't."
Bogaerts did take Chris Tillman deep over the Monster in the fourth to get Boston on the board. Tillman allowed just that run on six hits. The Red Sox worked enough counts so that Tillman threw 108 pitches over his five innings. It was just his fourth non-quality start in his last 18 outings.
The Red Sox loaded the bases in the fifth with a walk by Christian Vazquez and singles by Daniel Nava and Mookie Betts. But Tillman induced a double-play ground ball from Ortiz to end the inning and hold Baltimore's three-run lead.
Drake Britton, who replaced Ranaudo, was impressive again, throwing 1 2/3 scoreless innings, walking one and fanning two. The lefty has allowed just one hit and two walks over 3 2/3 innings, all coming in the last week.
Matt Barnes allowed three hits and struck out two over three innings in his Major League debut. The University of Connecticut product is Boston's third Draft pick from 2011 to reach the big leagues, joining Jackie Bradley Jr. and Betts.
Barnes put runners on second and third in the ninth, but the righty struck out Jones with a changeup down and in, then Nelson Cruz lined out softly to second to end the inning.
"Once you get past the nerves and being in front of everyone and who you are playing against, it is the same game," Barnes said. "I've been playing it for 20 years. Once you get out there, you don't really see anything but the glove."
With the win, the Orioles improved to 23-0 when homering three or more times. Baltimore leads the league in home runs with 191, and the magic number to clinch its first AL East title since 1997 is a mere nine.
"I look at it from the side of when we give our pitchers the lead, they are shutting the door. I will take that," said Jones. "They are the ones who are going down there having a shutdown inning as the next one. We are giving them some support and they are giving us some support by going out there and throwing up a zero."
Steven Petrella is an associate reporter for MLB.com. This story was not subject to the approval of Major League Baseball or its clubs.