Dickerson odd man out, outrighted to Triple-A Columbus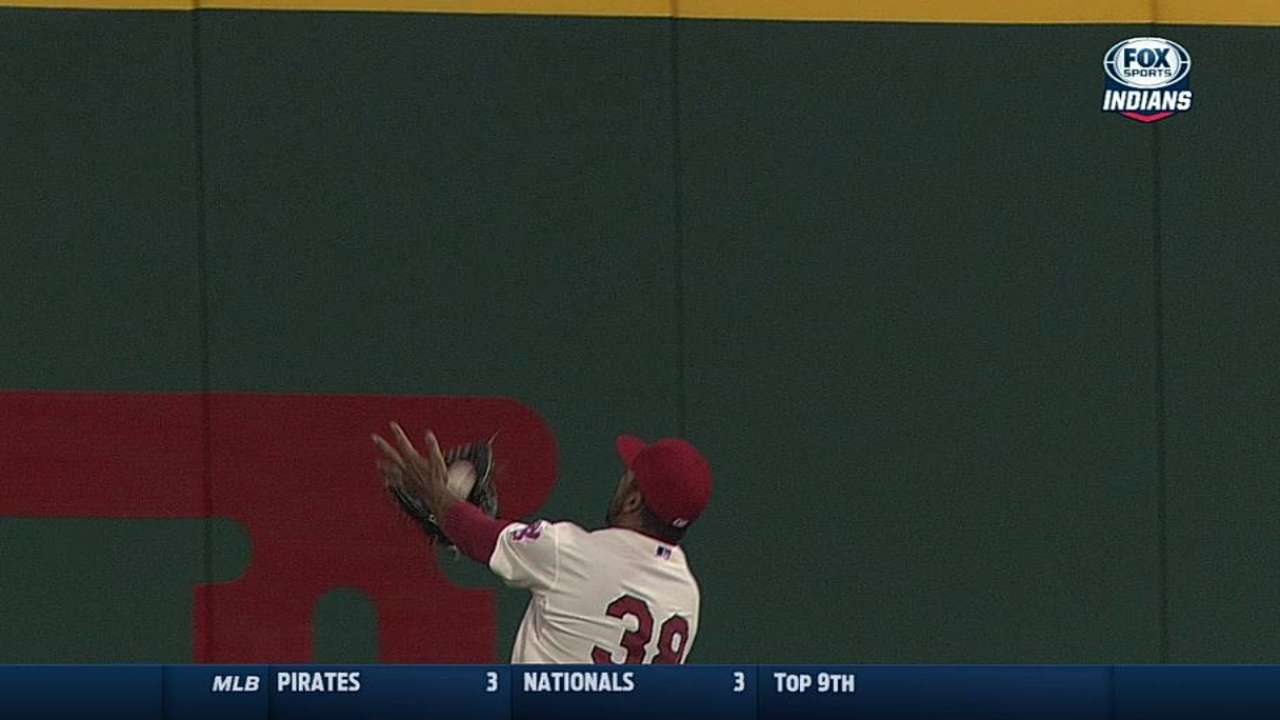 CLEVELAND -- The Indians added Chris Dickerson to the fold two months ago when the team's outfield depth was depleted and thin. With the landscape now entirely different, Dickerson became the odd man out for Cleveland over the past two weeks.
Prior to Tuesday's game against the Twins, the Indians sent Dickerson outright to Triple-A Columbus, which had its season end last week. The move reduced Cleveland's active roster to 34 players and now gives the club a chance to place a higher priority on some of its younger players down the stretch.
Indians manager Terry Francona added that the recent acquisition of outfielder J.B. Shuck -- obtained from the Angels for cash considerations on Friday -- made Dickerson expendable.
"All of a sudden, you have a bench job basically the guys are kind of the same skill set," Francona said. "Sometimes you can try to create spots for two guys and then neither one gets the proper amount of [playing time]. So we told C.D., 'For better or worse, we made a decision to go with Shuck and allow you a chance to move on, rather than have you just sit here.'"
The Indians currenty have their starting outfield trio of left fielder Michael Brantley, center fielder Michael Bourn and right fielder David Murphy together again. Bourn was dealing with left hamstring woes when Dickerson was acquired via trade from the Pirates on July 7, and Murphy recently returned from a month-long bout with a right oblique strain.
Behind the Tribe's three regular outfielders, the team has veteran utility man Ryan Raburn, Shuck and rookies Tyler Holt and Zach Walters. Cleveland also has utility man Mike Aviles (an option in all three outfield spots) on the active roster, though he has been recovering from concussion-like symptoms since being removed from a game on Sept. 1.
In 41 games for the Indians, the 32-year-old Dickerson hit .224 with two home runs, six RBIs and a .636 OPS. Both homers and all six RBIs came within his first 20 games, during which he hit .314 with an .887 OPS in 51 at-bats. In the 21 games since that stretch, dating back to Aug. 4, Dickerson posted a .128 (6-for-47) average with a paltry .360 OPS.
Over the past couple of weeks, Dickerson also missed some games due to some "nagging" injuries, according to Francona.
"When he first came up, he got real hot and he really helped us," Francona said. "And then, that last 100 at-bats was tough -- a lot of strikeouts. Sometimes, not being available [due to injuries] was a little bit difficult, especially before September. But you just deal with that stuff. That's part of the game."
Across parts of seven years in the Majors, Dickerson has hit .257 with 17 home runs and 66 RBIs in 355 games between stints with the Reds, Brewers, Yankees, Orioles and Indians.
Jordan Bastian is a reporter for MLB.com. Read his blog, Major League Bastian, and follow him on Twitter @MLBastian. This story was not subject to the approval of Major League Baseball or its clubs.