Fantasy Q&A: Who can fill Melky's spot?
Owners in need of outfielder down the stretch can look to Jay, Betts, Gose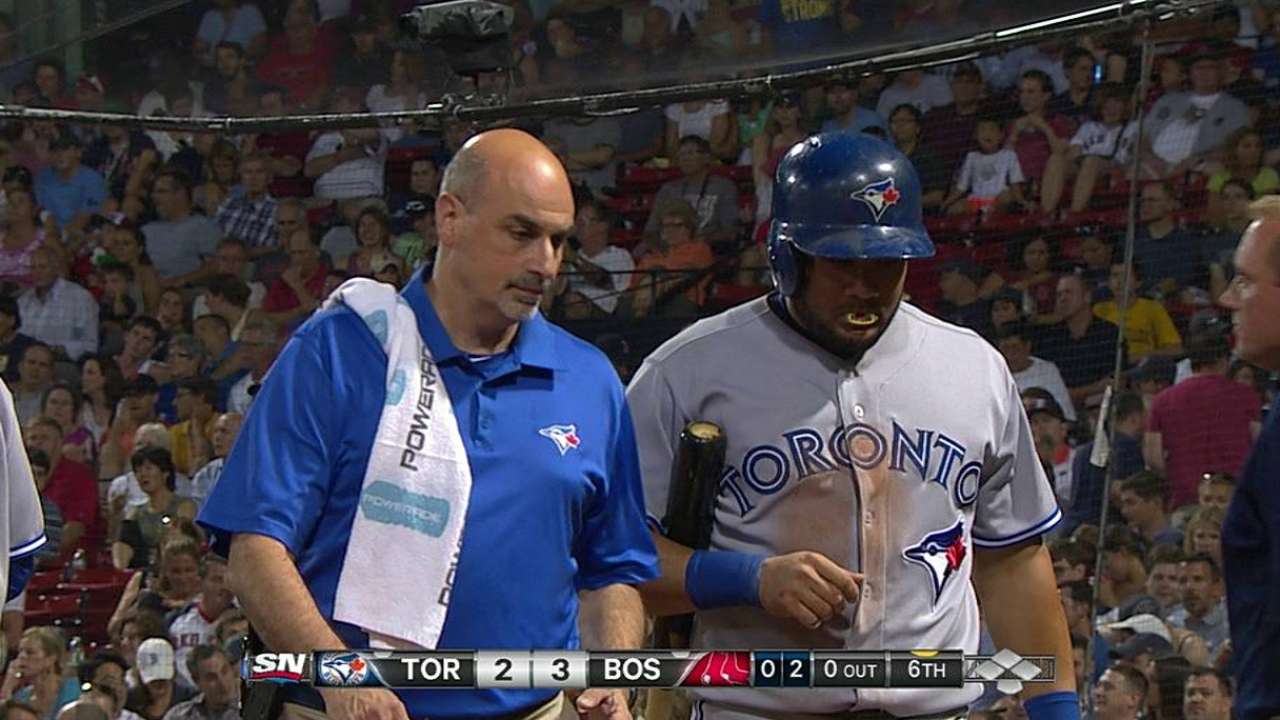 Look for Monday tweets from the @Fantasy411 Twitter account and you can have your questions answered in our weekly mailbag. Here are the top questions from Monday's tweets:
Playoff time, need replacement for Melky Cabrera. Someone in the "Juan Lagares" range. Jon Jay?
-- @Astrobeerman
The loss of Cabrera is a sizable one for fantasy owners. Because of his cheap preseason price and steady production, the Blue Jays left fielder is likely on several championship contenders. However, the loss may not be as severe as some think. While Cabrera is a solid five-category contributor, he does not offer elite power or speed. He hit .274 with just two homers and one steal in August. Those numbers can be replaced by wise free-agent additions.
Cabrera owners can use his injury as an opportunity to focus on a specific category. Those who are in a tight race in batting average can definitely consider Jay. The Cardinals outfielder is a poor man's Melky, as he offers a high batting average with minimal power and speed. But those in tight races elsewhere can consider other options. Mookie Betts may present the best replacement for Cabrera. He is hitting for average, swiping bases and smacking homers. Lagares is also a good option, as he offers a nice combination of speed and batting average. For those in deep leagues, Cabrera's teammate Anthony Gose is a player to consider, as he could steal several bases this month.
Given Yasiel Puig's struggles in the second half, do you think he's worth a keeper spot for 2015?
-- @TheCrappyTotals
With a .255 batting average and one homer since the All-Star break, Puig has been a notable disappointment. But the 23-year-old's outstanding first-half numbers show that he has immense talent. It is important to remember that Puig is playing in just his second Major League season, and that he has dealt with more change in the past two years than nearly any other Major Leaguer. He is a special talent, and for that reason, he needs to be retained in most keeper leagues. Keeper questions are highly individual, because of the number of players retained and the other players on the specific roster, but Puig is a special talent.
Is Greg Holland safe going forward this year? Or should he be dropped (our league has no bench) for someone off waivers?
-- @goochmeanswar
Holland ranks right beside Craig Kimbrel as the most valuable fantasy closer. With a 1.60 ERA, a 0.98 WHIP and 42 saves, he has given fantasy owners everything that they expected. But Holland is dealing with triceps tightness, and that has to worry owners. The 28-year-old could be back on the mound soon, and for that reason, he can stay active in most leagues. However, those who are not desperate for saves can consider dropping Holland and using an extra starter in the final three weeks of the season. Owners who are in tight races with their ratios could go in a different direction and use both Holland and Wade Davis for the coming week. That would allow the owner to lower their ratios, pick up all the Royals' saves and possibly grab a vulture win.
Who's a better young keeper (first three years of career) for 2015 -- Michael Wacha or Gerrit Cole?
-- @Dane_Nealson
Both Wacha and Cole are promising young starters, but if one has to be chosen, Wacha is the better option. The young Cards pitcher has dealt with a shoulder injury this season, which makes him risky for the coming campaign. But Cole has also spent some time on the disabled list, and to some degree all young pitchers are injury risks. Living with the reality that a starting pitcher could go on the DL at any time is part of playing fantasy baseball.
Wacha gets the nod over Cole because of his ability to post lower ratios early in his career. Wacha has posted an ERA under 3.00 in each of his first two seasons, and his 1.11 career WHIP is notably lower than Cole's 1.24 mark. Overall, both starters have many things going for them. They both maintain a high strikeout rate, and they both work for organizations that have had great success with their pitchers in recent seasons.
I have Danny Santana and Josh Harrison, and I'm in my playoff week. What do I do?
-- @sp_salas
Santana and Harrison have been two of the biggest surprises of the summer of 2014, but neither player is a safe option for the coming week. Santana is currently dealing with a minor back injury, while Harrison works through a sore ankle. Either player could play in the majority of their games, but it is also possible that both players miss several games this week. In shallow leagues, owners may want to sit both Santana and Harrison, and look for healthier options on waivers. But assuming that they are the only two options, Harrison may be the better player to start. The Bucs are in the middle of a tight playoff race, and they will want their sparkplug back in their lineup as soon as he is ready. Meanwhile, the Twins are playing for 2015, so they have little incentive to bring Santana back until he is fully healthy.
I've been platooning Kennys Vargas and Chris Davis at first base. Replace with Michael Cuddyer?
-- @PaulieV1980
Cuddyer could be a useful asset to fantasy owners in the final three weeks of the season, but he could also take some time to get back into the swing of things. The 35-year-old has registered just 27 at-bats since the beginning of June, and he may not hit the ground running. The Rockies have struggled to generate offense on the road this season, and they will work in pitcher-friendly parks in four of their final six series. The safer route is to stick with Vargas. The rookie has given fantasy owners everything they could ask for, with seven homers, 33 RBIs and a .303 batting average in 36 games.
Fred Zinkie is a fantasy baseball writer for MLB.com. This story was not subject to the approval of Major League Baseball or its clubs.