League-wide day of remembrance staged on 9/11
'We Shall Not Forget' tributes honor those lost 13 years earlier in terrorist attacks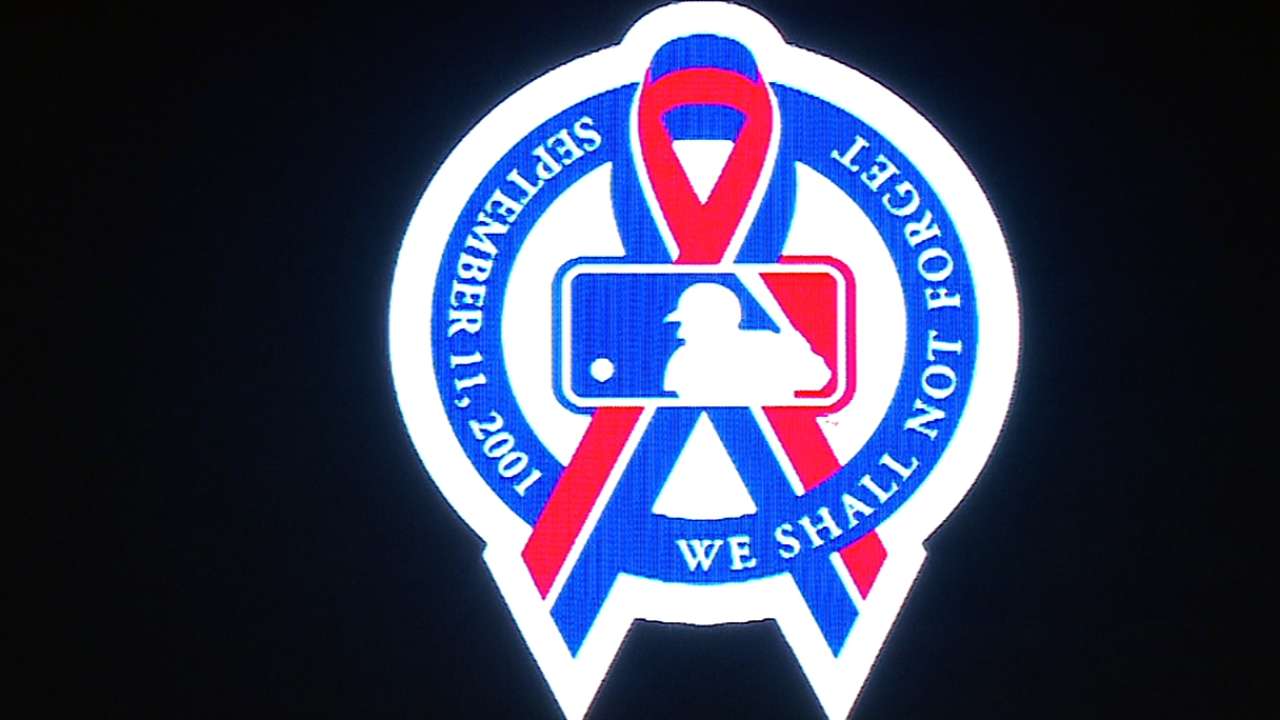 NEW YORK -- For the first time since the terrorist attacks on Sept. 11, 2001, the two Major League Baseball teams in New York played a home game on 9/11.
After the annual reading of nearly 3,000 victims' names in a remembrance ceremony this morning at the new World Trade Center in Manhattan, there are twin tributes nearby tonight when the Yankees hosted the Rays in the Bronx and the Mets hosted the Nationals in Queens.
Their games are part of the annual league-wide tribute by MLB and its clubs, as the words "We Shall Not Forget" echo across the national pastime once more. A sport that meant so much in helping people go on with their lives back then is being played simultaneously at two venues that didn't exist in 2001, and in front of so many citizens whose lives were changed that day.
The Mets, who hosted the first MLB game when baseball returned after a hiatus following the attacks, have played seven home games on 9/11 in the years following the disaster -- including the past five years. The Yankees have been at home five times. The only time there were no home games in New York on 9/11 was 2008, when both clubs were off.
The only previous time a game has been played at new Yankee Stadium on Sept. 11 was in 2009, the month before the Yankees won their most recent World Series.
Home clubs around the Majors today hosted pregame ceremonies, including a moment of silence, and a "We Shall Not Forget" silhouetted batter ribbon displayed throughout ballparks. In addition, special lineup cards and base jewels were used for every game played today. All on-field personnel -- including players, coaches and umpires -- wore an American flag patch embroidered on the side of their caps.
The Nationals were the visitors at Citi Field for the third consecutive 9/11 tribute, and it brought back feelings for their first-year manager, Matt Williams. In 2001, he was the third baseman for the D-backs team that beat the Yankees in a seven-game World Series, played at a time when emotions were raw and the nation rooted for the Yanks. Williams experienced the pain, sorrow and heroism at a time when all eyes were on Ground Zero.
"You got a chance to talk with the firemen and the police officers, and get a sense from them of what they were going through -- they were passionate people," Williams remembered. "They were working day and night. We got a chance to experience that. It was moving. It's something you don't really ever want to see, but it's something that is good for your heart and your person to experience."
Of course, many citizens in the nation's capital region where Williams now manages were affected as well. Four passenger airliners were hijacked on that Tuesday morning. American Airlines Flight 11 and United Airlines Flight 175 were crashed into the North Tower and the South Tower, respectively, of the World Trade Center complex in New York. Within two hours, both towers collapsed. American Airlines Flight 77 was crashed into the Pentagon. United Airlines Flight 93 crashed into a field near Shanksville, Pa., killing all aboard.
Williams also recalled what it was like to return to the field for the first time after the week-long hiatus in which a nation and a sport tried to cope and rebuild. Many Mets fans at tonight's game will be mindful of how it felt when Shea Stadium hosted the first game back in 2001.
"We thought it would be a good rallying point for our nation that if they had something to do for three hours other than everything that had gone on, it would be beneficial," Williams said. "And I remember all of the folks in the stadium being very excited to be there, which is a good thing for the sport and a good thing for our country."
Mets star David Wright has continued his tradition of visiting a New York firehouse on or around every Sept. 11 since his rookie season in 2004. He and teammate Dillon Gee, whose father Kevin is a firefighter in Fort Worth, Texas, visited FDNY Squad 288, HazMat 1 during the day on Wednesday in Maspeth, N.Y.
That firehouse lost 19 members on Sept. 11, 2001. In the immediate aftermath of the attacks, the Mets adopted this firehouse, which is located fewer than five miles from Citi Field.
In Cleveland, the Indians hosted the Twins, and Major George Polarek, the director of the Salvation Army's 9/11 World Trade Center relief efforts, threw the ceremonial first pitch at Progressive Field. Also, a Marine Corps color guard presented the colors before the day's national anthem.
Polarek managed broad-based logistics and services at Ground Zero and surrounding areas to the survivors and families of those affected by 9/11. For his leadership, he earned recognition from New York Mayor Rudy Giuliani. Polarek also served in leadership roles after Hurricane Katrina and in Indonesia, Sri Lanka, Samoa, New Zealand, Haiti and Japan.
There are 11 games on the MLB schedule today. Although the Dodgers are not among them, longtime broadcaster Vin Scully has shared vivid memories of those days after the attacks.
"I guess I will always remember one terse remark from a rescued person who had been high up in the towers," Scully said. "He was talking about the first responders. He said, 'We were running out of the building for our lives, and they were going in and going up.'"
MLB.com provides complete coverage of the day's ceremonies, and it will offer perspectives through articles, multimedia and photos from across the league. Additionally, MLB.com, the 30 club sites, Cut4.com and all of the associated mobile and social media channels are distributing messages of remembrance and support of those who serve and protect our people, nation and freedom.
The Blue Jays are wearing customized caps recognizing both the U.S. and Canada.
At Yankee Stadium, Cuban jazz trumpeter, pianist and composer Arturo Sandoval performed "God Bless America" during the game. The 10-time Grammy Award winner has performed with the likes of Celine Dion, Alicia Keys and Justin Timberlake, and he contributed composing work on the entire underscore of the HBO movie based on his life, "For Love or Country," starring Andy Garcia.
"Arturo Sandoval, a protégé of Dizzy Gillespie, is not only a legendary musician with 10 Grammy Awards but also a great representative of the American dream," said Manuel Garcia, the Yankees' director of Latino Affairs.
"From his well-known defection from Cuba to his receipt of the Presidential Medal of Freedom in 2013 at the White House, he is a symbol of what the United States is truly about. We are honored to have him perform 'God Bless America' on Sept. 11 at Yankee Stadium."
Mark Newman is enterprise editor of MLB.com. This story was not subject to the approval of Major League Baseball or its clubs.