Beat the Streak participant extends tally to 38
Phils fan Borelli continues quest for 57 consecutive correct picks, $5.6 million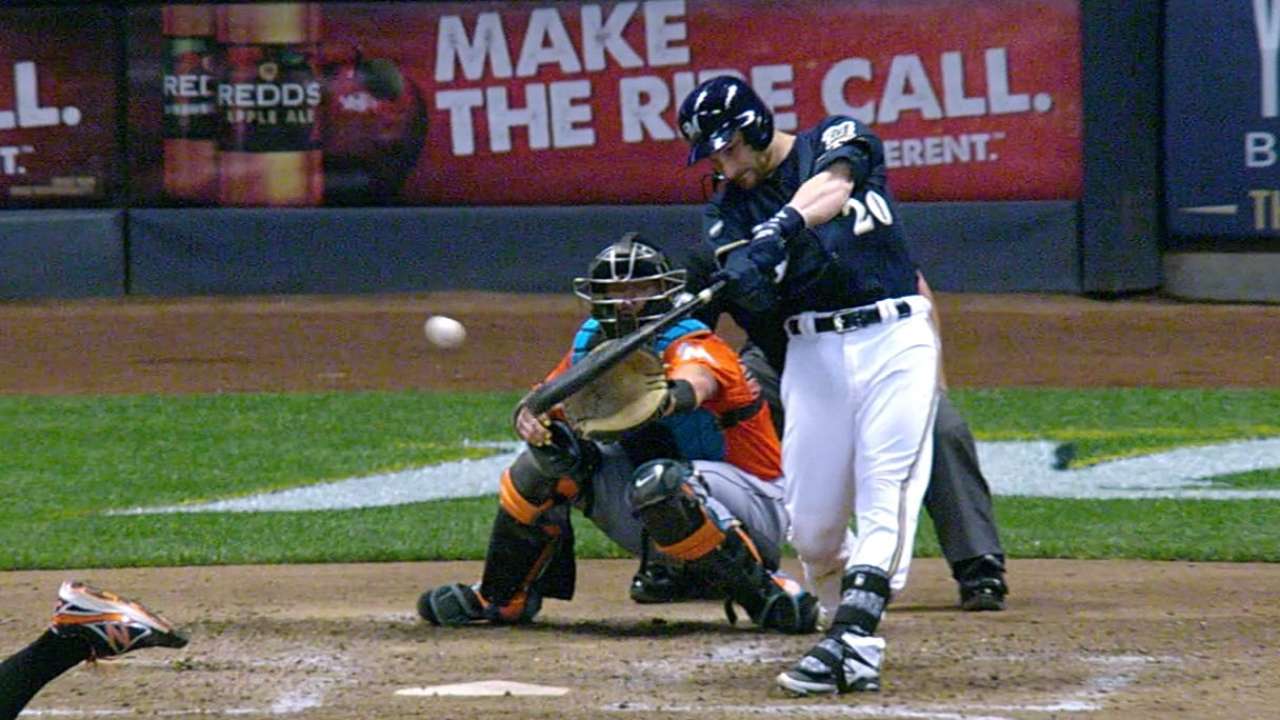 It's that time of year. Crunch time. When summer's swansong and meaningful September moments meet. Down the stretch we come, with each game, each plate appearance, each pitch being played under microscopic scrutiny. That's right. The 2014 regular season -- as well as the 14th chapter of MLB.com's Beat the Streak series -- will come to a close in a matter of weeks.
But don't turn the page just yet. Because if left up to Matt Borelli, the real fun may have just begun. An 18-year-old Phillies aficionado living in Connecticut, Borelli is pursuing BTS fame and fortune. He already has 38 consecutive on-point picks under his belt, with more successful selections potentially in store.
In presciently predicting the Brewers' Jonathan Lucroy to notch a hit on Monday (the catcher tallied two), Borelli entered into a tie for the top spot on this season's BTS leaderboard. He now stands there with three other Streakers, two-thirds of the way to the game's $5.6 million grand prize.
"Reaching 38 games is surreal for sure," Borelli said. "I never expected to go this far. I picked Lucroy [on Monday] because the last time he went hitless in back-to-back games was Aug. 11-12."
Five point six million dollars. That's more than the average annual salary in Major League Baseball. That's season tickets for life. That's, well, almost anything you've ever wanted.
BTS participants try to establish a virtual "hitting streak" by picking one or two big leaguers per day, with their runs continuing as long as their selections collect at least one hit in their contests. In 13-plus seasons of BTS play, no one has matched Hall of Famer Joe DiMaggio's magic hitting-streak total of 56, set in 1941. To win the $5.6 million, one must top Joe D.'s run by one.
A Chase Utley fan, Borelli did not simply stumble into his success. By contrast, he has utilized multiple strategies during his ascent.
"I usually prefer lefty-righty matchups, but on certain occasions, I just pick the batter who's on a hot streak," Borelli said.
"I also check a batter's career stats against the pitcher, and how well [the hitter] is against certain splits. I've used the Double Down option a lot in the past, but not recently."
The Double Down feature allows Streakers to select two players on the same date. If both batters record at least one hit, the Streaker's run advances by two games. But if either player goes hitless, the streak drops back to zero.
And along the path to potential BTS lore, Borelli has been eligible to pick up prizes. In fact, cool stuff is up for grabs with as few as five consecutive correct picks.
So even if you can't secure the millions sitting at the end of the BTS rainbow, you can still claim from the million-plus giveaways available every day. This is a new addition for 2014, so keep playing BTS, and you might find yourself with free merchandise from your favorite team, sitting pretty with complimentary seats at the World Series.
Additionally, $10,000 has again been set aside for the individual who finishes 2014 as the superlative BTS star. The pot will be split in the event of a tie.
Of course, such money would be of interest to Borelli, a recent high school graduate who will soon be attending college in Southern California.
But, of course, Borelli is looking to do more. So much more. For the benefit of those around him, we might add.
"If I'm somehow lucky enough to win the grand prize, I will donate a large chunk of it to some of my favorite charities, including Red Cross, St. Jude, and ALS Association," Borelli said.
"The rest of the money will go towards my college education and other family needs."
So sit back -- actually, nah, stand up -- and root on Borelli as he chases BTS fame, and a whole lot of cash.
Zachary Finkelstein is a fantasy editor for MLB.com. This story was not subject to the approval of Major League Baseball or its clubs.