MLB.com Columnist
Phil Rogers
A's are equipped to get out of rut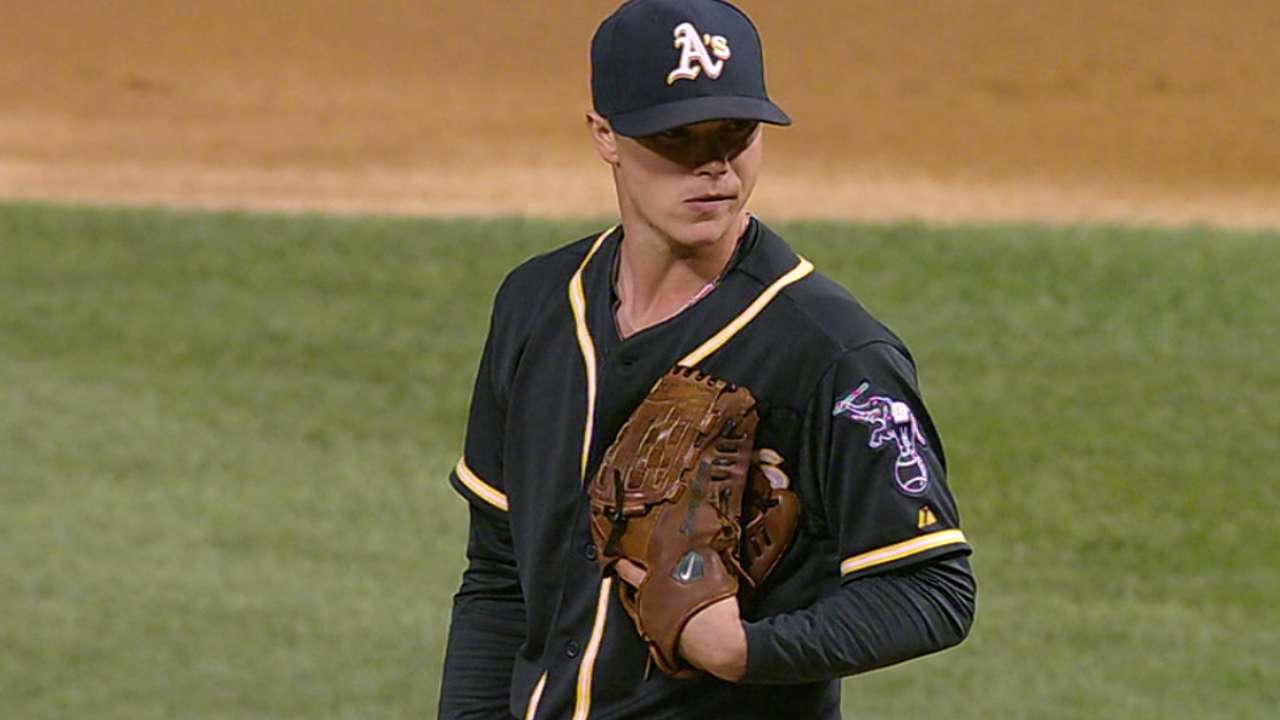 CHICAGO -- Clunk. Clunk. And clunk.
That was the sound of the A's hitting rock bottom. And then hitting it again. And then hitting it one more time, just for good measure, the latest a 5-4 walk-off loss in 12 innings to the White Sox on Monday night.
At some point soon, the Athletics are going to pull out of the funk they are in.
Oakland is the winningest team in Major League Baseball the past three years. The A's get to run starters Sonny Gray, Jon Lester, Jeff Samardzija and Scott Kazmir to the mound on consecutive days. Their clubhouse is filled with winning players. You know they're going to bounce back from the slide that has probably cost them a shot at winning the American League West. All the numbers remain in their favor.
But then you watch a game like Sunday's, when they walk five men in the ninth inning to lose to the Astros, and then a game like the one on Monday night, when they can't close the deal against the White Sox, and how do you not start to wonder?
On Aug. 10, the A's had the best record in baseball and a four-game lead on the Angels in the AL West. Suddenly they're eight games back in the division and clinging to a one-game lead on the Mariners for the first AL Wild Card with 19 games to play.
How are they handling this?
"Morale has been fine," Sam Fuld said after Monday night's loss at U.S. Cellular Field. "It's not a lack of effort on anybody's part. We're just not playing very good baseball. I don't think it has anything to do with our character. That's just the way the game goes. Unfortunately we've got a lot of guys who aren't swinging as well as they're capable of. Defensively, we just had some miscues. But that's baseball. It's not a lack of focus or a lack of effort, it's just the way it goes."
The A's badly need something to go right, and they were close. They were one pitch away, in fact, but a bullpen missing closer Sean Doolittle (strained right intercostal muscle) couldn't put it away.
Tyler Flowers homered with two outs in the ninth inning on a 2-2 pitch from lefty Eric O'Flaherty, taking a win away from Gray and sending the game into extra innings with the game tied at 4.
"It was close," Gray said. "We were one pitch away, and unfortunately they were able to hit a ball out of the park, twice."
That's right. Twice.
As low as the Athletics felt when they had to come in from the field for the 10th inning, they still had a chance recover and make it a good night. But a White Sox staff with the third-worst bullpen ERA in the Majors strung together three consecutive hitless innings and Flowers struck again in the 12th, with a one-out homer (his 14th of the season) off Jesse Chavez providing the walk-off win.
This was the sixth consecutive one-run game for the A's, only one of which they won. If you don't think there's a fine line between winning and losing in baseball, then you've never lost games 4-3, 4-3, 2-1 and 6-5 in September.
"It's tough," Oakland manager Bob Melvin said. "It's tough to lose games like that."
The good news for the Athletics is that Lester starts on Tuesday, followed by Samardzija on Wednesday and Kazmir on Thursday. It's the way general manager Billy Beane drew it up when he doubled down for October with his two big pitching trades.
They paid heavily to lure Lester from Boston and Samardzija from the Cubs, but given their economic challenges, those deals made sense when he made them, and they still do. But they'll be judged in a harsh light if something doesn't turn around soon.
The problem here is that Josh Donaldson, who was an AL MVP Award candidate at the All-Star break, hasn't been the same guy for a long time now -- he had a woeful game Monday, going 0-for-5 with four strikeouts -- and Lester is the only one of the starting pitchers who is pitching as well in the second half as he did in the first.
Kazmir (3-4, 5.96 ERA in nine second-half starts) has been the biggest issue, but hardly the only one. Samardzija's second-half ERA is 3.99, Gray's is 4.06 and Jason Hammel checks in at 4.81.
Gray worked incredibly hard on the mound throughout a 104-pitch outing Monday that started with his walking the White Sox first two hitters, at one point breaking out his emergency slider. He held the Sox to 1-for-7 with runners in scoring position, with his biggest escape coming when he got Marcus Semien to hit into a bases-loaded double play in the fourth inning.
But this isn't a team looking for moral victories. It is one that is built to win the World Series, and at the moment, Oakland is in danger of letting its postseason spot slip away.
"You want to win," Gray said. "When it comes down to it, winning is really all that matters. I think we'll be fine. We'll come back and play hard again tomorrow, and hopefully it goes our way."
Phil Rogers is a columnist for MLB.com. This story was not subject to the approval of Major League Baseball or its clubs.