Dodgers can laugh at error-filled play
Puig, Ellis, Ramirez commit errant throws in sixth-inning sequence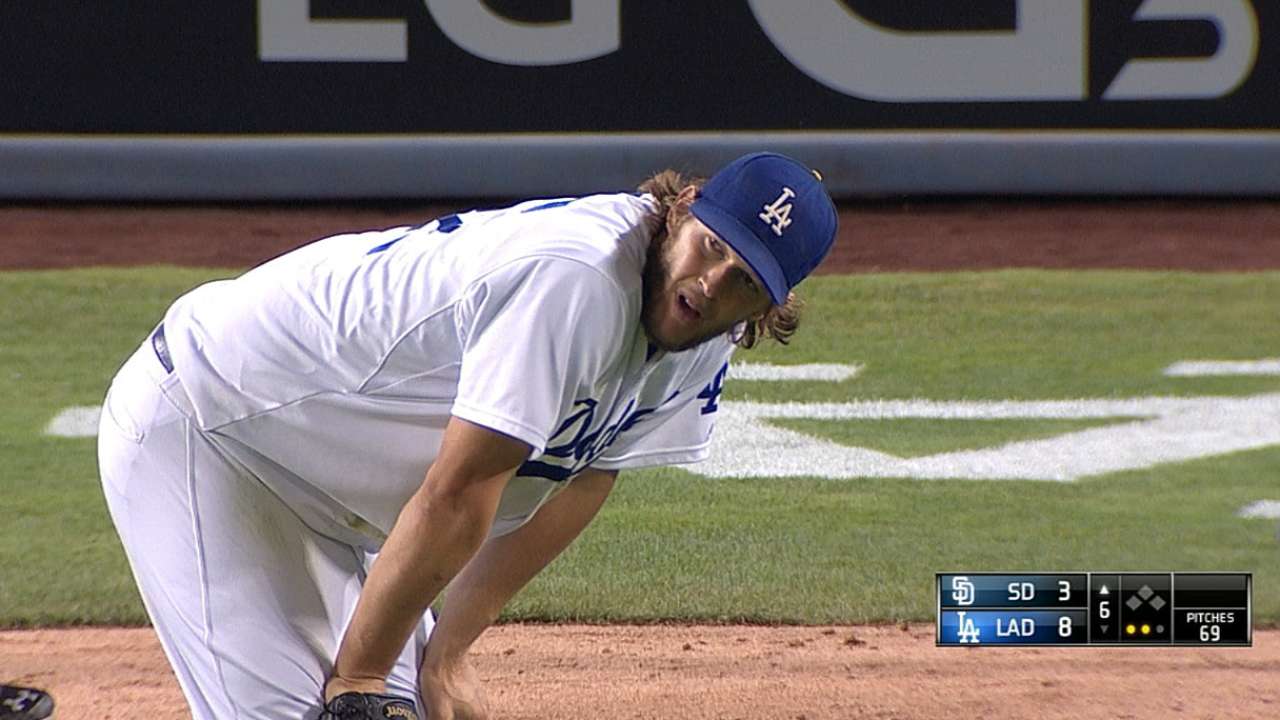 LOS ANGELES -- Manager Don Mattingly referred to it as "The Play," and when it was cued up to hit the clubhouse monitors Monday night, one Dodger started humming the Circus Clown theme song.
There they are, in first place and cruising to a 9-4 win over the Padres, when the Dodgers turned a pop flyout into a three-error comedy as two unearned runs scored.
"We're probably 'Not Top 10' for a while," winning pitcher Clayton Kershaw said of the lowlight segment nobody wants to star in.
"We played a pretty good game, other than that," said Mattingly. "I did look up and saw a full moon. I guess it could be funny, but it's only funny if you're winning."
Here's how it went:
With one out in the sixth, Yangervis Solarte on second and Rymer Liriano on first, Rene Rivera hit a fly to shallow center that Yasiel Puig caught on the run for the second out and threw toward first base, trying to double off Liriano, but his throw skipped past first baseman Adrian Gonzalez.
Catcher A.J. Ellis, backing up, retrieved the ball and tried to throw Liriano out at second base while Solarte headed toward third, but Ellis' throw skipped past second baseman Dee Gordon and bounced toward the outfield. Shortstop Hanley Ramirez retrieved it and threw wildly past home plate, where neither Ellis nor Kershaw had arrived to cover as Solarte scored.
Ellis went to the backstop for the ball again and threw home, where Kershaw, who lost his breath diving for Ramirez's throw, took the throw and jumped off the plate as Liriano scored.
Kershaw disappointed those who thought he bailed to protect himself.
"I didn't know where the plate was," he said. "I jumped because I thought I was on top of it. Maybe I could have had him."
Kershaw disgustedly flipped the ball in the air to no one in particular before returning to the mound and finishing off the inning by striking out Yasmani Grandal. Errors were charged to Puig, Ellis and Ramirez and both runs were unearned.
"Just another bizarre play in a bizarre game," said Ellis. "Fortunately we had a good cushion to weather that play. But Clayton shut them down right there. It was a fluke thing you see once every couple years."
Said San Diego manager Bud Black: "Yeah, that's a wacky one. We talk about it all the time: You come to the ballpark and you'll see something you haven't seen before. I think that was it tonight. That was a wacky one."
Ken Gurnick is a reporter for MLB.com. This story was not subject to the approval of Major League Baseball or its clubs.