Miracle capture Florida State League Championship
Kanzler's 11th-inning blast seals Fort Myers victory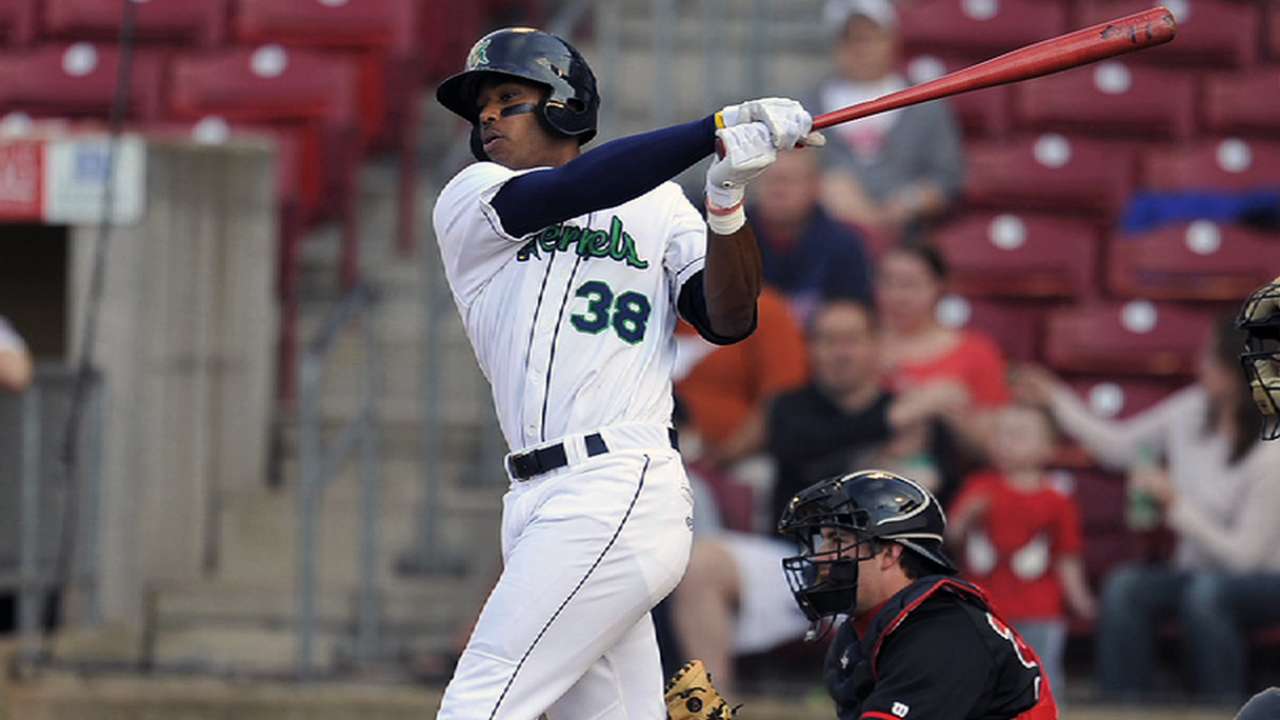 With Game 4 of the Florida State League championship series deadlocked at 2 in the 11th inning, Fort Myers outfielder Jason Kanzler stepped to the plate to face Daytona right-hander Stephen Perakslis. There was one out and a runner on second and the Miracle were one victory away from winning the best-of-five series, but hadn't scored since the fourth inning.
Kanzler quickly changed that. He drove a ball out to center field for a two-run homer to give Fort Myers the lead. Right-hander Zack Jones set down Daytona host in order in the bottom of the 11th, punctuating Fort Myers' 4-2 victory with a game-ending strikeout.
With the victory, Fort Myers defeated Daytona, three games to one, in the championship series. It was the franchise's first Florida State League championship since moving to Fort Myers 22 years ago.
Designated hitter Adam Brett Walker, the Twins' No. 13 prospect, led off the 11th inning with a double. Perakslis got Tyler Grimes to pop out before Kanzler came to the plate.
Kanzler, the Twins' 20th round pick in the 2013 First-Year Player Draft, finished the night 1-for-5. The 24-year old hit .250/.318/.600 with two home runs in six postseason games.
Walker went 1-for-4 with a walk and a run in Monday's victory. Right fielder Max Kepler, the club's No. 19 prospect, added two hits and a walk.
Right-hander D.J. Baxendale started the game for Fort Myers. He struck out seven batters held Daytona to two unearned runs on six hits and three walks in 5 2/3 innings. Relievers Brandon Peterson, Nick Burdi, D.J. Jonson and Jones combined to allow just one hit and strike out eight batters in 5 1/3 innings to finish the game.
The Miracle had the best record in the Florida State League during the regular season, going 82-57 and winning the first-half title in the South Division. Fort Myers swept Bradenton in the best-of-three semifinal series to set up a rematch of the 1995 and 2006 finals against Daytona.
Both of those championship series ended with Daytona victories. But, with Kanzler playing the role of hero, Fort Myers exacted some revenge Monday night, bringing the trophy home for the first time.
Teddy Cahill is a reporter for MLB.com. Follow him on Twitter at @tedcahill. This story was not subject to the approval of Major League Baseball or its clubs.