MLB.com Columnist
Mike Bauman
Time has come for Brewers to get loud
Veteran leadership in question as Milwaukee struggles to get up from fall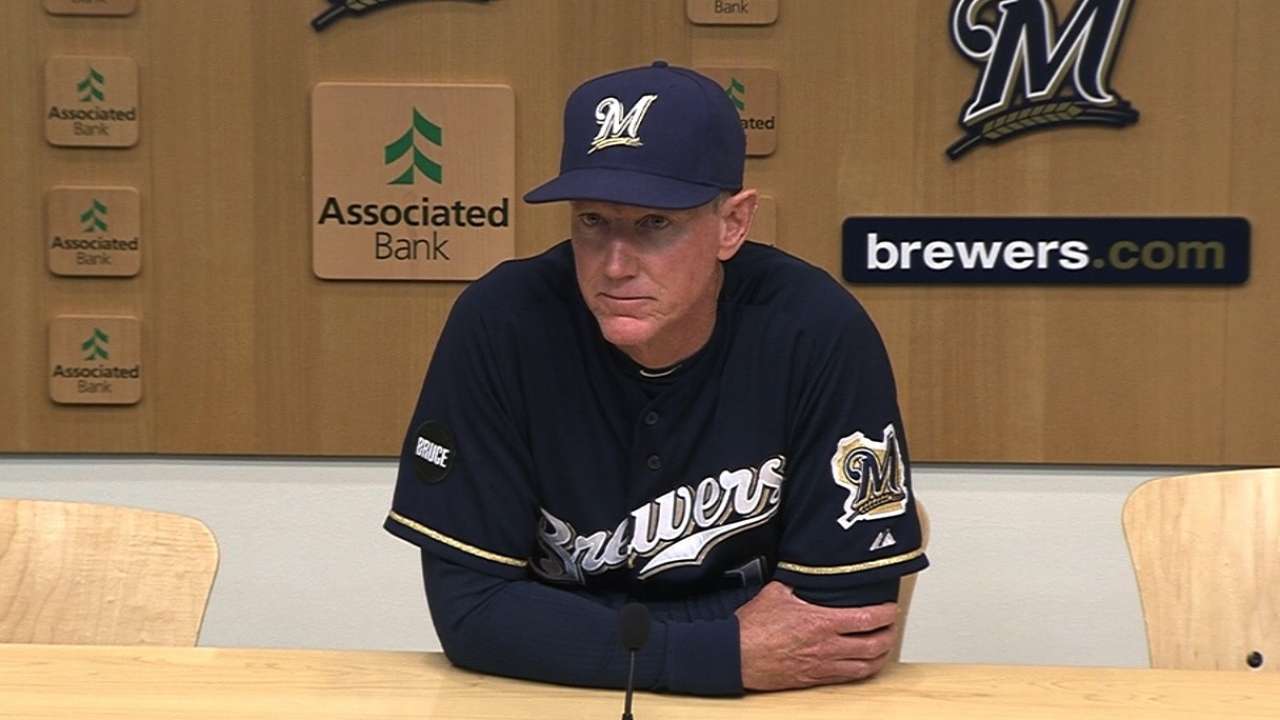 In recent days, Brewers manager Ron Roenicke has been issuing a call for his veteran players to step up, deliver, do something -- anything -- to lift the club out of its slump.
"That's why they're here," Roenicke said of the veterans. "You need guys to pick it up and come through when you need them. That's why you give these guys the contracts you give them. I'm expecting these guys to turn it around and finish up strong."
Roenicke's call has not been answered, returned or, for that matter, heeded.
On Monday night, the Brewers lost for the 12th time in 13 games, this time 6-4 to the Marlins, with no contributions from their experienced players.
After spending 149 consecutive days in first place in the National League Central, Milwaukee has fallen into third, and it has fallen out of position for either of the two NL Wild Card berths.
It has been a remarkable collapse, a true team effort. The Brewers have been outscored, 80-32, over the past 13 games. At one time or another, every facet of Milwaukee's once considerable game has vanished. In one bright, shining moment, a 6-2 victory on Friday night that ended a nine-game losing streak, the primary contributions came from less-experienced players: starting pitcher Mike Fiers, second baseman Scooter Gennett and left fielder Khris Davis.
When it comes to shortcomings, there are plenty of places to look, but when it comes to which member of the Brewers should be counted on to step up -- by reasonable expectations, by previous accomplishments and, let's face it, by contract size -- the guy at the front of the line would be right fielder Ryan Braun.
But Braun has stepped aside more than he has stepped up. He has hit .230 since the All-Star break, with an on-base percentage of .281. Braun does not resemble the pre-2013 Braun.
He has been hampered by an injured right thumb, and periodic rest has not been a cure. The Brewers keep hoping for the earlier Braun to reappear. That doesn't seem to be happening.
"It is either putting him back out there again and letting him fight through a game, or trying to get it right," Roenicke said. "He needs to help us this last month. We need to see the Braun that we are used to seeing. Just getting through games, I don't know if that's the way to do it.
"It's not always about how he hits the ball, but just the swings. I know when he's right. You can see it. Everything is timed up right, the head is right on it."
Braun's performance is an obvious concern for the last three weeks of the season, but it's bigger than that for Milwaukee. In 2016, Braun's five-year, $105 million contract extension kicks in. What if the Braun the Brewers are seeing now is the player they're going to see over those five years?
Meanwhile, back in the clubhouse, it also turns out that the Brewers aren't verbal enough, outspoken enough.
"We don't have a lot of guys that talk a lot," Roenicke said. "That's an issue. When you want guys to lead, you need guys to say things. We don't have very vocal guys. We have a couple guys on our pitching staff that are. But other than that, we're very quiet. We play hard, we work hard, they talk to each other individually. But in front of the group, they don't say much."
When the Brewers were in first place for those 149 days, there wasn't much mention of their decibel level being too low. But you know what the skipper is saying. In tough times, the peer group can be a better source of motivation and direction than the coaching staff.
But you can't create speech-makers, just like you can't just wish for clutch hits. All the while, we thought that Milwaukee really needed more production from its first basemen. Then it turns out the Brewers also need orators. The hoped-for turnaround for this club may be more complex than anyone imagined.
Mike Bauman is a national columnist for MLB.com. This story was not subject to the approval of Major League Baseball or its clubs.