Miller, Saunders boost Mariners in WC race
Shortstop's go-ahead triple spurs late rally; Seattle one back of A's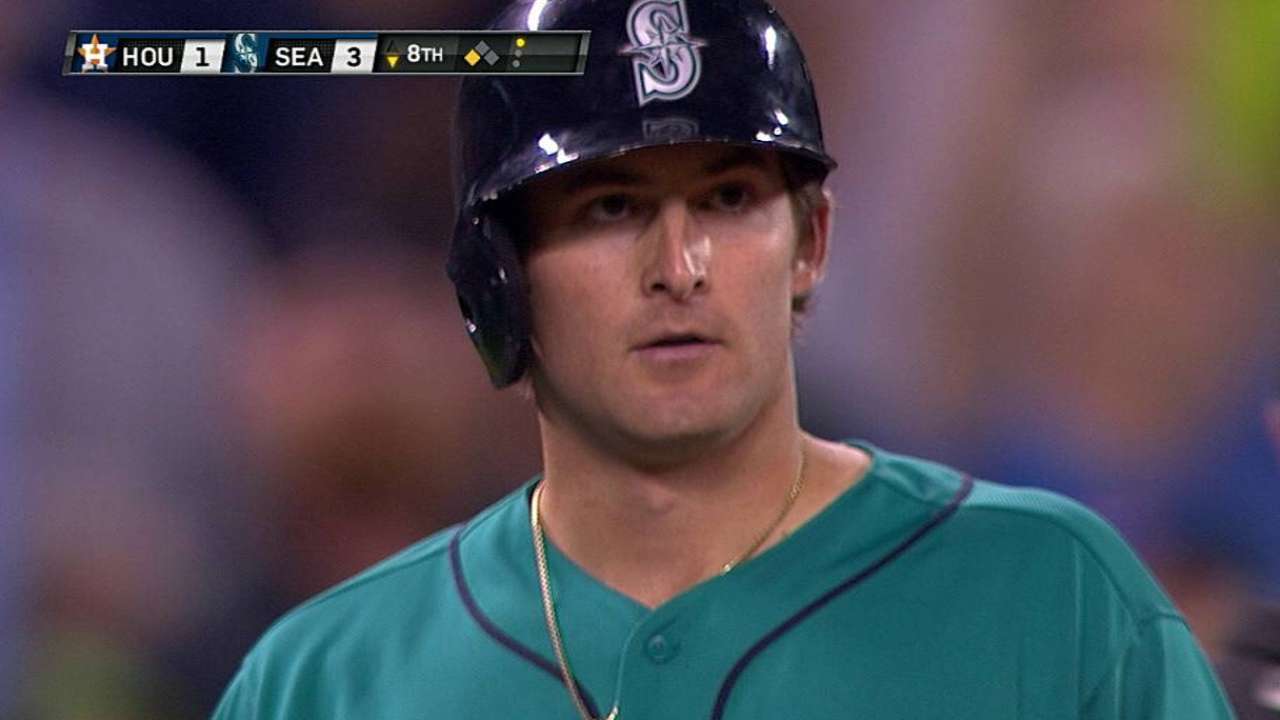 SEATTLE -- Brad Miller lost his starting job earlier in the season and Michael Saunders had been on the disabled list for nearly two months, but the two Mariners stepped up as Seattle kept its playoff push going with a 4-1 win over the Astros on Monday night at Safeco Field.
Miller roped a two-run triple in the eighth off left-hander Tony Sipp to break a 1-1 deadlock as the young shortstop delivered three RBIs in a 2-for-4 night from the No. 9 spot in the lineup, continuing a resurgent September during which he's hit .400 with six RBIs in seven games.
For Miller, the best is yet to come in a season during which he's begun to regain playing time as well as the confidence in himself and of his manager.
"We still have 20 or so games left, and my goal personally coming into the year was to play in October," Miller said. "We have a chance and it's exciting. This is my second September and we're in the thick of it, so it's everything I could ask for."
After going with rookie Chris Taylor for most of August, manager Lloyd McClendon has been giving Miller increasing playing time recently as his bat has warmed, and the 24-year-old delivered an RBI single in the sixth and the go-ahead triple in the eighth.
"I've said all year -- and a lot of people thought I was crazy -- but I believe he's an offensive player in this league," said McClendon. "He struggled quite a bit early, but I think he's starting to pay off a little bit now."
Saunders was even further removed the past two months as he landed on the disabled list on July 10 with a strained oblique and then was delayed by a viral infection. But the athletic right fielder returned for his first game and went 1-for-2 with a run scored and two critical walks that set up both of Miller's big hits.
Despite being eager to jump back into the fray, Saunders patiently worked a 10-pitch walk prior to Miller's run-scoring single in the sixth, then walked and scored on the triple in the eighth.
"I actually started getting a little nervous when I woke up this morning," Saunders said. "It felt like Opening Day again. I've been looking forward to this day for a long time. The most frustrating thing for me was feeling like I was letting the guys down for the last couple months. This was a big day for me, one that I've waited a long time for.
"Being in Triple-A and then going to Arizona [to rehab] and finally coming back here and being with the guys and playing games that matter again, it's easy to get ramped up," he said. "That was my biggest struggle all day, telling myself to relax, you've been here before. Bottom line is we came out with the 'W' and we're all a happy bunch in here. It's great to be back."
Miller drove in pinch-runner James Jones and Saunders with one out and then scored on Austin Jackson's single as Seattle broke things open against the Astros' bullpen before Fernando Rodney came on for his 44th save, one shy of Seattle's club record set by Kazuhiro Sasaki in 2001.
The Mariners have won six of their last seven games and are 23-12 since the start of August, putting their record at 79-64 with 19 games remaining.
With the Tigers beating the Royals earlier in the day, the Mariners needed the victory to maintain a half-game lead over Detroit for the final American League Wild Card berth. Oakland lost to the White Sox, 5-4, in 12 innings, so Seattle has pulled within one game of the A's for second place in the AL West and the first AL Wild Card spot.
Felix Hernandez scattered five hits and four walks over a 99-pitch outing with eight strikeouts, but wound up with a no-decision after Houston scored once in the seventh off reliever Brandon Maurer to negate a 1-0 lead. Hernandez is 14-5 with a 2.12 ERA after 30 starts.
Even on a day he didn't have his normal sharpness, Hernandez managed to hold the Astros scoreless for six frames.
"Felix battled all night," McClendon said. "It looked like he was a little out of rhythm, but in the end he got six innings with no runs, so it just shows you how great he is."
"My command was not there a little bit," Hernandez said. "I made an adjustment and tried to throw strikes, but my changeup was bouncing too much. Sometimes it's going to be like that. It happens. You're not going to be on every game. But it was good."
It was good because the Mariners won and their ace continues building on what appears to be his best season yet. Hernandez was 1-9 with a 5.54 ERA in 13 post-August outings over the previous three seasons, but is now 1-0 with a 0.64 ERA in two September starts this year.
Houston's tying run in the seventh came amid controversy as Robbie Grossman drove a one-out shot deep to right field, with Saunders gloving the ball over the wall and flipping it back onto the field. Umpires initially ruled the hit a home run, then changed it to a triple after a replay review.
McClendon immediately raced onto the field and was ejected after arguing that Grossman should have been awarded second base on the play. That decision loomed large when Jose Altuve followed with a sacrifice fly to right to score Grossman, who slid in just ahead of a strong throw from Saunders.
Mariners catcher Mike Zunino was hit by a pitch in the second inning and has now been plunked 15 times this season, the most in the AL and third most in Mariners history behind Jose Guillen (19 in 2007) and Dave Valle (17 in 1993).
Greg Johns is a reporter for MLB.com. Follow him on Twitter @GregJohnsMLB as well as his Mariners Musings blog. This story was not subject to the approval of Major League Baseball or its clubs.