Altuve notches two hits to reach elite milestone
Second player in Astros history with 200 hits; 10 shy of Biggio's club record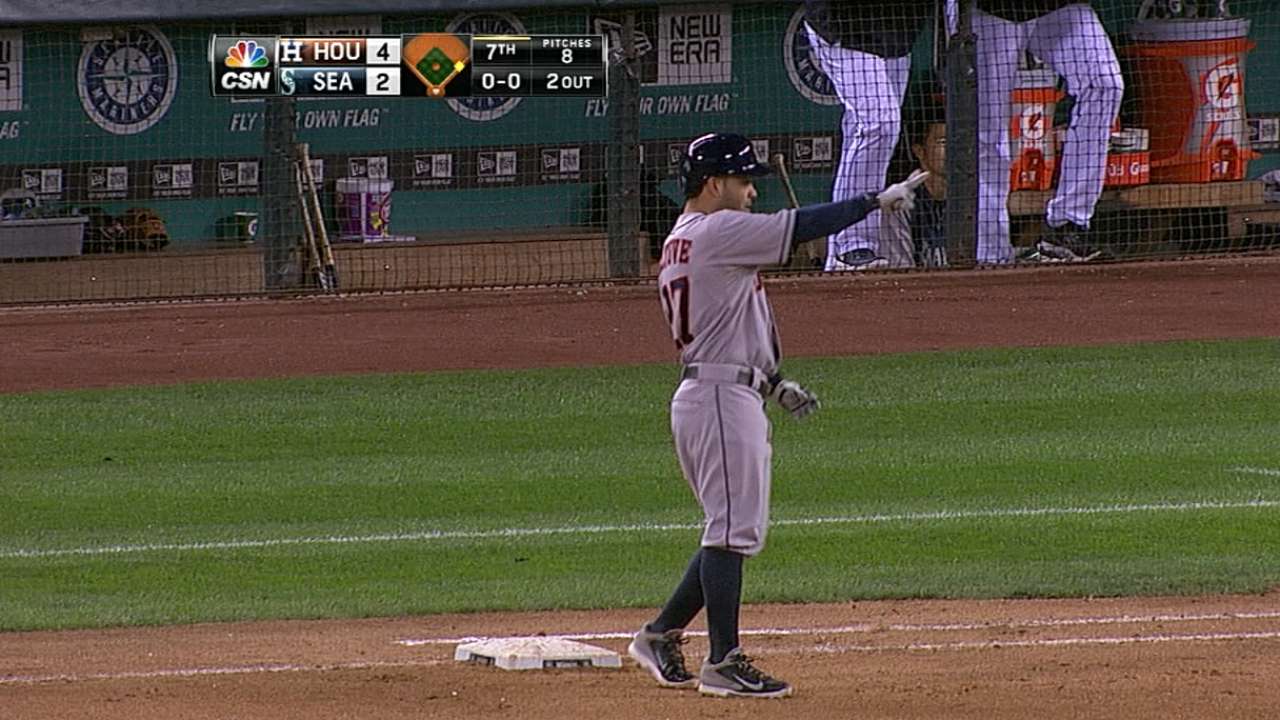 SEATTLE -- Jose Altuve sat inside his locker with his feet propped up on a chair and a smile that signaled relief. His season-long quest to reach 200 hits was a success, and it was time to reflect on becoming just the second Astros player to reach that many in a season.
Altuve, the energetic 5-foot-6 second baseman, went 2-for-5 in the Astros' 5-2 win over the Mariners on Wednesday night at Safeco Field, including a seventh-inning single off Danny Farquhar for hit No. 200. He joins Craig Biggio (210 hits in 1998) as the only Astros players to reach the milestone.
"It's very special for me to get 200 hits in a season like this and that we're playing really good," Altuve said. "We're winning; we're finally putting all the little things together. And like I said, we're going to keep doing that."
Altuve arrived in Seattle on Monday riding a 14-game hitting streak, but he admitted he was pressing after going hitless in the first two games of the series. He lined out and grounded out in his first two at-bats Wednesday before hitting an RBI double in the fifth for hit 199.
"I got to admit, I was trying to get two hits before one," Altuve said. "You know, I came back today, I said, 'OK, let's go to win the game, let's not think about anything else, just win the game.' You see what we did outside. We threw the ball good, we played defense, we hit and, you know, we're winning."
Altuve stepped to the plate in the seventh and lined the first pitch from Farquhar into left field for his 200th hit.
"I knew once he got the first one tonight, he was going to get the second one," interim manager Tom Lawless said.
The All-Star second baseman has a good chance of breaking Biggio's record, with 16 games remaining. Altuve leads the Majors in hits, batting average (.336), multihit games (59) and three-hit games (22). He also stole his 52nd base, which leads the American League.
"He might to get 220, who knows?" Lawless said. "Today, I asked him if he needed a day off. I said, 'I know you've played a lot of games. Just come in and let me know if you need a day off and I'll make sure you get a day off.' He said, 'No, I want to keep playing.' That's who he is. He's going to play, he's going to battle and he's going to do the things he's done all year."
Altuve requested the ball, which was thrown into the dugout by third-base coach Pat Listach. He plans to keep it at his house.
"I won't put it on eBay," Altuve joked. "I promise."
Altuve is trying to become the first Astros player to win a batting title, and at 24 years old, he would join Joe Mauer (2006) and Alex Rodriguez (1996) as the only AL players 24 or younger to win a batting title in the past 20 years.
Altuve leads Victor Martinez (.333) by three points and Adrian Beltre (.326) by 10 points.
"I'm the kind of guy that never puts limits on my career," Altuve said. "Like I said, I wanted 200 hits. Now you have to go as high as you can. I just play hard every day and I'm kind of surprised I'm getting a lot of hits this year. Hopefully I'm able to come back next year and do the same thing."
Brian McTaggart is a reporter for MLB.com and writes an MLBlog, Tag's Lines. Follow @brianmctaggart on Twitter. This story was not subject to the approval of Major League Baseball or its clubs.