Kershaw gets 18th win as Dodgers pad lead
Lefty leads Majors in victories after eight-inning effort vs. Padres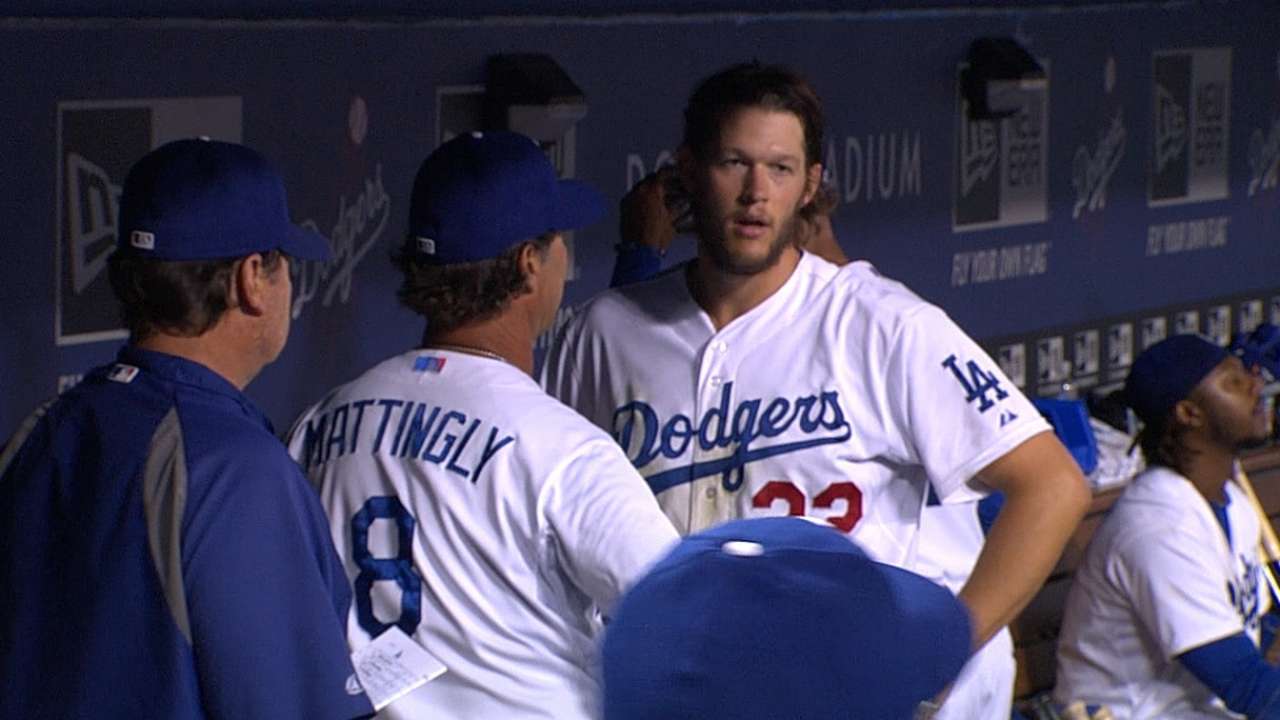 LOS ANGELES -- After losing his own charity ping-pong tournament last week, Clayton Kershaw returned to his best sport, and the win column, Monday night.
He became the Major Leagues' first 18-game winner this season by beating the Padres, 9-4, extending the Dodgers' win streak to four and their lead in the National League West to 3 1/2 games over idle San Francisco. With an 82nd win, the Dodgers reached the high-water mark of 20 games above .500 and are assured of a winning season.
Kershaw was assured of a winning season long ago. He has won 15 of his last 16 decisions, is 18-3 after 24 starts and has the best record for a Dodgers pitcher since Orel Hershiser was 19-3 in 1985. He's 10-1 against division opponents and 3-0 against San Diego. This was his sixth consecutive start of at least eight innings.
He allowed three hits, struck out eight and was charged with one earned run in eight innings, lowering his ERA to an absurd 1.67. The other two unearned runs scored on a zany, three-error mishap of a play in the sixth inning with the Dodgers already safely ahead.
Kershaw, having thrown an efficient 89 pitches, was animated in the dugout trying to talk manager Don Mattingly into letting him finish out his seventh complete game.
"He definitely wanted to finish," said Mattingly. "I didn't think it was the right thing. He thinks he can throw a complete game every time. He knows the pitch count, the fact he gets an extra day [Thursday is off], all those facts. He told me that. I made the decision between innings. I felt like it was the best thing for the team. If the game's on the line and he's made 110 pitches, he keeps going. We saved him 10 pitches tonight."
Said Kershaw: "Donnie gave me the "It's not best for the team speech. I don't have a comeback for that one."
Because he spent six weeks on the disabled list after opening the season with a win in Australia and won so many decisions since returning, Kershaw has a chance of joining Boston's Pedro Martinez in 1999 as the only pitchers since World War II with 20 wins accomplished in fewer than 30 starts. Kershaw said he can't tell if the early rest has helped late in the season. Opponents only know that he's pitching as well now as ever.
"It's frustrating, man," said Padres catcher Rene Rivera. "In a close game with him you battle, but if you give him a couple early, you're basically done. I feel like he's going to give you one pitch to hit. If you miss that one, now you have to hit his stuff. That's how he's been. He gives you one pitch to hit."
Offensively, the Dodgers got a three-run homer from Carl Crawford, four hits from Hanley Ramirez, a solo home run from Juan Uribe, an RBI double that extended Matt Kemp's hitting streak to 14 games, Dee Gordon's 59th stolen base and the first RBI since Aug. 15 from Yasiel Puig.
"We had a lot of good at-bats," said Mattingly. "The guys are grinding it. Matt's grinding it in that last at-bat. He's upset with the umpire because a ball's outside. I like that. We're not taking anything for granted. I hope we keep that up."
On this homestand alone, Kemp, Uribe, Crawford and Adrian Gonzalez have multiple home runs.
"Everybody is in that win mode down the stretch," said Crawford, who had three hits and is 9-for-21 on the homestand. "We're just leaving it out there on the field."
Kershaw lost his no-hitter and shutout in the fourth. Yangervis Solarte led off with a single and was erased at second on Rymer Liriano's forceout grounder. Liriano stole second, Jedd Gyorko walked and Rivera doubled to right-center, scoring Liriano.
But the Dodgers pulled out to an 8-1 lead through five innings, with Crawford's three-run homer the big blow off reliever Frank Garces.
"I don't usually look for one pitch, but he threw so many curveballs I just had to look for it and I got it," Crawford said.
The Dodgers gifted San Diego the two unearned runs on throwing errors by Puig, Ellis and Ramirez on one play. Pedro Baez allowed a two-out solo homer in the ninth to Yasmani Grandal for the final run.
Ken Gurnick is a reporter for MLB.com. This story was not subject to the approval of Major League Baseball or its clubs.