Padres can't solve dominant Kershaw
Despaigne allows seven runs (six earned) in 4 1/3 innings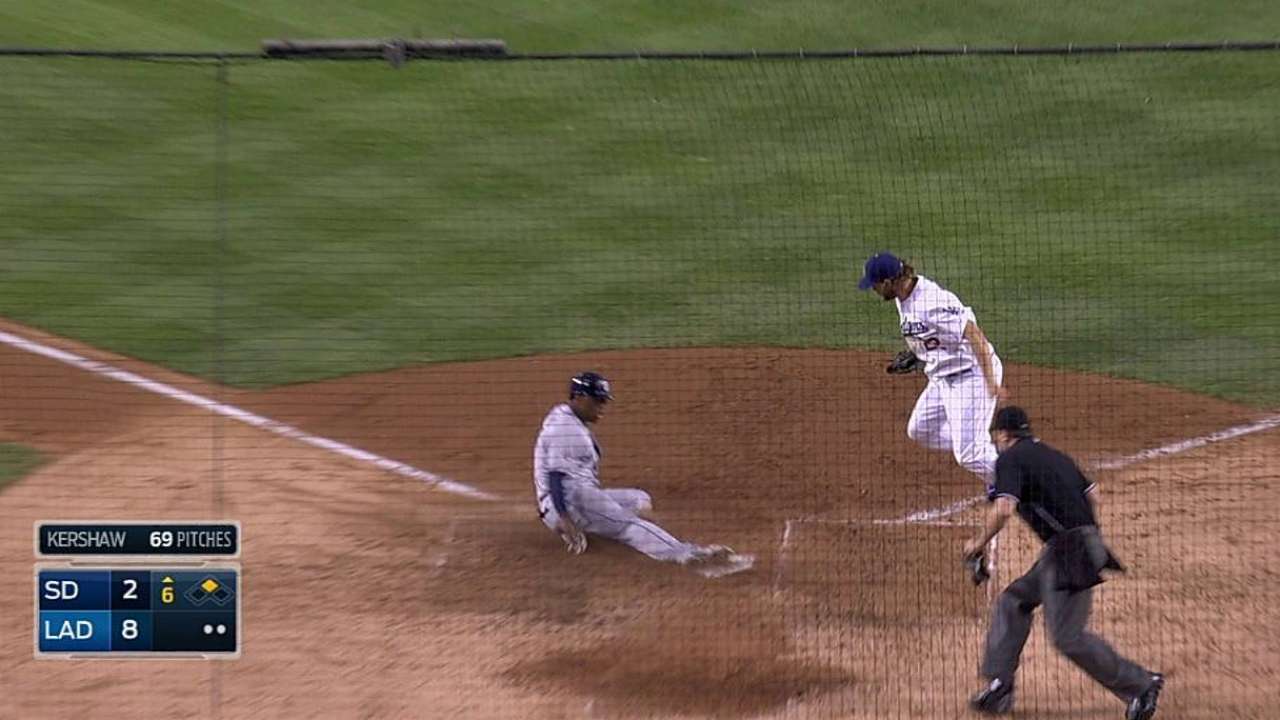 LOS ANGELES -- Very little came easily for the Padres on Monday. It was the kind of night that required three consecutive throwing errors for San Diego to make any sort of dent on the scoreboard.
Despite some shaky defense behind him, Dodgers ace Clayton Kershaw stifled Padres hitters, Odrisamer Despaigne struggled to keep the Dodgers off the basepaths, and the Padres lost the series opener, 9-4, their sixth straight loss.
Monday marked the second time the rookie Despaigne has pitched at Dodger Stadium -- both starts coming against the man whom many regard as the best pitcher in the game.
The first time, on July 10, Despaigne held his ground for seven innings, allowing two runs in an outing that would've been a win on most other nights. But Kershaw countered with a complete-game, three-hit, one-run masterpiece to saddle the Cuban right-hander with a tough-luck loss.
On Monday, Kershaw was once again his dominant self, allowing just one earned run (two unearned) on three hits through eight innings, but this time, Despaigne was unable to keep up.
The 27-year-old lasted 4 1/3 earnings, allowing eight hits, a career-high seven runs (six earned) and three walks. Despaigne had a lack of command from the very beginning of the game, in which he threw three straight balls to Dee Gordon. He said poor location was ultimately his downfall.
"This is the second time I've faced [Kershaw]; sometimes I take that as motivation," Despaigne said through an interpreter. "I like that challenge, to go against the best one. Sometimes when you face a guy like him, you know you have to bring your 'A' game, but today wasn't that case."
The big blow against him came in the fifth inning, in which Despaigne allowed three runs -- two coming on a three-run Carl Crawford home run off reliever Frank Garces. Nine Dodgers came to the plate in the inning against Despaigne, Garces and fellow rookie Leonel Campos as the Los Angeles lead swelled to 8-1.
"We had rookie Despaigne, rookie Garces, rookie Campos, guys still cutting their teeth. They're learning. It was a rough one, though," Padres manager Bud Black said. "They're getting great experience. Obviously, [the Dodgers are] a team that looks to be headed to the playoffs and hitting on all cylinders."
The Padres' hitters, meanwhile, knew they'd be in for an arduous night against National League MVP candidate Kershaw, and the left-hander delivered.
He cruised through his first three innings without allowing a baserunner. The Padres finally broke through in the fourth inning with a pair of hits, including an RBI single to right field from catcher Rene Rivera.
Rivera got a first-pitch fastball, and he jumped on it.
"He's going to bring good stuff every day, so you have to be ready for it. If you have an opportunity to get ahead of something, you try to do it," Rivera said. "I feel like he's going to give you one pitch to hit. If you miss that one, now you have to hit his stuff. That's how he's been."
The Padres tacked on a pair of unearned runs in the top of the sixth on a Rivera flyout to center field. Dodgers center fielder Yasiel Puig tried to catch Rymer Liriano going back to first base. Instead, he threw the ball away. Catcher A.J. Ellis responded by throwing the ball into center field as he tried to catch Liriano going to second. Then shortstop Hanley Ramirez threw the ball to the backstop as he tried to catch the runner going home.
The result was three Dodgers errors and two Padres runs in a sequence that Rivera called fun to watch.
"That's a wacky one," Black said. "We talk about it all the time: You come to the ballpark and you'll see something you haven't seen before. I think that was it tonight."
But those Dodgers miscues -- as well as Yasmani Grandal's two-out home run in the ninth -- came too little, too late for the Padres.
"It's frustrating, man," Rivera said. "In a close game with [Kershaw], you battle, but if you give him a couple early, you're basically done."
Michael Lananna is an associate reporter for MLB.com. This story was not subject to the approval of Major League Baseball or its clubs.