Estrada a bright spot for Brewers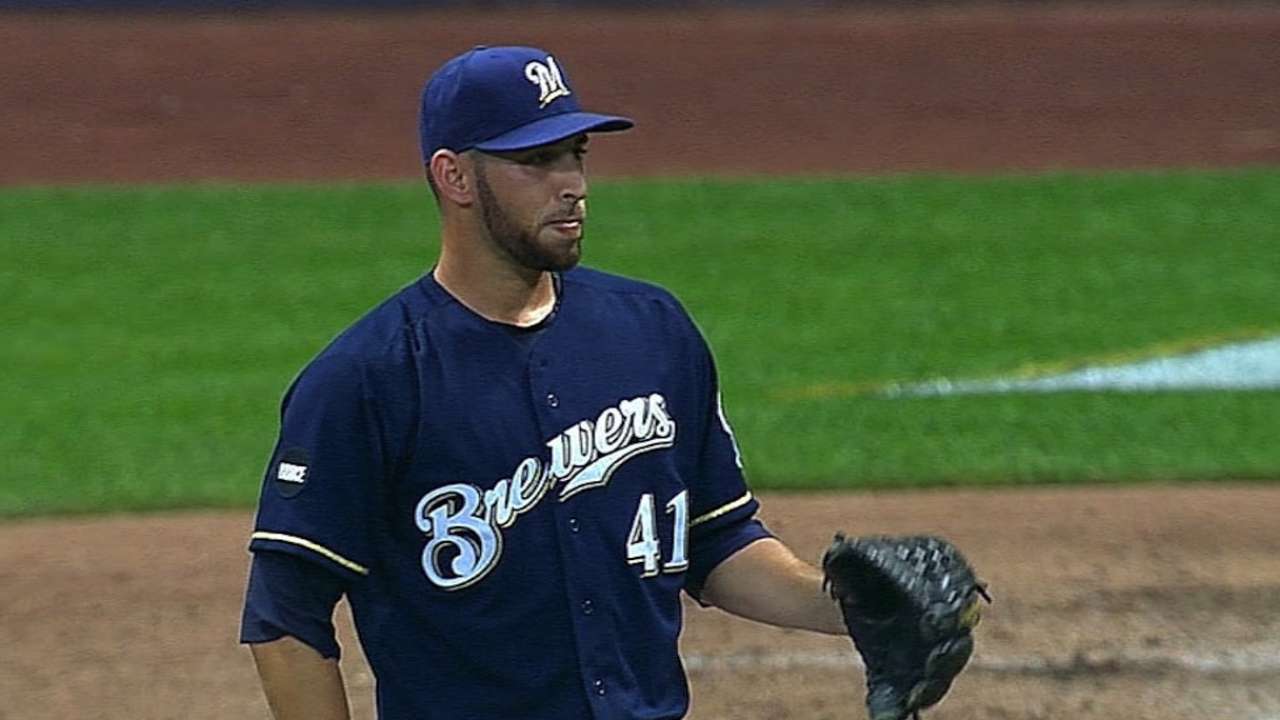 MILWAUKEE -- If the Brewers were searching for something positive about their 12th loss in 13 games, it was that long man Marco Estrada once again gave them a chance to mount a comeback.
In Monday's 6-4 loss, Estrada stranded the bases full of baserunners inherited from Yovani Gallardo in the fourth and went on to pitch 4 1/3 scoreless innings, limiting the Marlins to two hits. By retiring the first nine men he faced, Estrada extended a streak of batters retired to 18, spanning three outings.
Marlins center fielder Marcell Ozuna snapped that streak with a two-out single in the seventh inning before the Brewers scored twice in the eighth and brought the potential tying run to the plate before a 1-2-3 ninth.
"That's all I'm trying to do, give the team a chance to win," Estrada said. "I know what my role is, what I'm supposed to do out there."
Estrada began warming up in the third inning, when Gallardo was falling into a four-run deficit after surrendering three home runs. When Marlins pitcher Brad Penny singled to lead off the fourth inning, Gallardo had surrendered as many hits -- nine -- as he'd recorded outs. When Gallardo issued a pair of two-out walks to load the bases, manager Ron Roenicke called for Estrada.
Asked why he did not tap his September-stocked bullpen earlier, Roenicke said, "Who else would you want in that game? We had Estrada up the inning before. You have to cover some innings. We've got [Matt] Garza going [on Tuesday in his second start off the disabled list]. Who do you want in that ballgame? Do you want [Wei-Chung] Wang in there? Is that who you want for length? You want [Alfredo] Figaro? You have to have an option.
"If you get [Gallardo] out of there early, in the second inning, you've got to cover seven innings. So how do you cover seven? We've got bodies down there, but we have to have guys we know are going to go in there and put up zeros."
The Brewers' funk -- they have lost 15 of 18 games since sweeping the Dodgers on the road last month -- has meant plenty of work for Estrada, who has pitched 15 1/3 innings over seven games since Aug. 22.
It's generally not a good sign when a team's long reliever is getting regular work.
"Obviously, [the team slump] is something you don't want to go through, especially because we were in first place for the entire year," Estrada said. "The last week and a half, two weeks, it's been completely different. I don't know how to explain it. I don't know what's going on, why we've been struggling the way we had. But we saw a lot of positive things today. We played really hard. It was more upbeat. There was no quit in us today. We kept battling, kept battling and just came up a little short. I can't explain it. We're too good a team to be going through a stretch like this."
Adam McCalvy is a reporter for MLB.com. Read his blog, Brew Beat, and follow him on Twitter at @AdamMcCalvy. This story was not subject to the approval of Major League Baseball or its clubs.