Tigers expect Hunter to be OK after collision
Right fielder runs into Kelly on Cain's drive, which turns into inside-the-park homer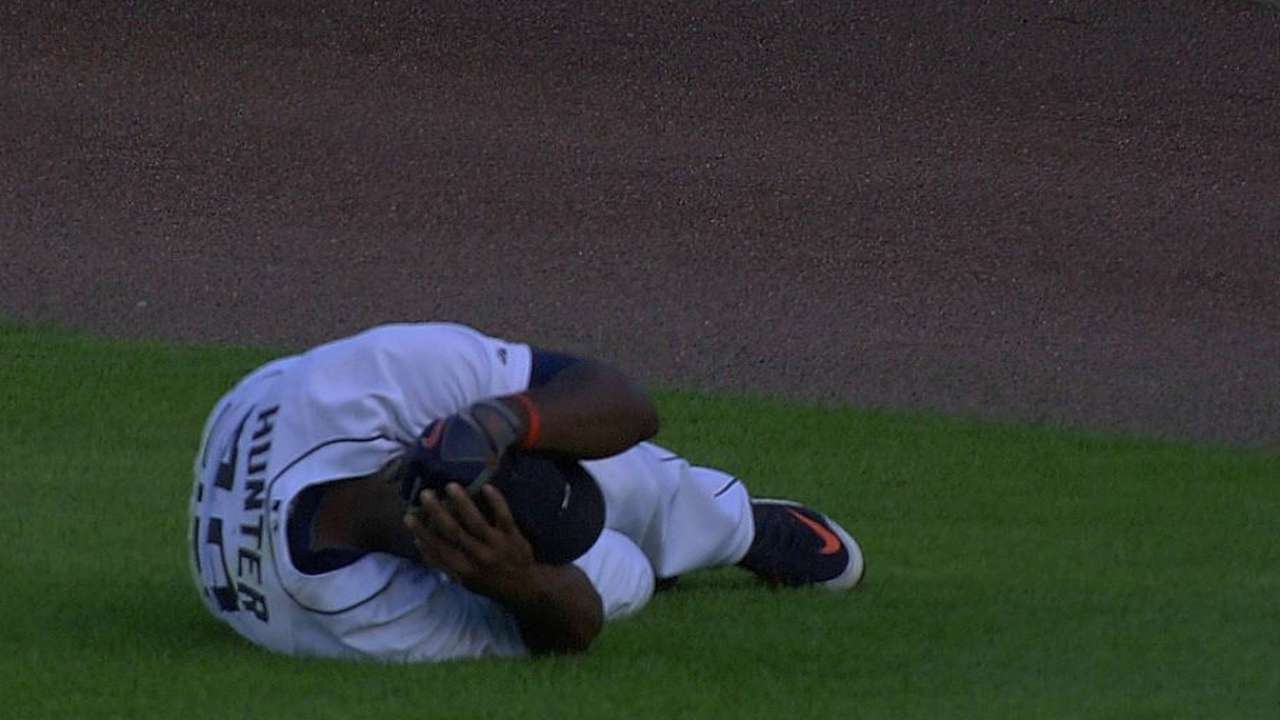 DETROIT -- Don Kelly's start in center field Monday against the Royals was his second in a row, his fifth of the season and the 44th of his career. Torii Hunter's start in right was his 110th for the Tigers this year and his 2,070th career outfield start.
The 34-year-old Kelly and 39-year-old Hunter both showed a younger man's range chasing after a Lorenzo Cain drive to right-center in the seventh inning. The result, however, was a disastrous collision that turned a would-be catch for Hunter into an inside-the-park home run for Cain, and left Hunter being tested multiple times for a possible concussion.
It was one of few lowlights for the Tigers in a 9-5 win at Comerica Park. It was nearly far worse, but Hunter appears to be fine.
"It looked like it could be a problem," manager Brad Ausmus said. "That happens sometimes in the outfield. Guys are running full speed, trying to make catches. Fortunately, I don't think this is going to be a major problem."
Kelly isn't a frequent face in center, but he started the last two games as Ausmus tried to add a left-handed bat against Royals starter Jeremy Guthrie. Kelly couldn't get to a two-run bloop single from Nori Aoki in the third inning, but ran down a ball later in right-center, a drive that sent Kelly and Hunter toward the same area before Hunter peeled off at the last minute.
When Cain drove Justin Verlander's seventh-inning pitch deeper into the gap, Hunter seemed to have the route, but Kelly gave chase.
"It's one of those balls that is right in between," Kelly said. "I didn't hear him call it, and I called it late, because I didn't know. … I didn't want to call it and not be able to get there.
"I called it late, and he was already committed. It was just one of those freak plays that was right down the middle, unfortunately. I hope he's OK."
The ball was in Hunter's glove when they collided, knocking both ball and glove away. Both players hit the ground, Hunter hitting with his head.
Kelly immediately got up, but didn't realize where the ball was. He chased after the glove, but the ball had gone the opposite direction and was sitting near the fence.
"I heard it go in his glove," Kelly said. "That's why I checked his glove, because I thought maybe his glove came off with the ball still in it. But I must've knocked the ball out when I ran into him."
Cain, meanwhile, was motoring around second into third base. By the time Kelly reached the ball, which Hunter had spotted, Cain was headed home.
"As I'm running, I'm just looking, looking, looking to see if they were going to catch it," Cain said. "I noticed that Torii Hunter had it and the guy ran into him and I just saw the ball fly out. I just had to turn it on and see what happened. I definitely didn't think it'd be an inside-the-park home run, but I'll take it."
Hunter stayed down as Ausmus and head athletic trainer Kevin Rand ran out from the Tigers dugout. Rand followed Hunter back to right field, asking him questions to check his state of mind.
"The first concern was concussion," Ausmus said. "Kevin Rand ran some questions by him. He answered all the questions correctly."
Hunter stayed in for another inning, doubling and scoring in the eighth. Ausmus said Hunter complained of a headache after scoring, so they took him out as a precaution.
"Tested him again when he came out of the game, Kevin Rand said he tested fine," Ausmus said. "We don't expect it to be an issue."
Jason Beck is a reporter for MLB.com. Read Beck's Blog and follow him on Twitter @beckjason. This story was not subject to the approval of Major League Baseball or its clubs.