Miller deals dominant outing as Cards shut out Reds
Young righty continues to impress with seven-plus strong frames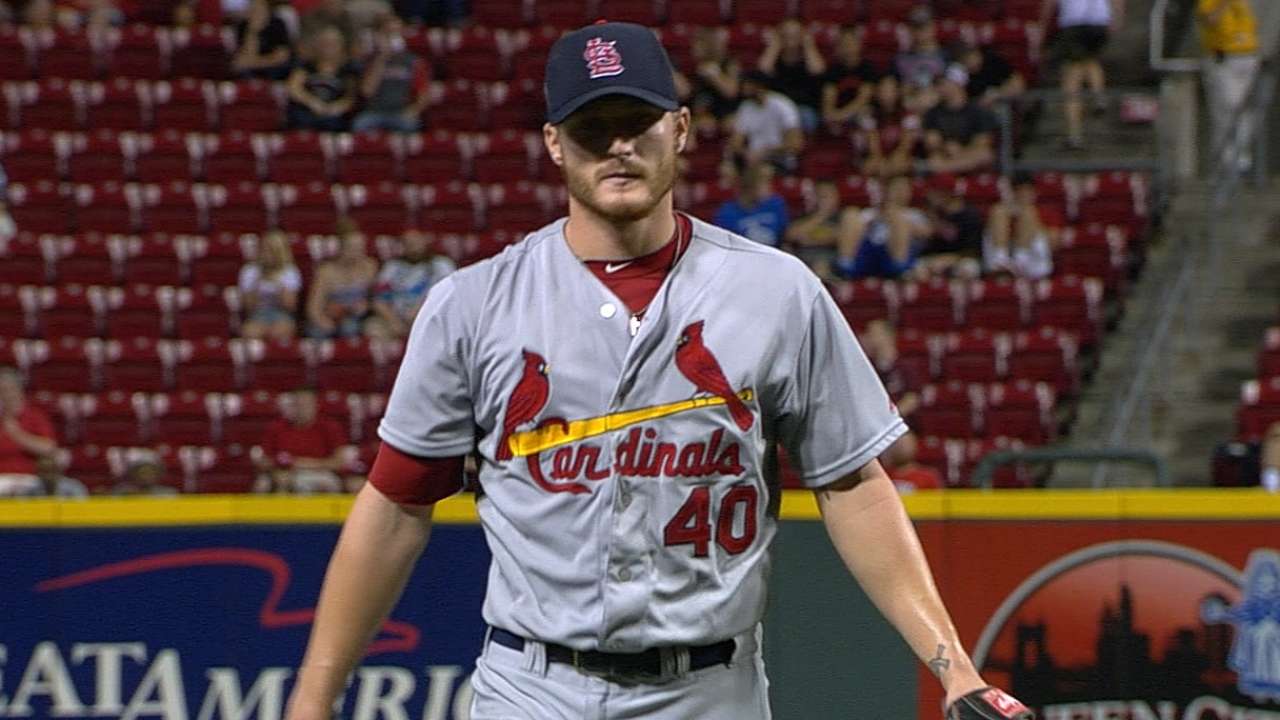 CINCINNATI -- The Cardinals' march toward October relocated to Cincinnati on Monday, where Shelby Miller not only pitched his club closer to a postseason berth with a 5-0 win, but made a statement that he intends to come along for the ride this time.
Miller's view of the Cardinals' spirited playoff run in 2013 was colored by perspective. A 15-game winner in the regular season, Miller was shuffled to the bullpen and then into obscurity, used only once in 17 playoff games because of concerns about fatigue and matchups.
As he showcased in silencing the Reds at Great American Ball Park in the first game of a four-game series, this year, Miller is trending upward as October nears.
"Obviously, I want to be strong this last month of the regular season," Miller said after throwing seven scoreless innings. "I think that could help with what my role is in the playoffs, but I don't want to jump to that point and say that's going to happen. I can only do what I can control, and that's pitch. Of course, I want to be the guy who wants to help win in the playoffs. But at the same time, that's my manager's job to do what he thinks is best for the team."
If Miller continues to perform as he has since an extended period of rest in July, manager Mike Matheny would have a tough time excluding the right-hander. Perhaps by definition the team's No. 5 starter, Miller has not been pitching like one. He has provided the Cardinals four consecutive quality starts and five in a row of at least six innings.
With the backing of Matt Carpenter's two-run, seventh-inning single, Miller improved to 9-9 and pushed the Cardinals to a ninth win in 10 games on a night when the Reds lost their starting pitcher (Dylan Axelrod) seven pitches into his outing. The victory ensured the Cardinals maintained their 4 1/2-game division lead over Pittsburgh.
And if that holds?
"I just hope we have another tough decision," said Matheny, when the topic of Miller contributing in the postseason arose. "I hope, first of all, that October is an option for us, and secondly, we have a bunch of starting pitchers who all look really good and we have to figure out what is going to be best for our club. It's hard to do anything more for his case than what he did today."
"It looks like a different guy right now."
That's because he is.
After riding his four-seam fastball to quick career success, Miller found himself thwarted by inefficiency, largely because of a high number of foul balls. The recent introduction of a sinker and reintroduction of the curveball have made him less predictable.
The sinker, which accounted for about a quarter of the 81 pitches Miller threw on Monday, comes from Justin Masterson, who shared his grip upon joining the team at the Trade Deadline. The curve has been a work in progress, and with catcher Yadier Molina calling it more liberally these days, Miller has found a feel. He threw 31 such breaking balls to the Reds.
"I'm not saying it's the best pitch ever right now, but mixing it up is a big thing," said Miller, who has averaged fewer than 14 pitches an inning over his last four starts. "It's a pitch right now that I have a good feel for and we're using it."
The Reds finished with three hits off Miller, and advanced only one runner into scoring position. That was Devin Mesoraco, who hit a leadoff double in the fifth and then went nowhere. Miller breezed through seven innings on 76 pitches (one day after Adam Wainwright went the distance on 100) and looked to make a run at his third complete game.
Matheny decided otherwise, calling in Pat Neshek after Brandon Phillips opened the eighth with a single. Neshek closed the inning with a double play, helping to run Miller's scoreless innings streak to 14.
Matt Adams crushed a ninth-inning homer to tack three more runs onto the Cardinals' lead. The homer was Adams' 15th of the season and second in three days since returning from an oblique injury.
"That's one of the loudest home runs I've ever heard," Matheny said.
The Cardinals' offense took some time to emerge, as Reds emergency reliever David Holmberg held the club scoreless for 5 2/3 innings after Axelrod's immediate exit. The Cardinals finally pounced on reliever Manny Parra to score twice in the seventh.
Randal Grichuk, pinch-hitting for the right-handed-hitting Oscar Taveras, smoked a 2-1 fastball to the wall for a leadoff double, his sixth hit in 16 at-bats against left-handers since being recalled. The Reds were unsuccessful in trying to throw out Grichuk as he advanced to third on a grounder to short. Grichuk and Kolten Wong, who advanced to second on Miller's two-strike sacrifice, then scored with Carpenter's broken-bat single to right.
"Everything is clicking right now," Adams said. "Our starting pitching is just unbelievable right now, and our offense is where it's capable of being."
Jenifer Langosch is a reporter for MLB.com. Read her blog, By Gosh, It's Langosch, and follow her on Twitter @LangoschMLB. This story was not subject to the approval of Major League Baseball or its clubs.