Reds unable to back Holmberg's clutch relief
Lefty has strong showing after Axelrod leaves early with injury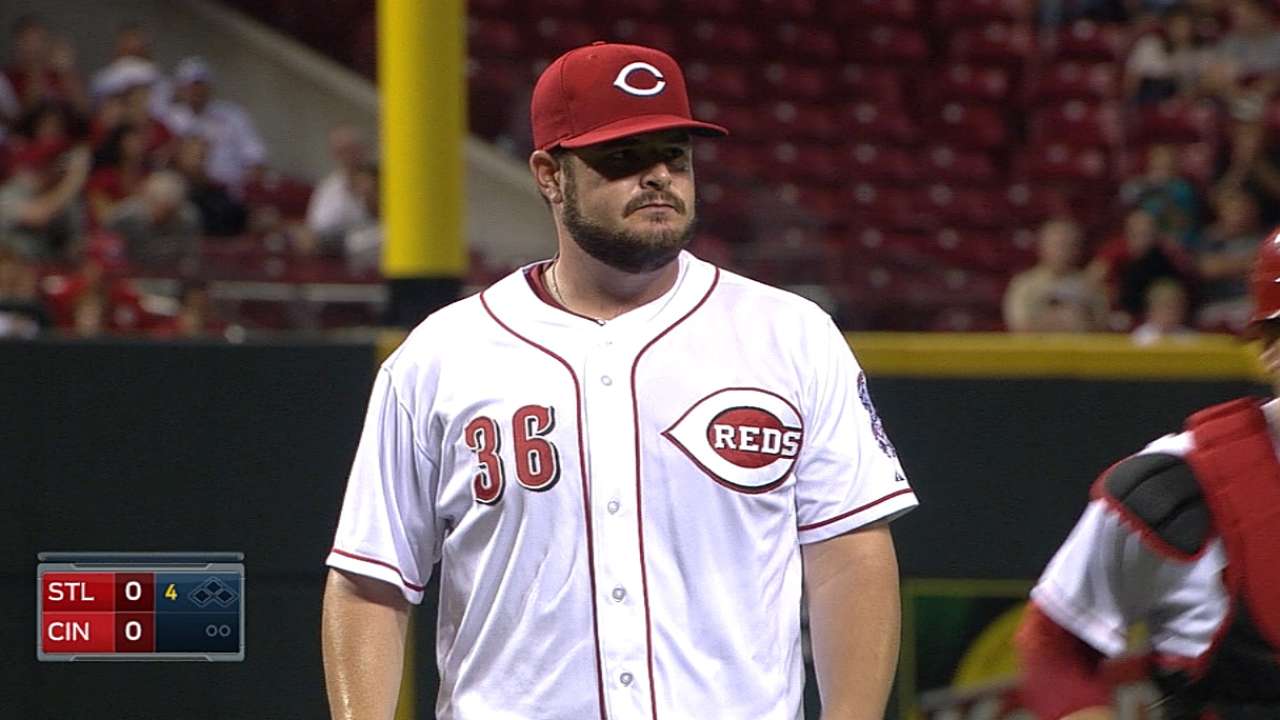 CINCINNATI -- While left-hander David Holmberg's solid outing on Monday vs. the Cardinals doesn't count as a start, it was certainly the type of performance the Reds would like to see from him in his future starts.
Upon Dylan Axelrod going down with a right oblique strain after retiring the first batter, Holmberg was pressed into service and delivered a career-high 5 2/3 scoreless innings. But, he was treated like many a Reds starter has been this season by getting no run support from the lineup. Shelby Miller and St. Louis handed Cincinnati a 5-0 loss.
"I knew I was going to be the long guy today. It was sprung on me a little early," said Holmberg, who gave up four hits and two walks with five strikeouts while throwing 81 pitches. "I was just focused on throwing some good pitches and getting some innings."
Reds manager Bryan Price called Axelrod's injury "fairly significant," making him not a good bet to return this season. That opens the door for Holmberg, acquired from Arizona in an offseason three-team trade that sent catcher Ryan Hanigan to Tampa Bay.
"Holmberg, with his Triple-A experience and coming off a good start, would certainly warrant another look," Price said.
The scoreless tie was broken in the top of the seventh as lefty reliever Manny Parra took over for Holmberg and gave up a walk and three hits, including Matt Carpenter's broken-bat, two-run single to right field that scored two runs. Logan Ondrusek allowed a three-run homer to Matt Adams in the top of the ninth.
The Reds have lost six of their last seven games and eight of their last 10 while falling to a season-high 10 games under .500 at 67-77. Trailing the first-place Cardinals by 13 games in the National League Central, the elimination number for the fourth-place Reds in the division is six.
It was the 14th time this season that the Reds have been shut out and the fourth time in the last 17 games.
While working into the eighth inning, Miller gave up only three hits -- including two singles from Brandon Phillips. Phillips was erased both times on ground-ball double plays. In the fifth, Devin Mesoraco hit a leadoff double to left field off Miller but was not advanced to another base.
Holmberg did a nice job by putting up zeros himself. He entered with a 2-2 count on the game's second batter, Jon Jay, as Axelrod strained his oblique on the seventh pitch of the game.
"I just tried to get a couple of quick throws and they said, 'You're in the game,'" said Holmberg, who retired his first six batters.
In the fourth inning after a Jay leadoff single, Holmberg issued back-to-back one-out walks to load the bases. He escaped by getting Yadier Molina to look at a called third strike before Oscar Taveras popped out in foul territory.
"I didn't like how he got into it, but I liked the way he got out of it," Price said.
Holmberg happened to work before the game on Monday with pitching coach Jeff Pico and Mack Jenkins to tweak his delivery to throw more strikes.
"That inning was the one where the concentration lacked and I really had to re-focus and get back to the things we had been working on," Holmberg said.
In his previous two spot starts for the Reds, Holmberg was clobbered both times while lasting only 2 2/3 innings. His season-high 5 2/3-innings night lowered his ERA from 15.63 to 8.25.
"Every start he's made, both in Arizona and here in Cincinnati, has been to come up to the big leagues for one start and then the next day go back to the Minor Leagues," Price said. "He needs to get comfortable in the environment. I thought he did a great job today."
Holmberg's outing was the longest relief appearance for the Reds since Carlos Fisher threw 5 2/3 innings on May 25, 2011, in a 19-inning game at Philadelphia.
"It's definitely a confidence booster," Holmberg said. "I was happy I was allowed the opportunity and got some innings for the bullpen."
Mark Sheldon is a reporter for MLB.com. Read his blog, Mark My Word, and follow him on Twitter @m_sheldon. This story was not subject to the approval of Major League Baseball or its clubs.