Ackley sidelined for second game with sore ankle
Left fielder scheduled for MRI, not too concerned about injury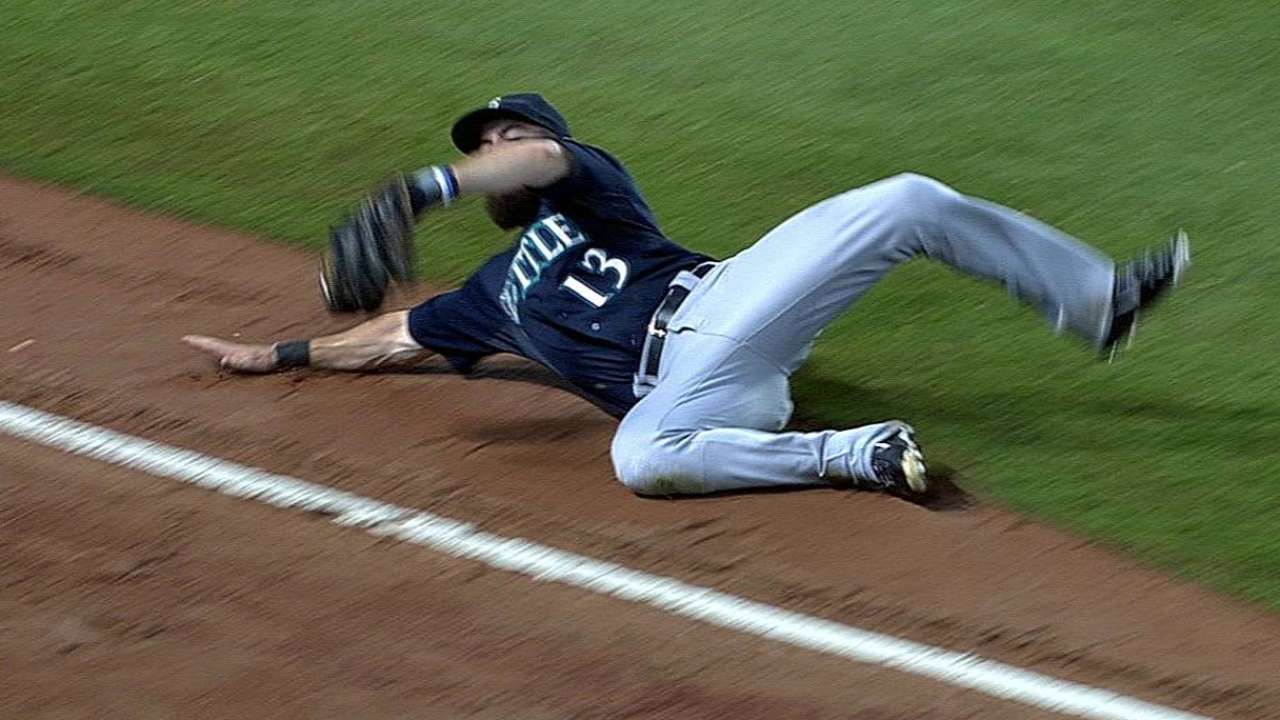 SEATTLE -- Mariners left fielder Dustin Ackley was sidelined for a second straight game Monday and was scheduled for an MRI on a sore left ankle, but said he doesn't think the situation is anything serious.
Ackley was removed midway through Saturday's game in Texas after the ankle flared up following a sliding catch down the line in the fourth inning of a 4-2 win over the Rangers. He sat out Sunday's game and was not in the lineup again Monday in the series opener against the Astros.
Ackley, 26, said he'd know more after results of the MRI come back either Monday night or Tuesday morning.
"It's a little better than it was the other day, but they want to get it checked out and see if it's inflammation or whatever and go from there," he said prior to Monday's game. "I don't know a whole lot until they get in there and look at it, but it doesn't seem like it's anything crazy."
Ackley has had bone spurs in the ankle in the past and said it had been sore prior to his sliding catch, which likely just aggravated a problem that had been building.
"It probably didn't help, but it's just gradually [got worse]," he said. "I don't know if it was from running a lot or just day-in, day-out banging on it or whatever. I guess we'll see. There wasn't a specific time I said, 'This is it.' It was just over time I was like, 'Man, I'm starting to feel something.' That's why I don't think it's anything crazy, just a little something in there."
Ackley is hitting .251 with 11 home runs and 60 RBIs in 130 games on the season, including .291 with 31 RBIs in 45 games since the All-Star break. His resurgence has been a big part of the Mariners improved offense in the second half, and the club will look to get him healthy for the stretch run.
"I don't want to try to get in there today and try to be a hero and delay myself from feeling better, when maybe I can take two days off and be ready to rock the rest of the year," he said.
Greg Johns is a reporter for MLB.com. Follow him on Twitter @GregJohnsMLB as well as his Mariners Musings blog. This story was not subject to the approval of Major League Baseball or its clubs.