Samardzija not ruling out return to Chicago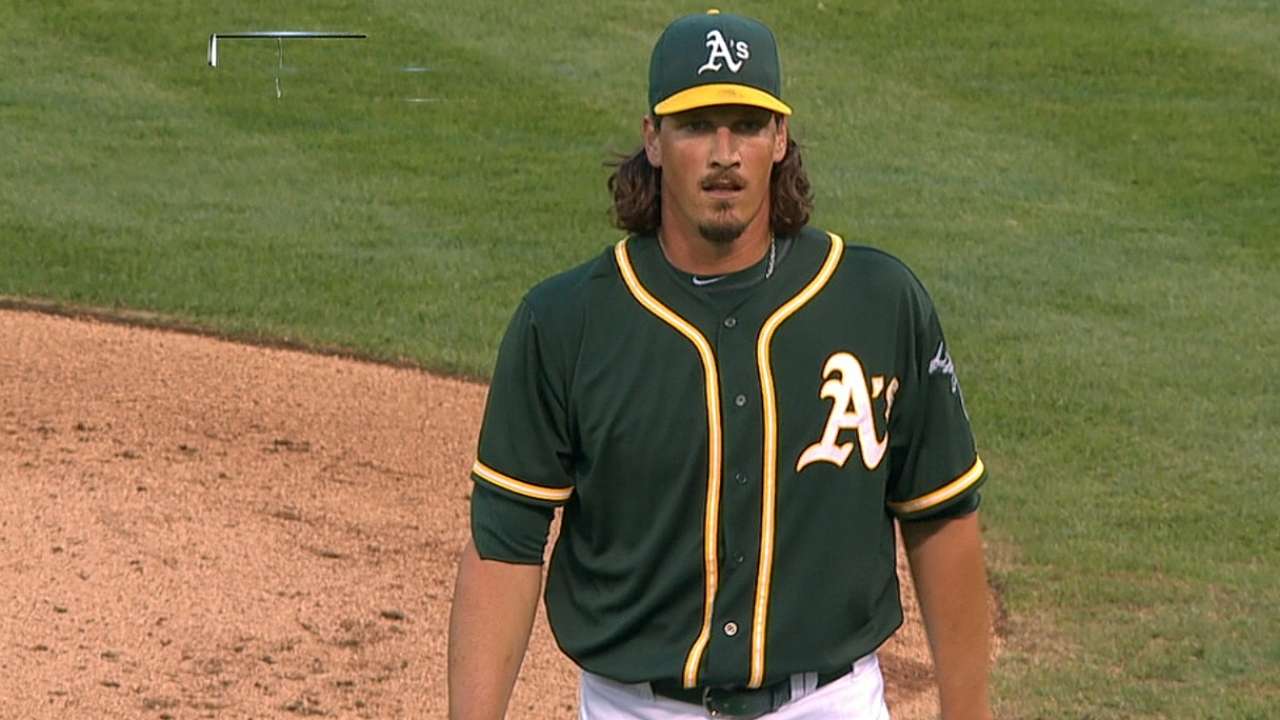 CHICAGO -- A's right-hander Jeff Samardzija maintained that he will enter free agency when eligible at the end of the 2015 season, and didn't rule out a return to Chicago when meeting with reporters Monday at U.S. Cellular Field.
"Yeah that is absolutely something that is on my list," Samardzija said Monday in his return to Chicago, where he spent parts of seven seasons with the Cubs. He grew up 50 miles away in Valparaiso, Ind.
"I love it here. I've spent my whole life here and even to come back is exciting -- to see the same sights coming in from the airport and staying downtown. It brings back a lot of memories."
Samardzija was traded on July 5 by the Cubs, the team that selected him in the fifth round of the 2006 First-Year Player Draft.
Samardzija reportedly turned down a five-year, $85 million extension with the Cubs in June, and said he wasn't surprised that he was traded.
"No, just because there was so much talk early," Samardzija said. "I think if for me it would just surprise if had there been no talk the whole time and then drop it on me on that Saturday [the morning after he was traded]."
"Like I said before and all along, I had a good relationship with Theo [Epstein, Cubs president] and the front office. We were pretty open with each other in communication, and that was that. I think we were understanding if there was a deal they didn't like, nothing was going to happen and we were going to go from there."
A first time All-Star who couldn't play in the game because he was elected as a National League pitcher and traded to the A's 11 days prior, Samardzija is now enjoying his role as a starter in Oakland's pennant race. The last time the Cubs were playing in October, in 2008, Samardzija was a reliever and pitched one inning during Chicago's NL Division Series sweep at the hands of the Dodgers.
Samardzija said his new role in a postseason hunt is "exciting. It makes you realize what it's about and why you play those long seasons and why you come to the park in May and June and July and play every game like it's your last."
The 29-year-old righty is 4-5 with a 3.70 ERA in 12 starts since the trade. The Athletics are 7-5 in games Samardzija has started.
"He comes as advertised," manager Bob Melvin said. "He's a fighter. He loves to be out there. He wants to pitch in big games. He wants the ball."
He also wants to be courted by the market at the end of his current contract.
"You're always trying to impress the people you're playing for or being recruited by or scouted by," Samardzija said. "I think as an athlete it's always fun to have those tables turned a little bit, where you're being courted. You also get to pick a situation that you feel is best for you. And you work to get to that spot.
"I think it gets overlooked a lot of times is how difficult it is to get to that situation and be in a situation where you get to choose. I'm excited to keep working and hopefully reach that goal."
Daniel Kramer is an associate reporter for MLB.com. This story was not subject to the approval of Major League Baseball or its clubs.