Bucs hold off Phils, bolster Wild Card lead
Locke strong over seven innings; Pirates survive late charge by Phillies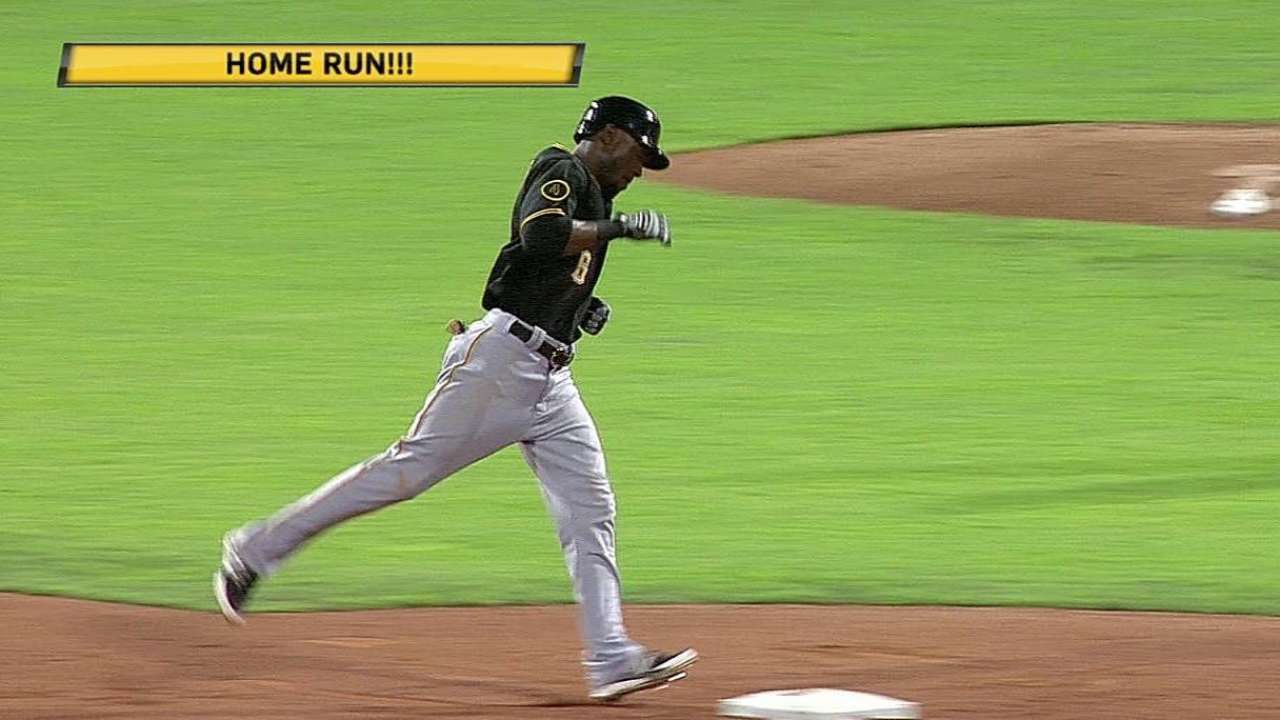 PHILADELPHIA -- Jeff Locke's control eluded him during his last outing. But it was on display Monday, as he struck out nine, didn't walk a batter and the Pirates added to the lead of their recently gained playoff spot.
Locke delivered seven strong innings and the Bucs' offense was sparked by Starling Marte as well as a four-run eighth in a 6-4 series-opening win against the Phillies at Citizens Bank Park. The win was the Pirates' fourth in a row and gave them a 1 1/2-game cushion for the second National League Wild Card spot, ahead of the Brewers and Braves, both of whom lost Monday.
Locke pounded the zone -- throwing 67 of his 92 pitches for strikes -- and he worked perfect innings in six of his seven frames. He only ran into trouble in the fourth when he allowed all three of his hits and his lone run, which came on a Ryan Howard single through the shift. He was coming off his shortest outing of 2014, as he walked five and gave up five runs over three innings against the Cardinals last Tuesday.
"[Catcher Russell Martin] has been stressing to me over and over and over, how much more uncomfortable it is of an at-bat when you're behind," Locke said. "I was just trying to get ahead of these guys. It doesn't have to be your best fastball, changeup, curveball, but just find a way to get ahead of these guys and you can find a way to put them away."
But Locke -- who retired the first 10 and final 10 batters he faced -- did have some of his best stuff on Monday. That was especially true with his curveball, which Locke said was "more effective than it has been."
That was the pitch he used to get out of trouble in the only inning in which he was taken out of the windup. With one run in and two more in scoring position, Locke fanned Darin Ruf on a 2-2 breaking pitch.
"He had, to me, his best performance of the season," Pirates manager Clint Hurdle said of the 26-year-old lefty. "His fastball command, it was live, good finish, the velocity played. The changeup played and the curveball was outstanding tonight."
Locke continued his dominance of Philadelphia, a team he lasted eight innings against while allowing just one earned run on July 6 -- and he did that one without his curveball working.
"The start against these guys earlier in the year, we didn't really use any curveballs," said Locke, who is 4-0 in his career against the in-state foe, combining for a 1.35 ERA and 0.787 WHIP.
"It was just a fastball-changeup mix," he said. "It was pretty much the same results, but we added the third pitch to the equation."
Marte provided the early offense to give the Pirates the lead after Howard's RBI. The left fielder had hits in his first three at-bats: a single, a double and a two-run homer to left-center.
"I was more comfortable because I saw the ball very nicely," said Marte, who had two more at-bats but struck out both times to fall a triple shy of the cycle.
The Pirates broke the game open in the eighth with five hits in the frame, and they also chased Phillies starter Kyle Kendrick after 118 pitches. Neil Walker, Gaby Sanchez, Jordy Mercer and Brent Morel all had RBIs in the inning as they kept hitting against left-handed reliever Jake Diekman.
The Bucs had a runner on second in each of the first three innings against Kendrick but could not score, and they ended the game just 2-for-13 with runners in scoring position. However, they scored at least five runs, which they've done in each game of the four consecutive victories, and it turned out they would need them.
The Phillies answered with three runs in the home half of the eighth. All were charged to reliever Jared Hughes, who replaced Locke, but none were earned. Cesar Hernandez hit a sacrifice fly and Chase Utley knocked a two-run triple to right field, capitalizing on an error by the shortstop, Mercer. Left-hander Tony Watson got Marlon Byrd -- who represented the go-ahead run -- to ground into a fielder's choice to end the inning.
Pittsburgh stayed 4 1/2 games behind the Cardinals in the NL Central, but they were incapable of scoreboard watching on Monday, anyway: The out-of-town scoreboard at Citizens Bank Park was not in operation.
But that's not going to upset Hurdle, whose team controls its playoff fate with 19 games remaining on its schedule.
"To try and pay attention to it would be chaotic. We need to play our best ball, we need to focus on the game we're playing. If we play our best ball for the 19 remaining games, we'll get in."
Stephen Pianovich is an associate reporter for MLB.com. This story was not subject to the approval of Major League Baseball or its clubs.